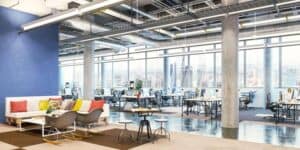 In commercial real estate, the term "buildout" refers to the construction process that makes a leased space functional and ready to use. An office buildout, in particular, allows you to move in and begin using the premises as a tenant. The commercial building will usually exist just in its blank shell form until it undergoes tenant improvements – which are designed to your specifications. Since the main infrastructure is already there, your office buildout project will add the necessary utilities, technologies, and interior design to suit your business. It opens great scope for customizing your office plan and creating a welcoming corporate environment.
Contractors, architects, and engineers are some of the construction experts who will join you in this project. They can offer personalized views for your specific office and help you optimize its spatial impact. This takes into account all the necessary business needs, employee capacity, and layout potential. During these COVID-dampened times, an office buildout also includes socially distanced workstations with the required amenities. You can plan a detailed checklist and learn your options for getting the best out of your agreement with the building owner. We have compiled a general office buildout plan below and explored the key elements. The project milestones might be similar everywhere, but it is your creative brand signature that makes all the difference.
An office buildout life cycle
The design stage
Construction documents
An office buildout begins with an extensive design process to work on concepts and documents for your project. The design team will include architects, engineers, interior designers, and project managers to help you set the scope of your office buildout. A thorough conceptual design allows you to determine the feasibility and compatibility of your construction needs with the given premises. Various test fits are curated to analyze the floor plan and see whether or not it can accommodate the tenant improvements. The test fit gives you an aerial perspective of your office layout. It displays the spatial scenario for how the office might look once it is ready to be occupied – with all the furniture set up in place. All the necessary construction plans and documents are confirmed at this stage to finally switch on the project's conveyor belt and set things in motion.
TI allowance
The design stage is where you also collaborate on budgets and schedules based on the design documents procured by your team. For example, you will receive buildout estimates to suit the test fits developed by the design team. These offer you a workable budget to incorporate into your negotiations for tenant improvement (TI) allowances with the building owner. The TI allowance is an important part of your agreement to cover a portion of the office buildout expenses. Once the lease is negotiated and signed, your contractor and designers can begin working on the plans and layouts. This includes redefining and updating the design documents to match the lease. You will choose the color palettes and textures to build your creative vision – and pick out the materials, furniture, and other interior design elements.
The permit stage
Building permits
The results of the design stage are used to gather various permits and approvals to authorize your office buildout. At this point, your construction crew is formed, and the office buildout gets an official thumbs-up to begin the construction process. All the tenant improvements or renovations needed to maximize your spatial setup may require approvals from different authorities.
This is because the construction work must conform to the zoning requirements and local codes. In doing so, your buildout project ensures worker safety, environmental consideration, and other approval standards. The permitting process can take a few weeks to finish depending on the number of desks your construction papers will move between. If you are working with licensed project managers, the towering paperwork can be handled more easily.
Contractor bids
With the permit stage brewing in the background, you can use the available time to finalize the contractor and other stakeholders for your office buildout. You can receive various bids on the project and narrow down the pool for potential vendors. It is important to discuss various packages and services the general contractors mention in their bids, as this helps you gather not just the human resource, but also the verified expertise to drive your buildout. By the end of the permit and bidding stage, all the drawings, licenses, and contracts should be ready in black and white so that the actual construction can take effect.
The construction stage
Infrastructural scope
The construction and renovation works will differ for each project depending on the timeframes, project size, customization details, etc. The leased space might need a complete retrofit process to bring it up to an inhabitable standard, which would determine the construction scope. There are several milestones aligning your buildout goals from start to finish. These set the actual timeline for your project and can take months to complete, especially when they occur in consecutive orders. Constructing an office buildout includes making adequate changes to the infrastructure. Your crew will generally repair the existing framework and make the four walls equipped to hold your corporate future inside.
Buildout goals
An optimized infrastructure will undergo wall demolitions and upgrades to get rid of damages and make space for new improvements. Office buildouts usually focus on creating ideal office spaces, conference rooms, reception areas, waiting rooms, and workstations. Therefore, following a demolition, your construction crew will work on new walls, ceilings, drywall additions, and framing aspects. Various finishing stages tackle the flooring and painting for the entire office plan. Woodwork takes care of the door and window installation stages – as well as the shelving and storage aesthetics for a professional look. This includes wooden cabinetry, open shelving ideas, desks and furniture, and panel designs to inspire a cohesive interior for your office. Tenant improvements also cover the electrical, plumbing, mechanical, and HVAC frameworks for turning your leased space into a fully functional office. At the end of a buildout construction, all the furniture, hardware fixtures, and office equipment will fill the missing gaps and bring your project to its finishing line.
The final walkthrough
Before you can move in and start working, you first need a final walkthrough of the office. This is where you get the first look and feel of your corporate vision, and so it is important to have an eye for detail and address issues immediately. Your construction team should accompany the tenant walkthrough stage and discuss areas that fail to meet your expectations. Such items are written down as a punch list, and they need to be resolved by your crew for the project to officially be complete. Once you are satisfied, you can now occupy the commercial space and have your business up and running.
Benefits of a good office buildout
It creates a welcoming workspace
The key benefit of a well-planned office buildout is that it gives a meaningful look to your work environment. Creative workplace aesthetics make a powerful statement about your business. They create the first impression for clients as well as potential employees who will step in for their first interviews. Since your leased space is already partially built, it is a great opportunity to plan a full-scale buildout that gives you a unique office image.
It boosts employee productivity
When you invest in an office buildout, one of the default additions you will make is the workstation or cubicle design for your employees. Good ergonomics, creative designs, and a splash of colors encourage employees to really think outside the box.
They will feel motivated to perform better in an environment that feels inviting and warm – compared to run-down offices with outdated designs. As a commercial owner, your attention to employee satisfaction will go the extra mile, since your business kicks off with happy employees looking forward to their time.
It makes efficient use of space
Spatial versatility and functionality are both important factors in an office buildout. You are converting an empty shell space into an optimized floor plan intended to hold your corporate potential. By organizing an effective buildout, your project team can help bridge the gaps in your vision. The drawings and design elements reveal a smart use of space for the available layout. They allow your experts to carve out an ideal footprint from the existing space – giving each workstation, reception, waiting area the freedom of simple coexistence. From the occupant's perspective, you have a certain image in mind of how the end result should look like. However, improper execution could cost you future remodeling costs when issues like limited storage or cramped workstations start slowing you down. This can be avoided with the valuable input of a professional team that anticipates your business needs and looks at the bigger picture.
Building a commercial horizon
An office buildout can easily mark the pivotal point for your business, as it is the start of new beginnings and first-time endeavors. You can make the best out of your investment by allowing design elements and creativity to stay at the frontline. It is a great chance to work with credible contractors and designers to help you mark an ambitious commercial footprint. You have to move outside the boxed reality both in perspective and layout – as a mix of shapes and geometrical freedom add some structure and depth to your interior office. A buildout process often incorporates modular additions to exploit corridors and room corners. Some examples of modular units are kitchens and adaptable workstations that are manufactured offsite and assembled in your office. By using such solutions in your buildout, you can unleash the potential of every square foot in your office – and thrive in a dynamic corporate habitat that never fails to inspire.