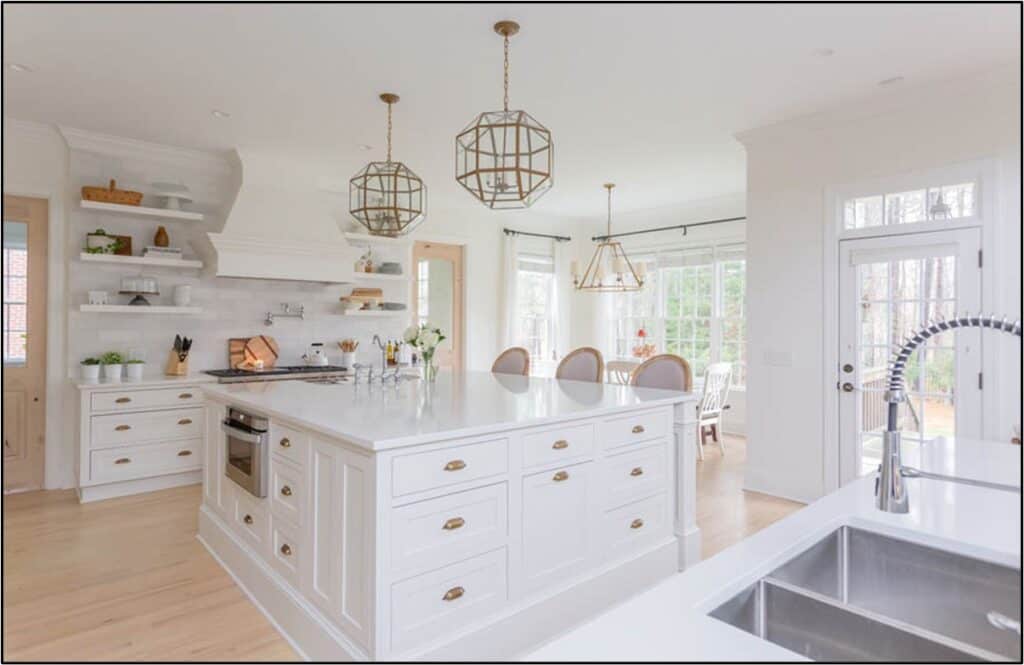 Kitchen remodeling is a vast project that needs guided execution to maximize productivity. Most homeowners may feel paranoid by the sheer amount of work required behind the scenes of their before-and-after Instagram story. The transformation demands time, commitment, professional expertise, and a realistic kitchen remodel schedule. Planned stages ensure that everything from demolition to final touches follows a proper sequence so that your approach does not backfire on you. The last thing you want is installing a new kitchen island and cabinets when the electrical lines still had to be updated. A slight miscalculation can send your entire project tumbling downhill. The kitchen remodel schedule differs between companies, depending on the magnitude and budget. However, some crucial aspects are followed as a standard timeline for kitchen renovations.
Framework for your kitchen remodeling plan
Realistic goals and consultation
Before the actual renovation begins, you will get in touch with your project consultants to confirm specifications and collaborate over CAD files. You need to sort out which aspects will be DIY pursuits and how much scope you are aiming for professional contractors' help. The kitchen will be out of access for 2 months or more depending on the project's scope. So, arrange for a makeshift kitchen with the necessary appliances in your dining room, or exploit the backyard space for outdoor cooking. Pin your favorite inspiration boards on Pinterest to discuss with interior designers. Always enlist the help of licensed contractors who will take care of local and safety compliance with proper documentation. Set a realistic budget plan that breaks down the upfront, halfway, and final payments of the project. Allow the schedule and budget to accommodate unforeseen delays like water leakage and build-up discovered after demolition, weather problems, damaged supplier goods, etc.
You can give the experts a virtual tour of your kitchen through Skype, or schedule a visit for them to evaluate the space and confirm permits. The company will provide cabinet designs, wall paint swatches, countertop patterns, flooring ideas, etc. for you to confirm. The consultation stage takes around 1-2 months depending on how you choose to narrow down your search. Resource allocation and labor team formation will occur at this stage. All your bespoke designs for cabinets, countertops, and kitchen island need 2-3 months of craftsmanship before they can arrive at your doorstep. So, invest your time carefully during this phase to ensure the timely arrival of ordered goods that will help to streamline the renovation plan.  
Kitchen remodeling begins
Following a successful consultation, a crew is confirmed and assigned to your kitchen remodeling project by the company. You will finalize the working schedule with the team, then brace yourself for a rugged 5 to 8-week renovation. The experience is almost like enduring a fever; it needs to get worse before it can get better. The following stages involve the real construction steps.
Demolition
Ranging between 3 to 4 days, the demolition stage is going to tear down your old cabinets, flooring, sink, countertops, and kitchen island. The entire space should be reduced to an empty, blank infrastructure to create room for the planned upgrades and installations. If your plan requires adding a cozy breakfast corner next to a spectacular country view from the window, the demolition will adapt accordingly. Debris removal and cleaning need to be carried out before transitioning to the next stage.
Rough-in electrical and plumbing
Your team's electricians will install electrical wiring and outlets to support your renewed lighting and appliances. This updated framework is going to ensure proper layout for your induction cooktop, electrical chimney, gas lines, cabinet lights, walk-in pantry lighting, home automation gadgets, dishwasher facility, etc. All HVAC systems and plumbing accompany the mechanics of this crucial step. It can take around 2 weeks for the utilities to be completed. The necessary safety regulations and inspections are conducted by third-party firms to authorize progress.
Framing, wall tiles, and paintwork
Since the electrical wires and plumbing have been aligned, your crew can execute the wall and ceiling renovation as the next step with the chosen tiles or paint colors. Insulation is layered first, followed by drywall, ready for priming. Finishing coats are applied to create seamless paintwork that blends well with the natural and artificial lights. The door and window frames are upgraded as well. This can last anywhere between a couple of days to a week.
Flooring, kitchen island, and cabinetry
Once the electrical framework and wall structure are raised, flooring plans can take over immediately. Your choice of flooring (linoleum, hardwood, tiles, etc.) will stretch the plan to around a week. The kitchen island and cabinets will also be ready to install as their craftsmanship and design were anticipated to finish by now during the consultation stage. You can expect a supplier delivery just in time to follow the successful flooring. Combined with the additional 6 days to install the cabinetry with internal lights, this whole phase typically lasts 2 weeks.
Countertops and sink
Based on your selected template, the countertop fabrication will take at least a week before the slabs can be delivered to your home. So, make sure to plan ahead. Mounting the countertops is completed within a day, so this stage generally consumes a week of your kitchen remodel schedule. Popular choices for countertops include quartz, marble, concrete, stainless steel, and wooden styles to suit your preference for rustic or urban-inspired kitchens. The sink goes next along with faucets.
Backsplash, fixtures, and finishing touches
The cabinets and countertops are in place, which means that the backsplash needs to get ticked off your list. There are various peel-and-stick designs and ceramic tiles to add a stunning décor to your kitchen. Your designer will help you with various templates, including material choices and colors for fixtures. Doors, windows, pendant/recessed lights, appliances, and fixtures find their permanent spots at this stage. Any technical final touches and geometric accuracies are also handled to ensure perfection.
Inspections and client walk-through
Having traversed through the remodeling schedule, the company will authorize a safety and regional inspection to evaluate various issues. Once the kitchen is ready for its first official client walk-through, you can point out any observations that need to be fixed. The inspection and last-minute upgrades will take a few days before you can finally celebrate the success of a long-term investment. Here is an example of how your kitchen remodel schedule might look: