Image credits: Campbell Window Film
Commercial buildings undergo frequent interior renovations to maintain a professional and welcoming atmosphere. There is always something that needs to be repaired such as old paintwork, insufficient lighting, faded décor, outdated technology, and so on. The exterior side, on the other hand, can be a less frequent cause of concern and is mostly reserved for seasonal or annual maintenance unless there is something crucial like a broken window that needs immediate attention. However, what some commercial companies tend to forget is that curb appeal is equally important and a building's exterior is actually the first impression of its business. This is why a commercial building exterior facelift should be considered to refresh the outer appearance of your building. Improved exteriors add real estate value to your commercial property, and as a commercial business owner, you want to ensure maximum curb appeal to make your business stand out.
Exterior makeovers may include repainting, improving the landscape, and updating the parking lot. By investing in the required improvements, you can give your commercial building a much-needed facelift to enhance its curb appeal. A well-maintained exterior look always feels inviting and reflects the company's responsible nature. The outer sides of a building experience more exposure to elemental challenges, so the materials and finishes fade over time. External renovations are a great opportunity to handle all technical and cosmetic upgrades that you would normally push to later in the year. They offer companies a chance to add creative touch-ups and improve their commercial aesthetics.
So, in this article, we will look at different exterior facelift options as well as the benefits of investing in such a project.
Commercial building exterior facelift
Also known as
You can expect to come across different terms that represent an exterior facelift. Some examples include:
Exterior renovation
Exterior remodeling
Exterior makeover
Façade
Re-imaging
A building façade refers to its exterior side – most commonly the front face of the building. This is the side that usually undergoes a facelift, as it is the main outer part with an entrance. Retrofitting the façade allows businesses to update their building without undergoing major overhauls. This is because rebuilding just the exterior takes care of any underlying technical aspects that might also need attention. So, refreshing the main outer side adds the necessary aesthetics to create an overall pleasing and welcoming look. For example, by adding new openings to accommodate windows and curtain walls, commercial buildings can opt for open workspaces and build a more creative exterior look.
Reasons to update
Different commercial buildings will have different reasons to update their exterior appearance. Offices, hospitals, gyms, retail stores, restaurants, and recreational buildings are all expected to create excellent first impressions on people. The kind of changes you want to introduce depend on your specific retrofit needs. For example, you might choose to update the façade for the following reasons:
Energy efficiency upgrades
Storm or fire disaster recovery
Re-imaging purposes
Corporate rebranding
New signage requirements
Faded finishes
Peeling paintwork
Need for full-length windows in open spaces
Apart from façade-specific improvements, you might want to straighten up your commercial landscape and add changes to the parking lot. Exterior facelift procedures can vary significantly based on why you need to improve the façade. Therefore, rebranding projects will be more budget-friendly compared to recovering from unexpected structural and technical damages after a storm.
Pre-retrofit
The commercial renovation company you hire for giving your building an exterior facelift will go through some key pre-retrofit stages to check if the building is compatible with the proposed changes. Different evaluations can be carried out to access your building's condition. You can expect the renovation team to cover questions such as:
Will the exterior structure support the new façade?
What changes are needed (if any) to address gaps?
Do the old infrastructure and utility framework meet building codes?
Are the new upgrades code-compliant?
Do the existing HVAC and utility framework require updates?
Will any utilities get in the way or need to be removed?
Will the existing framing be strong enough to support the new materials?
What will happen to the current windows?
What is the expected business downtime during the exterior facelift?
Will the building be partially/fully occupied during the project?
Are the weather forecasts favorable/is there a storm up ahead?
Professionalism, careful handling, and attention to detail are crucial prerequisites. This includes considering all important aspects that can affect the exterior renovation once it begins.
According to Metal Construction News, different façade compatibilities can be checked to ensure a successful exterior retrofit, and they all depend on the existing configuration of a building. For example, metal buildings are made up of trims and flashings that create openings for window frames. If your desired exterior facelift requires window replacements, these trims and flashings may need to be touched up as well, so it is important to preserve their structural integrity and prevent gaps for potential air/water leaks. The old window frames should provide adequate anchoring for the new panels. Any improvements to the existing anchors and frames should meet the local codes to ensure safety and reliability in the exterior facelift. Similarly, non-metal buildings made of bricks may need to first develop a level front surface to be able to hold the new façade better. In simple words, the transition from old to new façade windows and structures should be as seamless as possible.
Façade options
There are several ways to remodel a commercial building's façade. You need to collaborate with your renovation team and find out the available façade material options – based on the compatibility results obtained in the pre-retrofit stage. Curtain walls are popular façade choices and tend to undergo various retrofits to maintain their appearance. A curtain wall refers to the outer, non-structural walls of a commercial building, often covering multiple levels. Curtain walls are usually glass panels that run the length of a building's façade. They require careful expertise to ensure professional quality exterior facelifts. Metal and composite panels are also quite popular and can be installed depending on the commercial design you are aiming for.
Image credits: Morn-Glass
Re-imaging solution
Façade re-imaging is an excellent way of giving your commercial building a sleek exterior facelift. Campbell Window Film is the perfect example of façade restoration using an exterior window film. Façade re-imaging uses the idea of building wraps or window films to restore the outer condition of an old commercial building. This is all about aesthetics, so there will be a striking before-and-after comparison. Window films are added to existing windows and the resulting high-performance glass is what makes the difference. They offer a smart way of updating an existing façade simply by adding a new layer on top of the old one. So, if you do not want elaborate structural changes, you can consider adding window films for a quicker and more cost-effective exterior facelift. Apart from enhancing the curb appeal, these window films offer a range of other benefits including:
Better energy efficiency and smaller utility bills
LEED-friendliness
Façade reinforcement
UV blocking (prevents interior finishes from fading)
Promising tenant occupancy
Cost-effectiveness
Increased real estate value
Window films also provide the least disruptive route for façade restoration, as there is no need to plan partial hours and incur business downtimes. The reason why window films add to a building's real estate value is that they give old and outdated exteriors a new lease of life. This improves the building's occupancy potential and generates rents. One way to achieve that is to completely replace the old panels and structures with new materials – which can be quite expensive on its own considering the building size and costly demolitions. Window films provide a simpler alternative if your old windows and structures are still good to use. With no old materials going to the landfills, the whole process becomes very LEED-appropriate. Campbell Window Film specializes in such façade resurfacing solutions that cover aluminum frame mullions, spandrel glass, view glass, and even metal panel options. They cost far less than other facelift options and allow businesses to make their exteriors as good as new. A good-quality window film can last up to three decades, giving you enough time to replace the films down the road – making this a long-term investment that pays off.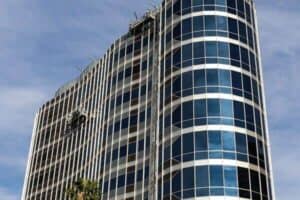 Image credits: Campbell Window Film
Thinking outside the box
Commercial building exterior facelifts can be planned in countless other ways to suit your corporate creativity. Businesses need to have unique exteriors to stand out and represent their commercial identity. So, your color palette will be a major consideration. Both exterior and interior color themes need to complement each other and add some cohesiveness to the commercial décor. Apart from a unique color palette, you can decide on a mix of materials for your exterior façade. This might include combining stone, brick, metal, and glass. Such a dynamic combination of color and material can add a striking difference to the old exterior look.
You can also take inspiration from geographical features around your commercial building. This will help you introduce subtle hints in the exterior design that connect your building to the surrounding nature. If the existing façade has a more linear shape, consider introducing some angular enhancements and redefining the overall "geometry". Just remember that improving your building's outer appearance does not require something fancy or expensive to be considered a facelift. You can keep things simple, cohesive, and truly representative of your brand's identity.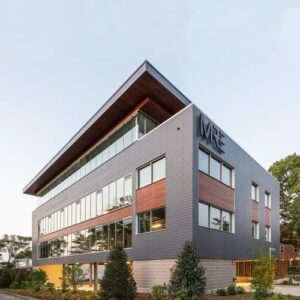 Image credits: GriD Architects
Benefits of an exterior facelift
You might have gathered some key benefits of commercial building exterior facelifts from the information so far. Here is a summary of the main benefits and incentives behind such a project.
Great first impressions
The outside of your commercial building will be the first thing to be noticed by people whether they are employees, interview candidates, customers, sponsors, or visitors. Façade restoration makes a building appear warm and welcoming to potential visitors. It helps businesses develop a different perspective on a commercial redesign since exterior improvements are pursued less frequently than interior upgrades. If your signage has worn out or become faded, make sure to replace it. If your landscape has been neglected for too long, it is time to finally change that.
Impactful branding
In line with good first impressions, exterior facelifts also help commercial businesses represent their brands impactfully. So, you want to represent yourself as a responsible, updated company that cares about how it appears to others. The color palette you choose for your building's exterior will give people a strong idea about your brand's theme. Vibrant, memorable corporate colors will help people remember your business better. Similarly, unique infrastructural designs that reflect outside-the-box thinking and creativity will always stand out and make your brand memorable.
Fewer disruptions
Commercial renovations are usually extensive and require business downtimes through partial working hours. This is to ensure the safety of employees by isolating the project hours from the work hours. However, when you limit your project to just the exterior facelift, you save a lot of valuable time and money as a business owner. Façade renovations offer the least disruption to any business because they are mostly limited to the outside areas. They deliver quick results, are more budget-friendly, and do not require department shutdowns. The overall seamless transitions are simply remarkable and something desired by all commercial business types.
Energy efficiency
If you use window films as discussed above, you can achieve a lot more than just an improved curb appeal. For example, re-imaging through window films extends the benefits to the internal environments by improving their temperature quality. Façade improvements directly impact insulation levels and play a huge role in regulating the ambient temperature inside a building. This increases the overall energy efficiency and helps cut down utility bills.
Landscape aesthetics
Exterior facelifts can also focus on the surrounding landscape. This includes greeneries, pavements, and parking spaces. Touching up these landscape aspects can improve your building's real estate value. Cracked pavements, uprooted trees, and faded signage can cause potential safety hazards around your property. Also, unkept lawns just do not go well with a good commercial image. If you already have a façade restoration project planned, it will be a great time to explore and address your landscape issues as well to ensure a thorough exterior upgrade.
Don't judge a book by its cover, but always judge a building by its façade!
That was the end of our guide to commercial building exterior facelifts. The façade of any building is the first thing that people see, and it determines the building's curb appeal. So, you want to keep an eye on the exterior aspects as much as you would on the interior configurations.
Depending on your façade restoration need and budget, you can plan a very a customized project that ticks the major boxes for curb appeal, memorable branding, and energy efficiency. Commercial renovation companies often document the before-and-after results of their projects to build their portfolios, so you can get a lot of insight by browsing their Instagram and Pinterest stories. This will help you get in touch with the right companies who offer the services that you need. It is also the best way to shape your own understanding of different modern facelifts that you can choose for your commercial building.