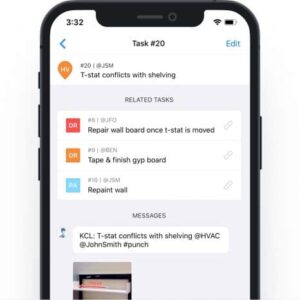 Image credit: Fieldwire
Construction projects are prone to changes, errors, and delays. There is always something that falls out of scope, causing revisits to the previous stages and reworks that take time. With so many updates throughout the schedule, it can be difficult to keep a track of everything and ensure that the project meets its specifications (as defined in the contract). This is where we need a deficiency list – often called a punch list – to document all the fixes required for completing the project and tracking each change of plan more efficiently. Such a list helps the project stakeholders record and address various issues as they arise, including any final touch-ups during the walkthrough. Here is a look at what a construction deficiency list means and how different stakeholders use it for effective documentation.
Deficiency list in construction
What it means
A deficiency list is also known as a punch list, a punch-out list, and a snag list – all of which refer to an itemized log of both pending and emerging corrections required in a project. It is a key checklist used for tracking and addressing project deficiencies like changes, reminders, outstanding tasks, final touch-ups, and similar alterations to the original plan. Punch lists offer a way to effectively document anything that needs attention and does not meet the terms stated in the contract, so this allows construction teams to take the required steps and fix issues to ensure a successful closeout. You can think of a deficiency list as a to-do list of construction activities that must be completed before handing over the keys to the owner – so it has a lot of weight to it during the closeout stage when you are checking off items for a final review.
What it includes
Deficiency list items usually focus on specific "leftover" issues that count as minor fixes rather than urgent problems (as these must have been prioritized before through change orders). Such a punch list includes every corrective task and reminder needed to ensure the quality and success of a project – so it is all about the details at this point. This could be visible errors in the work, quality issues, technical imperfections, installation errors, and so on. Some examples of punch list items are:
Replace the broken window in the kitchen.
Clear out debris in the hallway.
Repair the leaky faucet in the guest bathroom.
Touch up paint scuffs on walls.
The list should be crystal clear in terms of what needs to be done and by whom. It should include the project name, the target location to clearly state the source of the problem (like the master bedroom or kitchen #1), task descriptions, priority levels (high/medium/low), subcontractors involved, due dates, and completion statuses (in-progress/completed).
Once every punch list item is checked off, construction managers and contractors can schedule a final walkthrough with the owner and mark the end of the project. Here is an example of a simple deficiency list in construction:


Image credit: TeamGantt
Who uses it
Various construction stakeholders interact with a deficiency list, primarily general contractors, subcontractors, engineers, designers, and architects. Project owners also add to this list during their walkthrough sessions. The process begins when a general contractor creates a punch list right from the start and records deficiencies that need attention as well as their respective course of action. GCs will document any red flags that they come across during construction and alert the right audiences immediately. This also includes incorporating the owner's updates, tracking progress, highlighting pending work, and allocating tasks. It is common for contractors to maintain a "rolling punch list" which refers to documenting deficiencies as they occur in real-time. When done right, this allows contractors to reach a zero punch list with no more deficiencies remaining in the closeout stage – which is simply ideal for both stakeholder and owner perspectives.
Using the punch list created by the GC, subcontractors from various trades will work on their allocated tasks and update the list accordingly – for example, by adding comments, updating the completion status, and so on. They are also responsible for prioritizing the tasks needed to resolve deficiencies and must conform with the project's specifications to prevent further reworks.
All the engineers, architects, and designers working on the project are in charge of ensuring compliance with the owner's specifications. The corrections should stick to the original contract, plans, drawings, etc. (which is exactly why such a list was created in the first place, so there should be no more room for errors once the punch list takes off).
If the owner adds new elements to the list just before closeout, then the engineers and architects will also check for project compatibility before any alterations happen. In this way, creating and checking off a punch list is all about teamwork and requires synchronized communication to pay off.
How it is made
Speaking of synchronized communication, construction professionals already use management apps like Procore to streamline their administrative, collaborative, and reporting duties. These software apps are shared by everyone in the team using their own devices, and they all offer different punch list features as well to enable real-time collaboration without downloading extra apps and juggling between multiple platforms. As a result, you can document your punch list as you go instead of waiting for issues to pile up over time.
We saw earlier that the punch list process starts with the GC, and this is mostly done with the help of an app that the GC and other employees are already using. Once the punch list is created, the subcontractors will be notified immediately on their smartphones and can then view and interact with the punch list items that are relevant to them. Apps improve the visibility of deficiency items by providing a quick-access dashboard that makes it easy to spot red flags, track progress, and communicate instantly with those involved. With all the punch list audience and data on the same page, visual documentation becomes streamlined as everyone gets to upload instant photos and videos to update each other more efficiently compared to using emails or calls. For instance, posting images of chipped paint as visual shoutouts will help subcontractors understand their task better, as they can verify which wall or damage is being addressed in the list. Construction apps support crystal-clear documentation, save time, and help you get the work done to bring your project back on track.
Here is how two popular construction management apps with punch list features solve the problem.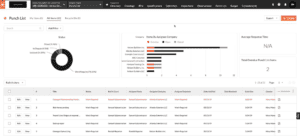 Procore's construction punch list software offers a visual dashboard with trackable features to help you manage your punch lists better. It has a clutter-free platform with pre-loaded punch list templates for you to edit and save as needed (both on laptops and smartphones) which is also great for providing standardized reports with all the right formats. You can assign tasks, take/upload images, drag and drop items on drawings to mark locations, filter by status, and do much more to document issues as they arise. Procore's Quick Capture option is an interactive, voice-enabled feature that lets you record short clips of deficiencies and then tell Procore via voice what to name them – which saves valuable time when it comes to documenting on the go.
These features help you create and manage a real-time history of punch list activities and responses from everyone involved. Procore can also automate task tracking and send overdue email notifications for pending tasks. We love the app's QR code facility that allows you to assign a QR code to each punch list item and record and track every action associated with it. In this way, Procore offers a much more interactive and productive punch list compared to using pen and paper – or even spreadsheets.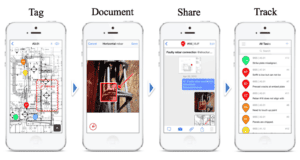 Fieldwire also provides a collaborative punch list feature that lets you track subcontractor deficiencies more easily. You can add emerging issues from the jobsite, annotate, use templates, and tie tasks that are interconnected (so the subcontractors know which trades are involved and how to prioritize the work). Using Fieldwire, you can document deficiencies even when you are offline, as the app will automatically update the punch list with your changes once you go back online. All the involved parties will then be notified instantly, so this is really helpful if you are working in an area with no Wi-Fi. You can upload photos and create a timestamped checklist that is easier to track. You can also drag and drop tasks directly on your blueprints to mark the location – and this is smart for those punch lists that have multiple locations and would be better off with a visual roadmap rather than a table.
Fieldwire lets you tag each subcontractor using the "@" symbol, so you can quickly assign tasks to the relevant person. Every time the punch list is updated with a new comment, photo, video, etc., all the team members working on the list get notified instantly. Here is an example of Fieldwire's punch list features with name tagging.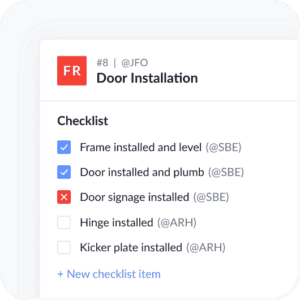 Each punch list can be exported as PDF or spreadsheet report, so you do not need to waste time on getting the right formats for your recipients. You can also schedule automated reports to be emailed directly to your teams. All of this is what makes Fieldwire a clever alternative to pen and paper or spreadsheet tables, as the app creates more visual, synchronized, readable, and trackable punch lists that everyone can access in real-time.
Conclusion
Deficiency lists in construction tackle minor issues like repairs and clean-ups which – if ignored – compromise both the terms and the quality of a project. They help construction teams remember to add the right finishing touches and give the project its final once-over before closeout. Software apps like Procore and Fieldwire can be used to keep an eye on each deficiency and prevent small details from slipping through the cracks. This brings you much closer to a zero punch list and increases the chances of a successful project being completed on time and within budget. The best part is that you no longer need "middleman" emails and calls to confirm updates or ask doubts – all responses are a click away in this simple, on-the-go documentation strategy.