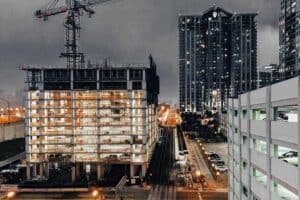 Image source: H3 Construction and Design
Commercial construction refers to building, renovating, and improving commercial properties for various businesses. Projects for office, restaurant, healthcare, retail, and recreation buildings are quite popular. They have different project sizes and scopes based on individual expectations. Once these commercial structures are built, they require planned upkeeps throughout their lifespan. This makes way for rebranding and redesigning opportunities when you decide to expand your business – and accommodate new teams. Commercial construction projects can be both private and government-funded to either build a new structure or remodel an existing one. Based on your design and spatial perspective, the building is constructed for your specific commercial applications.
It is important to work with contractors and construction crews who have the relevant commercial portfolios to back their experience. Various construction firms offer services in the vast commercial sector to build offices, hospitals, shopping malls, fitness gyms, etc. You want to collaborate with a company that provides verified, competitive, and industry-leading commercial expertise for your specific business. This helps catapult your business into that valuable head start you need – and ensures lucrative goals down the road once it is up and running.
Types of commercial construction
Generally, commercial construction is categorized into small-scale, medium-scale, and large-scale projects. They include everything from small restaurants and clinics to high-rise corporate structures. Depending on the size of your project, your total timeline and budget can vary.
Small-scale projects
Small-scale commercial construction includes various remodeling and renovation projects. They require less equipment, resources, and crew members. If you are planning to rebrand your business, you will most likely take on a small-scale remodel to create a new image. Such bite-sized improvements help commercial structures undergo interior/exterior makeovers for a new outlook. Reimaging involves cosmetic upgrades through a fresh coat of paint, new artwork, and improved workplace aesthetics. There can also be technological improvements to welcome better solutions. The construction teams will design and fabricate custom structures to your liking. Bed and breakfast lodgings, small medical centers, and bank renovations are some examples of such light commercial construction applications.
Medium-scale projects
Medium-scale commercial construction is more complex than small-scale ideas. It is all about expanding an existing commercial space to upgrade your business. You might want to add extra levels to the building or revamp the infrastructure for additional rooms. These upkeep projects ensure that your building stays in prime condition over the years. They also help accommodate new employees and make space for extra facilities. A medium-scale project will naturally take more time to complete than a small-scale project. It focuses on spatial optimization aspects to help you get the best out of the existing infrastructure. With maximized space on the same premises, you save yourself the trouble of relocating on a tight budget.
Large-scale projects
Large-scale commercial construction forms the elite level – with the sky being the only limit! The projects include constructing skyscrapers, airports, hotels, government offices, dams, warehouses, etc. They are long-term construction projects that can take years to complete.
With more spatial diversity on the horizon, you can expect such ground-up construction to demand only the best industry minds. Everything begins from scratch since there is no existing building for the teams to work on. Professional expertise is needed to streamline the intricate process and keep an eye on schedules, labor, materials, budgets, building codes, etc.
Stages of commercial construction
1. Development
The development stage is where your commercial ideas get refined to procure the objectives and goals for construction. Various estimations and itemized breakdowns are explored for testing out feasibilities to give you an initial budget. The stage includes finding the ideal location to mark your commercial footprint, and this is one of the most crucial parts of the project. Your chosen location should conform to relevant zoning requirements. In terms of futureproofing the location, you have to consider the compatibility and eligibility of neighboring lands. This lets you decide your potential for expanding the business, as the surrounding landscape is your best outline. Conducting environmental tests is also important to check for soil contamination and other red flags.
2. Design
With a budget at hand to fuel your project, your contractor and architects will help you with various 3D models in the design stage. These drawings are your first glimpse into the commercial project. Communication needs to be crystal clear at this point to make sure your vision translates into reality in the end. Architects and builders tackle the cost, material, and equipment areas. They assess room functionalities and utility requirements. This helps optimize the site access and building orientation – and also makes space for your chosen amenities like parking lot spaces. The design stage also covers the necessary paperwork for code-compliant practices to give the construction its green light to go. Other professionals in the team include engineers, electricians, and plumbers to handle the relevant frameworks. Site inspectors often step in to evaluate the infrastructure and ensure the credibility of your project.
3. Construction
Your contractor will take care of the building permits, insurance, and documentation aspects before the actual construction begins.
All the plans and paperwork need to be approved for authorized execution. You can then finalize bids from potential vendors and establish your commercial construction crew. It generally includes project managers, engineers, construction superintendents, designers, and architects. The construction of your commercial building should be aligned well with schedules and budgets. This prevents delays from miscommunication and logistical errors. Your crew will work on site preparation aspects like excavation, utilities, debris removal, etc. Once the inspection requirements are met, the concrete foundations can follow next. The HVAC, electrical, and plumbing framework will be installed – along with various roofing elements. This brings the construction stage to its final interior/exterior touch-ups and landscaping milestones, after which the final walkthrough can be scheduled.
4. Inspections and walkthrough
The client walkthrough is when you get the first look and feel of your newly constructed commercial building. A punch list is finalized to mark any changes you point out before the project is officially completed. This also calls for a final building inspection to guarantee you the required certificates as the proud new owner.
Examples of commercial construction
The global commercial portfolio is diverse and brimming with possibilities. There is always something new to explore and build in the commercial world, with unique trendsetting milestones to surprise you. Here are some popular examples of commercial construction projects:
retail and grocery stores with improved spatial efficiency, accessibility parking spaces, etc.
restaurants with optimized dining and kitchen layouts – and upgrades to alfresco dining with landscape aesthetics.
lodging facilities like hotels and Airbnb.
offices ranging from small firms to skyscrapers.
healthcare facilities that include hospitals, clinics, senior citizen care, research centers, etc.
sports environments like stadiums, gyms, fitness training clubs, and school playgrounds.
mall expansion projects for better parking or food court inclusion.
seismic retrofitting to secure a commercial structure as part of its tenant improvement.
university campus construction to include an office building, an auditorium, a courtyard, and a car parking lot.
state-of-the-art theaters for urban entertainment, featuring ballrooms, underground parking, dining lounges, etc.
tourist attraction facilities like museums and art galleries, with repurposed courtyards.
performing arts centers with revamped studio rooms and café.
college dorm renovations to incorporate dedicated gym locker rooms, kitchenettes, and recreational areas.
community and youth centers for urban recreation, complete with a lobby, gym, aerobics studio, art rooms, and daycare facilities.
warehouse interior buildouts to install acoustic ceilings and impact-resistant doors.
Let those blueprints come to life!
The pandemic-hit industry has seen a downward spiral, with brick-and-mortar companies moving online. However, some sectors like offices and education have been back in action. Whether you pick a small, medium, or large-scale project, working with professional teams is always a good idea. They help you put the commercial puzzle pieces together, and once you connect the dots, you can understand your project scope much better. Commercial construction is increasingly encouraging people to think outside the box and finally move from cookie-cutter approaches. Even though window shopping might stay on extended leave, the emerging commercial trends are still a hopeful relief!