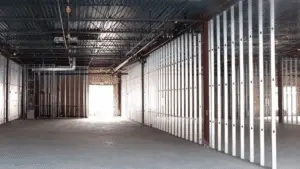 Image credits: EDINSA Contracting & Renovations
Vacant commercial buildings that are ready to be leased have different conditions in which they get delivered to you – the tenant. These building conditions or states are represented by various terms from the commercial vocabulary, so depending on the finished or unfinished spaces you lease, you will be using specific descriptions for the available space. Raw or unfinished properties exist as a shell (grey or vanilla) with only basic infrastructures that will be completed later on. You can either lease a previously finished and improved building – in which case, you can reuse the additions left by the past tenants – or you can start fresh and lease a building in its original, unaltered form. This is the route we will take today, and in order to explore the key grey shell vs vanilla shell differences, here is a glimpse into what each type entails in terms of the available features, costs, applicable audiences, and project durations.
Grey shell vs vanilla shell
Shell definition
A shell refers to the raw, bare-minimum building "bones" that make up a commercial space. It is a building condition that represents the original, work-in-progress status of a commercial property, indicating that this is how it will be made available to you for leasing. There are no usable features or amenities installed, so the interior is neither functional nor welcoming.
You might find basic structures like unfinished walls, a floor plan, an exposed ceiling, and the main door/window cut-outs stenciled into the building. Shell spaces also have different configurations to suit different tenant preferences, which is why you will see terms like grey shells and vanilla shells while discussing your lease options. Depending on the level of features you want within a raw space before leasing it, the building condition may vary between these two common shell types. You can then build out the property with custom improvements to support your commercial scope.
Grey shell
In commercial leasing, a grey shell represents the most basic, bare-minimum building condition below which it cannot be considered safe or leasable. This is also known as a cold grey shell, so there is more focus on the "temperature" and "color" that hits you the moment you walk into a grey shell space. The interior simply includes concrete grey walls and flooring, so the overall impression is always a monotonous grey. At the same time, the space lacks essential features like utilities and HVAC, which leaves the building cold and dull without any source of warmth – so together, this is your typical cold grey shell.
Due to the mostly unfinished interior and exterior, cold grey shells need to undergo extensive improvements before they can be suitable for tenant occupancy. They usually cost around $50 – $100 per square foot to be built out and can take weeks or several months to finish depending on your project size. Since grey shells exist in such a raw state, they are highly customizable to meet the needs of technical commercial activities that require very specific frameworks, utilities, and infrastructures – like medical and healthcare contexts. Audiences who prefer leasing a commercial building in its grey shell form include tenants who aim to sign up for longer leases – it only makes sense to stay for at least 5 years or more if you are working so hard to customize the space as you like.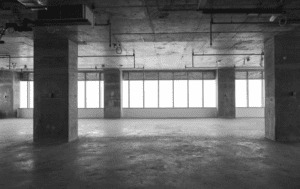 Image credits: Nearby Engineers
Vanilla shell
In comparison, a vanilla shell offers an easy middle-ground option because this type of a shell space is partially completed – so it goes a step above a grey shell, and you will not have to start from scratch. Such building conditions are also referred to as warm vanilla shells. Again, the description zooms in on both the "temperature" and "color" aspects that shape your first impression on entering the building. Since key features like lighting, HVAC, and electrical/plumbing utilities are installed, the once cold and grey shell is now illuminated and warm. In addition, the previously grey walls and flooring receive an upgrade, creating a white, blank-canvas look that is much more functional and inviting. Combined, this is your definition of a warm vanilla shell.
Thanks to most of the essential amenities already in place, it is normally more affordable to build out a vanilla shell compared to a grey shell. You can expect to pay around $20 – $50 per square foot based on the extra updates you want to add. Office tenants are popular vanilla shell clients because they usually want a functional space to move in quickly and get to work, and there is not much focus on custom details or high-end finishes. Since vanilla shells already have major upgrades in place, they support faster move-ins. You might be just a paintwork and furniture placement away from occupying the premises and running your business.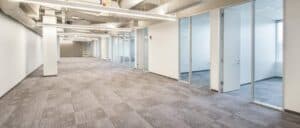 Image credits: Aquila Commercial
Conclusion
That was the end of our grey shell vs vanilla shell analysis. In the world of commercial leasing, such terms can be interpreted differently by different audiences, so it is really important to get your definitions right. In this way, you can confirm the details of the given space and be on the same page as your commercial contractor, building owner, and designer. Even professionals often have varying opinions on what a grey shell or a vanilla shell represents, and sometimes the included features can overlap between both shell types, so it gets tough to work around these blurry lines – especially as a tenant with your own version of the expected outcome. To avoid such confusion and disappointments, make sure to revise the lease terms carefully and understand how the building will be made available to you once you sign the papers.
By hiring reputable and licensed commercial teams, you can trust these experts to guide you based on your specific commercial scope and business compatibility for a grey or a vanilla shell. They can help you negotiate a good allowance for the project from your landlord, break down the budget so that it fits each milestone, and ensure that your build-out is headed towards the finish line – so keep an eye out for portfolio relevance and client reviews to back your hunt for the right contractor.