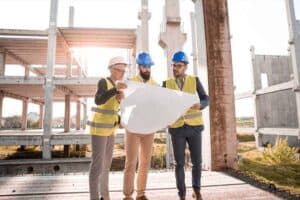 Construction projects are based on various state laws, zone permits, licenses, and building protocols that need to be met before any work can begin. Commercial construction, in particular, requires experts to oversee the different aspects and paperwork details. These commercial construction contractors are trained professionals who have a bird's eye view of everything that goes around on the site. They handle the necessary permits to initiate the construction and ensure a safe environment for workers. Regardless of your project scale, a commercial contractor is a specialized expert – and the starting point – for your collaborations. You need someone to lead the orchestra on-site as well as behind the scenes, and commercial contractors are in charge of it all.
These professionals work with various stakeholders of your project and enlist the necessary expertise. They set the key milestones throughout the construction project and make sure that the commercial context is followed perfectly. This is because there are several differences between residential and commercial projects, and it is important to work with someone who knows what they are doing. For example, offices, hospitals, and restaurants have different building permits and applications from residential homes. A commercial contractor streamlines such projects so that your budget and timeframes are met. Your construction compass always points to the contractor. And by hiring the right person, you can be confident in your choice of a frontline leader.
Key responsibilities of a commercial contractor
Site supervision
Commercial construction contractors have the primary responsibility of observing and leading everything around a site. They handle the regulatory permits that authorize the necessary operations for your project. All the materials and equipment needed for construction will be supervised by a contractor. This includes buying and renting machines and materials according to your budget. Everything from the starting point of your project to the finishing line waits for a thumbs-up from your hired contractor. These experts make sure that your construction begins as planned, and they keep track of each milestone along the way. This helps to highlight any delays and rescheduling programs, so your commercial building plan follows a more streamlined route from its blueprints to a spatial reality.
Stakeholder collaboration
Your commercial construction contractor will involve various site managers, vendors, sponsors, subcontractors, etc. participating from start to finish. All discussions between these stakeholders meet at one mutual point – your commercial contractor. You need someone to communicate with the relevant resources throughout your project, and a contractor takes care of communication aspects too. Most commercial construction contractors collaborate with their own team of designers – should you wish to enlist their interior design expertise. On the whole, your hired contractor will keep in touch with your project's engineers, architects, designers, and subcontractors. This helps bring your entire team on the same page, and everything flows in synchronized steps.
Technology implementation
Gadgets and software apps definitely give a commercial contractor some extra help around the site – drones are one example of a good and safe vantage point. Various apps are available to support areas like financing, CAD, project management, inventory management, etc. Scheduling apps with GPS support allow workers to clock-in and clock-out from their own smartphones – and the contractor can remotely observe everyone's location. Construction project management apps optimize various milestones, enable real-time communication, and speed up reporting duties. They also give contractors organized insights into the logistics and current statuses of each project. Audit and reporting apps are valuable tools for safety inspection and walkthrough aspects – as most of these tasks can be done online.
Such cloud-based solutions have helped bridge a lot of gaps during the COVID restrictions, allowing contractors to work remotely and still have a bird's eye view of each process. Conference apps like Zoom and Skype are increasingly used for meetings between stakeholders. Being a little tech-savvy goes a long way especially during these times. Technological expertise from modern apps and gadgets walks the extra mile – so the contractor does not have to! These solutions also enable worker safety to create as much of a COVID-proof construction site as possible. Workers can use their own smartphones to clock-in and clock-out for contact-free entries to the site. They can report to the contractor by updating their tasks on the project management app. Wage payments can be made online – another contact-free possibility. Therefore, implementing the required technologies has become a crucial role for contractors during the pandemic.
When should you hire a commercial contractor?
Commercial construction is quite diverse depending on the context, applications, and project scope. Experienced contractors will have traversed most of the commercial spectrum. For example, their portfolios will include projects from offices, restaurants, schools, hospitals, charity organizations, recreational areas, retail, etc. This also means that they have the required licenses to carry out commercial construction projects.
If your project involves building a new office, extending the infrastructure, remodeling a store, or updating the safety protocols, then a commercial contractor is your first choice. It is important to work with licensed professionals, and you can always browse their portfolios to check for commercial compatibility with what you have in mind. Material and resource allocation is another crucial aspect. Any renovation project involves the use of materials and equipment around your commercial building, and your contractor will know just where to begin.
Furthermore, if you are planning on interior designs, new carpeting, HVAC upgrades, improved electrical frameworks, then it is very likely for specialized subcontractors to come on board. Your commercial contractor will negotiate as needed and collaborate with the right people. Also, any commercial context first needs to pass laws and permits to conduct operations. So, you would want to choose an expert in the field to pick out the red flags and bring your commercial building up to the best, workable standard.
Work with W.E. O'Neil
Almost a century in the industry
W.E. O'Neil Construction Company has been around for a long time in the field of construction. Keeping its clients' needs at the frontline, the company offers dedicated services to ensure quality and integrity in all projects. It operates from various locations and has grown into an award-winning collaboration over the decades.
A vast construction portfolio
The company's exemplary workmanship, innovative streak, and credibility are reflected in its residential and commercial projects. Its commercial portfolio explores diverse possibilities to turn your dreams into reality. Some examples include urgent care units, research centers, community college renovations, shell construction, building redevelopment, residence hall construction, and hotel remodeling. W.E. O'Neil specializes in community recreation and academic renovations. It has retail expertise as well as theatre infrastructural scope. Moreover, the construction contractors handle parking and landscaping projects for restaurants and hotels. Healthcare upgrades extend throughout the medical spectrum, and the company follows state-of-the-art practices for all of its projects.
Green buildings
W.E. O'Neil collaborates with LEED Accredited Professionals to promote sustainable construction. This enables an environmentally-aware approach for sustainable programs. These green objectives include goals such as reduced operating costs, natural resource conservation, reduced waste, and longer equipment life cycles. Some examples of LEED-driven commercial projects from W.E. O'Neil include hospitals, hotels, libraries, theatres, showrooms, and recreation centers.
Choosing the right contractor
To get a good head start, make sure that you hire a licensed commercial construction contractor from verified places like W.E. O'Neil. Acquiring all the permits and finalizing the paperwork can take some time, and you need to plan your timelines accordingly. It helps to communicate with different contractors until you can narrow down your hunt efficiently.
You want to work with someone who can meet your commercial goals and has the verifiable experience to back up your choice. Finally, contractor portfolio and bids should be your deciding factor. Your potential contractor should give you a detailed bid breakdown to help you explore your budget and feasibility. It is always a plus if your bid coincides with past experiences on the contractor's portfolio – as you can relax knowing that your commercial project is in the right hands.