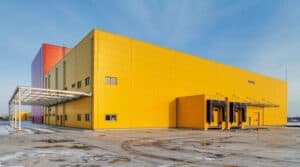 Image credits: Premier Painting
Commercial painting is a key component in building a brand's image, defining workplace aesthetics, and setting the curb appeal – all of which contribute to the reputation of a business. Paintwork really is one of those things that you do and forget until your building starts screaming for help, which is why it is often ignored or delayed for regular maintenance programs. Commercial interiors and exteriors wear out as time passes and eventually start losing their "edge", giving the building an overall rundown look. These spaces can easily appear outdated just because of their unkempt walls, so it is important to repaint commercial buildings every couple of years. In this article, we will focus on repainting aspects alone and understand both the building symptoms that call for a fresh coat of paint as well as the benefits of doing so.
Repainting a commercial building
The when
Commercial buildings develop tell-tale signs over time, and when you spot these symptoms, it means that now is your chance to refresh the paintwork before things get worse. You obviously do not have to wait for these red flags to appear before investing in a repainting project – you can always schedule repainting as a timely precaution based on what your commercial painters recommend.
Still, if you would rather "greet it when you meet it", here are two visible signs that should alert you about a deteriorating paintwork and remind you that it is time to repaint the building:
1. Wall mold and mildew
Painted surfaces that are exposed to humidity, rain, snow, pressure washing, and leaks are vulnerable to damages caused by the accumulating moisture. So, it is important to defend your commercial property from this known enemy. If neglected, mold and mildew can spread rapidly throughout the building, resulting in unsightly damage as well as mounting health hazards – not to mention the legal implications that will knock down your door anytime. Once you spot mold or mildew on your property, it is time for a thorough, professional evaluation to assess the damage and bring out the paint brushes. By treating the existing mold/mildew and repainting your commercial building, you can extend both its lifespan and value for the coming years.
2. Worn-out paint
Paint that is fading, bubbling, peeling, or cracking is another indicator for a fresh coat of paint. Exterior walls are constantly exposed to the elements and sunlight, which is why they age faster and wear out quicker. If you notice paint "bubbles" and cracking, it is usually a symptom of built-up moisture caused by humidity and leaks. Similarly, when your commercial walls start to "shed their skin", the peeling paint calls for a new coat, and this is your cue to call in your commercial painters to address the damage and freshen up the walls. Without repainting the building, you cannot avoid subsequent damages to the now exposed walls, since cracked and peeling paint leaves the main infrastructure vulnerable to corrosion and pests.
The why
Whether you are repainting to fix damages or for precautions, there are several reasons and benefits of giving your commercial building a fresh coat of paint. Here are some of the main reasons why you should consider such a project down the road:
1. To support rebranding
Businesses enroute to a new commercial identity need to update the look and feel of their existing building. One of the most effective ways to do so is to refresh your building's color palette, so you do want to prioritize repainting your space in order to give it a brand-new outlook.
This is also an excellent chance to update the façade because both the interior and exterior should be cohesive to reflect the new theme.
2. For lead paint removal
Older and outdated buildings might have been painted with lead paints and need to be treated accordingly in order to address lead-based issues. This is because lead traces create health hazards through potential contamination and poisoning when diffused in the air, so it is crucial to handle this aspect to make the repainting process more reliable and code-compliant. You will need the help of commercial painting contractors who specialize in lead removal and can offer relevant services for your specific building type.
3. For commercial facelift
Repainting commercial buildings allows businesses to plan aesthetic touch-ups here and there, which makes a world of difference to corporate details in terms of décor and branding. Based on your building's existing status, your commercial painters can help you choose from special paint coatings for fade resistance, UV protection, mold resistance, and similar features. This makes the final paintwork more durable, helps your walls look great for longer, and reduces your repainting frequency down the road.
4. To improve the market value and curb appeal
Repainting a commercial property increases its value because of the added protection offered by the fresh coat of paint – especially if you have used paints with protective features. Treatments like fade/mold/UV resistance ensure a longer-lasting paintwork that preserves the main infrastructure, which makes the building more leasable and creates an effortless curb appeal that is hard to ignore. The result is increased foot traffic, consecutive leasing, and thriving commercial real estate. Every business relies on good first impressions, so the more inviting your commercial space is, the better!
5. For workplace creativity
Commercial environments directly impact the work psychology of employees within a business. The truth is that employees will continue to work in a dull, auto-pilot mode to complete their clock hours because this is what they are expected to do – their job.
It takes a creative, welcoming, and dynamic interior to break away from this corporate inertia and actually look forward to the day ahead. And, yes, commercial repainting is one way to go. Not only does the freshly repainted building look great with a new color palette, but it also allows employees to enjoy being at work without feeling drenched by the commercial monotone.
Conclusion
Now that we know when and why to repaint commercial buildings, here is some final advice before we wrap up. Depending on the quality of paint and the current condition of your walls, it is recommended to repaint the building every 3-5 years. Once you plan to repaint your space, make sure to schedule a thorough inspection of your commercial walls and other painted surfaces to reveal any underlying damage that requires immediate attention. In this way, your commercial painters will first address and fix the issue – such as moisture build-up – and then suggest a suitable paint option for better durability and resistance (compared to simply painting over the walls hiding all that damage). Repainting checks a lot of boxes in terms of both durability and aesthetics as we saw above, so do not forget to add it to your list of maintenance aspects, and give your commercial building a new lease of life.