Image credit: Pelco
Commercial building owners, businesspeople, and property managers are responsible for the safety of their employees and assets. Offices, schools, hospitals, stores, restaurants, and other commercial buildings are always prone to threats and crimes one way or another, so it is important to take preventive measures to ensure a safe working environment. The best approach is to establish different commercial building security systems that cater to the specific, comprehensive needs of your business. They give tenants a reason to stay, which boosts tenant retention for owners. You will typically work with building security specialists and installation experts to identify and deter unwanted access to your property, and this includes using a network of cameras, sensors, alarms, and similar technologies. Here are some of the main security systems you can use to level up your property's surveillance and safety aspects.
Commercial building security systems
The first step to commercial security is conducting a site survey to determine which threats your building is vulnerable to and what kind of systems are needed to combat them. Risk assessments made by security experts allow owners and property managers to implement tailored, efficient, and productive security systems that offer 360-degree visibility of the area – which builds better situational awareness. Your security analysis will cover details like the systems your building needs (surveillance, access control, fire alarms, etc.), all the required equipment, and their installation points.
Together, this builds a comprehensive layout with CAD drawings to help you map out and visualize the entire network before it is implemented. The following are some of the top security systems for commercial buildings.
Digital surveillance
Digital video surveillance uses CCTV cameras to capture images and videos of different entry/exit points and other areas of the building. They make it easy to spot and track intruders and give you better, real-time visibility of your property. These cameras can be combined with motion sensors to automate triggers like alarms to fend off suspicious people or alert the security team instantly to take immediate action. You will work with professional security camera installers to identify target installation points within your building so that there are no blind spots left for criminals to play around.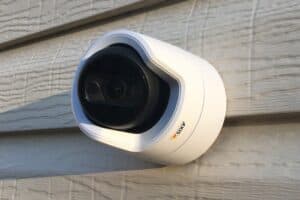 Axis CCTV surveillance systems by Forbel
CCTV surveillance is simple and cost-effective for most commercial establishments. It is a crucial part of property management as it keeps both the interior and exterior aspects under control. Different security cameras serve different purposes depending on where they are installed, how much coverage is needed, and whether they offer motion-sensing compatibility. Some examples include:
Perimeter defender cameras for virtual fencing support, intruder detection, and speaker warnings for trespassers.
Facial recognition cameras with advanced AI and tracking features.
Multi-sensor cameras for 360-degree footage.
Bullet cameras for maximum night vision.
Dome cameras with protective casing for lower-height surveillance.
Solar-powered cameras for areas like parking lots and remote facilities.
License plate readers for tracking and recording vehicles.
When installed and integrated correctly, these cameras can create a network of unparalleled surveillance around your commercial building to help you monitor suspicious activity, minimize theft, catch intruders, and ensure the overall safety of your employees and assets.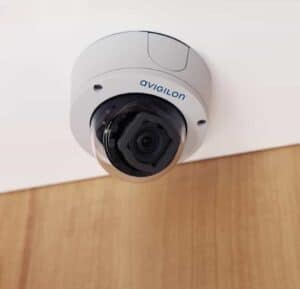 Avigilon CCTV camera installation by Forbel
Digital surveillance cameras are important commercial building security systems because they enable occupancy tracking (so you can keep an eye on each and every person within your property) and provide visual evidence to back your case in potential lawsuits. They also help you with remote surveillance from wherever you are, which is great in terms of building owner and property manager responsibilities.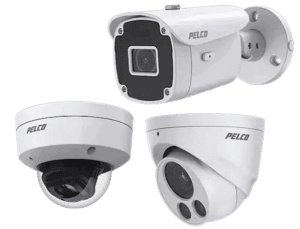 Pelco fixed IP cameras for commercial security
If your commercial building has a parking lot, you need to install perimeter defender cameras, facial recognition cameras, license plate readers, or solar-powered cameras to secure your outer space – as this is where your employees park their vehicles to start their day at work. For nighttime visibility, you can use cameras equipped with this feature. Parking lot security is crucial for identifying and tracking suspicious movements and target vehicles. It also captures facial data to help identify intruders on commercial properties.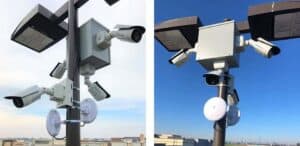 Avigilon parking lot surveillance system by Safe and Sound Security
Alarm systems
Triggered alarms are essential for instant action against attempted trespassing and theft. For example, motion detection systems can be set to trigger alarms once they detect movement outside work hours. They also help deter unwanted access through forced entry, broken windows, and similar intrusions during active hours. Alarm systems are quite effective in halting anyone trying to break into your building because they do not just activate alarms but also send alerts to the required teams (including the local police) and notify you immediately. This allows you to take timely action before any harm is done. Fire alarms are another example of commercial alarm systems and should be installed as a priority for business and human safety.
Access control
Commercial building security systems are incomplete without proper access controls. This category refers to controlling access to your property using artificial intelligence, so it is all about automating entry checks to enable authorized access and deny unwanted access. It works using near field communication (NFC), RFID, and Bluetooth technologies to establish 2-way communication between smart gadgets, which results in "Access Granted" or "Access Denied" results. Access control includes several systems under its name, but it is not necessary to install every single one of them. Depending on the layout of your building, you should install relevant access control equipment that delivers the purpose without being redundant. The focus is on ensuring streamlined check-ins for authorized people, so the more "touchless" everything is, the better. Some examples of access control systems include:
Smart locks. In commercial buildings, it is important to install smart locks for restricted areas like entrances, office rooms, labs, computer rooms, classrooms, and so on. They rely on different "keys" to open them such as key fobs, passcodes, biometrics, and QR codes, so the level of security is higher compared to using traditional locks that are always easy to forge and break into.
Intercoms. Digital intercoms offer audio, video, biometric, and QR code options for communication and scanning purposes, which allows both manual and automated control depending on what medium you use to request access. With intercom systems, you do not need to be physically present at the door to answer it. You can simply use your app from wherever you are and check visitors, delivery people, and employees before letting them in.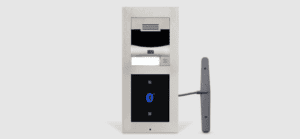 2N intercom access control installation by Forbel
Specialized readers. Similar to smart locks, key fob readers and QR code readers are examples of specialized reader systems designed for scan-and-go convenience for authorized users. They can be installed for elevator access control as well as on each door that has restricted access. QR code scanning is quite popular because you do not need to carry an extra key or fob – you can just use your smartphone to scan QR codes, get your credentials verified, and gain access.
Biometric scanners. Facial recognition, fingerprint scanning, and retina scanning use physical characteristics like fingerprints that are unique to each person, so there can be only one match per scan – which simply elevates access control for commercial buildings as it is next to impossible to replicate such data. This is great for entrances and restricted areas in office buildings, stores, hospitals, schools, warehouses, etc. as these systems help in identifying trusted people easily while keeping intruders at bay.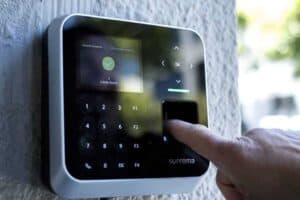 Suprema biometric access control by Safe and Sound Security
Access control systems make it difficult for intruders to break into the building because (a) it takes time to work around the equipment, (b) the door will only unlock for recognized users, and (c) the risk of alarms alerting guards is always high. A good access control system should limit access to key areas including resources like commercial assets, medical equipment, employee records, patient files, and so on without slowing down authorized people. So, choose a system that is planned strategically, fits your budget, ensures authorized foot traffic, and deters criminal activity.
Security lights
Lastly, commercial building security systems must include security lights for nighttime illumination and safety. Floodlights, canopy lights, and parking lot lighting are important for keeping commercial properties well-lit once the sun goes down, especially for places like gas stations, stores, hospitals, and offices. Criminals are more likely to break into buildings in the dark, so you want to make sure that your building is safe with proper lighting. These lights are often available with dusk-to-dawn convenience, which means that they are automated to stay fully bright at night and slowly fade away as dawn approaches. Some fixtures also include motion sensing to detect movement, activate the lights, trigger an alarm, and turn back off once there is no more movement. For property owners and managers, this is a massive help in terms of energy efficiency and nighttime security.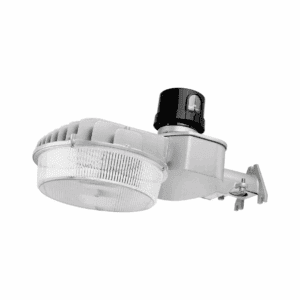 Dusk-to-dawn commercial security lights from Warehouse Lighting
A chain is only as strong as its weakest link
Commercial building security systems help you develop better situational awareness about your property. They rely on good integration to build a cloud-based infrastructure that supports the complete security network of your business. Since commercial security is about protecting both your people and resources, make sure to get in touch with security experts like Forbel who can help you identify your property's vulnerable points and plan ways to secure its "weak links". The right system should offer centralized security that connects all the installed technologies to give you single-view, dashboard insights into your property. In addition, the right system should also prevent fraudulent access without making it difficult for authorized employees to enter, so it comes down to two crucial requirements – ease of use and reliability.