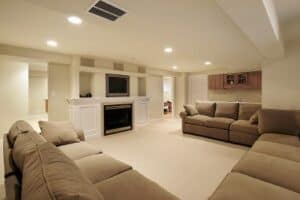 Investing in a basement finishing system goes a long way when you want to upgrade your space. A complete package includes finishing and insulating the basement to improve its infrastructure. This makes an essential part of any basement remodeling project, as the finishing system transforms the existing shell into a more inhabitable living space. By revamping the basement structure, you can plan a more efficient makeover to give your basement a long-lasting facelift. Core aspects in most systems include walls, ceilings, lighting, electrical framework, plumbing, HVAC, and flooring. You can also opt for door and window installation to suit your renovation scope.
Basement waterproofing is another crucial goal; it tackles moisture and mold build-up around your basement by replacing the damaged parts with new additions. Conventional materials like drywall and wood are easily vulnerable to water damages. This is because basements experience frequent leaks and seepage problems, and the resulting indoor humidity adds to the challenge. A basement finishing system gets to the root of the problem and helps you minimize the issues from water damage in your basement. This includes removing all the moldy carpeting, warped panels, soggy drywall, and peeling wallpaper. Clean and resistant materials take their place, and they ensure the longevity and comfort of your basement. This article explores the different aspects covered by various basement finishing systems. They all share the mutual objective of transforming your unfinished basement into an upgraded version – ready to own your favorite Pinterest look.
Features of a basement finishing system package
Homeowner's expectations
Basement finishing systems are planned to include most or all of the homeowner's requirements into one convenient package. This offers a feasible choice for you to carry out various basement upgrades in a cost-effective solution. Pricing plans are organized according to custom requirements like installing LEDs or demolishing a wall. As a homeowner, you might want to turn your finished basement into a home theater, an indoor recreation space, a gym, your art studio, etc. Your chosen company will offer you services for customized basement finishing to add the necessary fixtures. If indoor humidity is the main concern, then now is the time to let the moldy and damaged layers peel away like a second skin. This makes room for mass cleaning followed by new carpeting, fresh paints, clean upholstery, and creative wallpapers to redefine your basement look. A finishing system is a great opportunity for a total overhaul to create an empty basement "canvas" and paint it the way you like.
Walls and ceiling
Basement walls and ceiling take up a significant portion of your remodeling pie chart. Any professional finishing system will retrofit the existing shell with new and durable frameworks. This may include plastic or vinyl frames getting attached to the walls. Finished and dent-resistant wall panels make a smart addition to reinforce your basement infrastructure. Various resistant fabrics are layered on top of these panels to prevent the unsightly invasions of mold and mildew. When it comes to proper insulation, your basement finishing system should incorporate commercial-grade fiberglass boards into the wall panels. These panels are also coated for stain-free aesthetics.
If you are aiming for a home theater, then a suspended acoustic ceiling is definitely within your finishing system radar. It provides ideal noise reduction and absorbs echo to deliver exceptional acoustics around your basement. Your contractor should discuss your available options for a wall upgrade, as this stage can be difficult to reverse. Installing code-compliant and durable materials is imperative, otherwise, you face the risk of additional repairs – and mold always lurks around for a surprise visit. Working with professionals and conducting thorough inspections are crucial first steps before renovating your basement walls. This gives you all the thumbs-up from various permits, and you can decide on your waterproofing options much better.
Resistant finishing products
A good basement finishing system replaces your old materials with waterproof, stain-resistant, and mold-resistant products. These range from wall panels and fabrics to flooring tiles and ceiling materials. It is important to choose such durable products because they offer the promise of long-term efficiency. Once your basement is finished and upgraded, all your future remodeling ideas will enjoy a long and comfortable lifespan – thanks to the reinforced structure for added support. It stands the test of time and prevents water from leaving its mark over the years. Your contractor might use rigid foam insulation, moisture-proof PVC tiles, and insulated subfloors. These materials are designed to be immune to water damages. They allow your basement to breathe a new lease of life and maintain a dry, clean, and welcoming environment. It is a smart way to restore your old basement to livable standards.
Water damage and flooring
Basements experience water leaks from different causes – such as damaged pipes or the aftermath of floods. Various finishing systems provide water damage relief in the form of pump equipment and dehumidifiers. The pumps draw out excess water from your basement floors, and the dehumidifiers have the longer job of slowly and continuously extracting moisture from the air. In this way, humidity levels are managed to discourage any incoming wave of mold and mildew.
ThermalDry® flooring tiles are popular choices for basement finishing systems. These PVC tiles are resistant to mold and damages from moisture accumulation. They are available in different styles like wood and ceramic to add just the right flooring aesthetics. So, both style and durability are checked off your list, and you can trust your flooring investment to go a long way.
Window installation
A finished basement with the right window upgrades is the extra-mile effort to make all your hard work stand out. Double-paned vinyl, for example, makes a refreshing change from your traditional basement windows. They allow better illumination for the perfect natural ambience during the daytime. These windowpanes offer more insulation as well, and they are easier to maintain in the long run – thanks to their durable frames that stay resistant. All-vinyl windows do not corrode or catch rust; they also prevent mold invasions into the frame.
Your basement finishing system package will allow you to choose from different designs to give your basement an instant facelift. The windowpanes can be detached easily to speed up cleaning on both sides, which is always a plus to make your cleaning chores a breeze.
The best basement finishing systems
Owens Corning
A leader in building and industrial materials
Headquartered in Toledo, Ohio, Owens Corning is a global leader for all building and remodeling solutions. It is famous worldwide for its insulation and roofing materials. The company has franchises sprinkled across North and South America – as well as Europe and Asia Pacific. Following a sustainable-minded approach, Owens Corning manufactures durable products that maximize architectural standards and minimize energy footprints. Its innovations extend to both residential and commercial contexts, creating a huge umbrella to cover all of your project goals.
Basement finishing systems
The basement finishing systems at Owens Corning help you transform your old basement into a welcoming living space. It outlasts a traditional drywall basement, absorbs sound for improved acoustics, and stays resistant to mold and mildew. Using the snap-in, snap-out panels, your basement walls can be detached easily to access the foundation hidden behind them. This simplifies any future repairs, as you will not need to tear down a wall to reach the mechanical, electrical, and plumbing framework behind it. Owens Corning offers a Lifetime Limited Warranty that passes on to your next homeowner – which speaks volumes about an investment well made.
The basement finishing systems are of two kinds: paintable and fabric. Both options include thermal and acoustic insulation for added comfort. Their walls are dent-resistant, long-lasting, and maintenance-free. This is an exciting bonus on the standard mold and mildew protection, as you get to enjoy the benefits of versatile resistance from the same paintable panels. The installation takes around 2 weeks, and the walls have a Class A fire rating.
Purpose-built basements
Owens Corning provides quality workmanship and services from certified professionals who know exactly what they are doing – and how they need to do it. The purpose-built basement finishing systems adapt to your requirements for a functional living space. It is interesting to explore some of the company's basement portfolios to watch the before-and-after transformations. The bespoke solutions turn your once disregarded and messy basement into a reimagined, Pinterest-ready outlook. Owen Corning's paintable and fabric systems use materials that feature higher breathability compared to drywalls. These materials cancel out noise at up to 95% for enhanced acoustics and minimal echo for your dream home theater environment.
Basement Systems USA
A family-owned company
Basement Systems USA covers areas in Pennsylvania, Delaware, and Maryland. It offers services for basement waterproofing and crawl space repairs – among several foundation-based upgrades. With the primary objective to help homeowners build a healthier living space, the company focuses on comfort and larger storage options. It has one of the largest waterproofing networks in the industry. Some of its core basement services include fixing leaks, adding insulation, dehumidifying, removing mold, and reinforcing the foundation. You can collaborate with the teams for a free in-house inspection and receive estimates to guide your budget.
Basement finishing system
Suitable for all basement types, the company's finishing system is designed for adaptability and versatility. It revamps your existing, unused space into a personal retreat – full of potential and functionality. You can finally put your basement to good use and let your dream projects come to life. The products and installation materials will all be appropriate for your specific basement climate, so you can relax knowing that your finishing system is durable and efficient. The firm's Total Basement Finishing (TBF) system accommodates various design concepts for your basement. This allows your remodeling plans to move from Pinterest boards and take the shape of a family room, a home gym, an art gallery, a home office, etc. Experienced contractors deliver quality services for your choice of waterproof finishing systems. All products from Basement Systems USA come with a warranty to give you some much-needed peace of mind.
Finished add-ons
The systems offer creative possibilities for lighting options when you can install a drop ceiling in your basement. Depending on your preferred style, you can choose between fluorescent, task, pendant, and suspended lights to illuminate your basement at the desired ambience. The durable wall panels can support the weight of these fixtures – and your window upgrades allow your basement to soak up as much of the sunlight as possible. The finished walls have a timeless appeal due to their classic color tones that stay in trend over the years. They are durable and washable, so you can just wipe away any marker stains and paint splashes.
Regarding flooring options, you get to pick from 8 different flooring styles that are all waterproof for a healthy lifespan. There are tiled and carpeted designs as well as sub-flooring services – with crown molding and ceiling tiles that exceed your expectations. These finished products are made to outsmart the old drywall systems. With the latest innovations pushing traditional materials far back into history, you have more freedom to create a custom basement. The company's free-standing wall panels also serve to hide away the mechanical framework, HVAC ducts, and wiring. You can work your design around utilities like heaters, and let your systems blend seamlessly with your décor.
Green basement remodeling
Basement Systems USA also gives you the opportunity to invest in a greener solution for your finishing project. Energy efficiency and small carbon footprints are promising incentives for a green citizen, and if you are a sustainable-minded homeowner, then this is your time to shine! A TBF system with green products includes R-13 wall insulation, low-E glass windows, recycled wallboards, Energy Star dehumidifiers, etc. The lack of drywall and fiberglass materials means that your basement gets a chance to breathe – and so do the landfills! Other green alternatives in the finishing system come from ThermalDry tiles, EverLast windows, and SaniDry dehumidifiers.
Don't let the humidity dampen your Pinterest boards!
Damp wallboards can be a recurring problem in unfinished basements. With the help of a reliable contractor, you can address various weak spots in your basement and restore it to the best condition. Basement finishing systems like those discussed above are designed to target structural flaws and make the necessary replacements. This helps unleash a whole world of potential within your basement walls, encouraging you to finally welcome your first Airbnb guest in the new suite. You can turn your finished basement into a spare kitchen and pantry area with generously open storage.
Once your basement is torn down and reconstructed just as you wish, you have all the spatial freedom at your disposal. A finished basement is like a blank canvas that is ready to own your painted picture. Your favorite reading nook can sit next to the window. The billiard table finally has its own spotlight. There is a cupboard under the stairs because yes, Harry Potter forever. And since the pandemic has brought your work to your home, it is time to attend that Zoom conference from a dream office you have always wanted!