Image credit: CertainTeed
Commercial buildings require different finishing materials to help interior spaces develop their first look and feel of the property. Drywall is one such material, and it is popularly used for finishing interior spaces. Comprised of gypsum plaster, drywall is available as solid sheets or panels that can be installed easily to form the "face" of interior walls and ceilings. It is also known as plasterboard, gypsum board, and sheetrock. Depending on the type of drywall you want, your building's architectural needs, and the desired level of finishes, the commercial drywall cost per square foot for your project can differ from others. Here is what you need to know about this key construction material and its associated costs before setting a budget.
Commercial drywall cost per square foot
Average costs
On average, installing commercial drywall can cost between $2 to $4 per square foot, so each drywall panel would take around $35 to $80 when you account for both labor and material charges. For drywall ceilings, installation costs can range from around $2.5 to $5 per square foot. So, in terms of total costs, you can expect to pay between $600 to $6000 and more for such a project depending on how thick the drywall is and whether you are doing minor renovations or new construction. Here is a general breakdown of commercial drywall installation and replacement costs:
Drywall wall installation: $2 to $4 per square foot
Drywall ceiling installation: $2.5 to $5 per square foot
Drywall replacement: $2.5 to $7 per square foot
The above breakdowns are average costs alone. A complete estimate from professional commercial drywall estimators will include details like drywall panel estimates, material and labor takeoffs, special treatment estimates, and project management fees as well.

Commercial drywall solutions by CertainTeed
Costs by type
Different types of drywall panels come with different material and installation costs, especially if they offer some key features like fireproofing or mold resistance. Some popular examples include:
Standard drywall: around $0.50 per square foot
Mold-resistant drywall: around $0.75 per square foot
Fire-resistant drywall: up to $0.90 per square foot
Soundproof drywall: around $3 per square foot
The above costs are material costs only. If you combine installation charges, you can expect to pay a couple more dollars per square foot for each material.
Costs by level of finishes
Drywall finishes refer to surface treatments that are compatible with a given drywall project. Paint, texture, wallpaper, and other decorative materials are used for aesthetic reasons.
Commercial drywall contractors provide 6 standardized levels of finishes that are visually different from each other and come with varying costs as well. They allow drywall experts to provide accurate quotes for each level and then deliver the right level of finishes requested by commercial clients. The following is a typical breakdown of commercial drywall levels of finishes with their associated costs.
Level 0. This is the most basic and bare-minimum drywall level with zero finishes, mudding, taping, or improvements – mostly used when the finish type has not yet been decided but you still need to apply temporary drywall to complete the interiors. Level 0 commercial drywall is attached to studs without any mudding and can cost around $1 to $1.5 per square foot to create an unfinished look.
Level 1. At Level 1, you will find joint tapes, markings, joint compounds, and some textures on the drywall. This can cost up to $1.75 per square foot and is generally applicable in commercial areas like service rooms or warehouses where aesthetics are not the top priority.
Level 2. Also common in utilitarian settings like warehouses, Level 2 commercial drywall includes a thin residual layer of joint compound on all joints and interior angles (once the tape has been removed). The leftover compound often has tool marks on it because it is not necessary to smoothen out the compound and make it even. Level 2 can cost you up to $2 per square foot.
Level 3. At this level, aesthetics are combined with commercial drywall, so Level 3 often features basic improvements like priming and spray-on textures. The applied compound must be smooth and free of markings. Level 3 generally costs $2+ per square foot depending on the type of improvement you want to add.
Level 4. This is Level 3 with an upgrade. If you want to go beyond simple sprayed textures, Level 4 forms a good base to support flat paint, textures, and wall coverings after priming the drywall. Additional compounds are often applied to interior angles and accessories on the drywall surface. Level 4 focuses on lightweight finishes that look great in commercial areas with high foot traffic. They can cost you a total of $2.5 per square foot depending on where you apply them.
Level 5. Business owners who want anything outside the bare-minimum or lightweight finishes will opt for Level 5 commercial drywall. This is where you see high-quality finishes in drywall interiors with gloss and enamel paints, including heavy lighting. Apart from all the Level 4 upgrades, Level 5 also takes a skim coat of joint compound for an extra finishing level that leaves a super smooth drywall surface. Level 5 commercial drywall can cost up to $3 per square foot.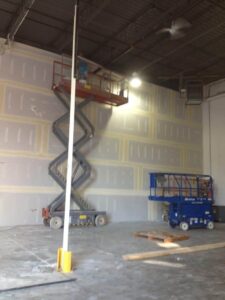 Commercial drywall installation by AZ Drywall Finishing
Commercial drywall cost influencers
Various factors influence commercial drywall costs and can cause them to increase significantly for challenging projects. Here are some of the factors that can bump up your estimates either early on in the project or as it unfolds.
Building codes and permits
Commercial drywall should be chosen and installed according to relevant building codes, and this affects the total costs based on how strict the requirements are – which is also determined by the type of commercial activity you have inside the building.
Drywall replacement often requires permits if the utility infrastructure needs upgrading, so your drywall specialists will first get the applicable permits before any work can begin, and this adds to your total costs.
Prep work and labor
Labor charges for installation and finishing can differ based on two key aspects:
The prep work involved.
The actual installation.
Drywall prep work may include tasks like removing and disposing of the old drywall if this is a replacement project, which requires extra focus on keeping the existing outlets and utilities safe from impact. The actual installation includes hanging drywall, taping, mudding, sanding, priming, and finishing – all of which amount to $1.5 to $3.5 per square foot for labor alone.
Architectural complexity
Commercial interiors with a straightforward 4-corner design cost far less to install drywall, whereas those with more complex ceilings, heights, and rounded corners require added tools and effort. So, this calls for higher material and labor costs if you factor in added labor, cost of scaffolding, and extra drywall.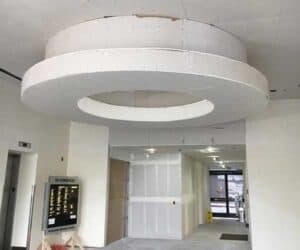 A project from Sierra Drywall's commercial drywall specialists
Special treatments
Drywall can be customized to develop textures, different finishing levels, acoustical features, waterproofing, fire resistance, and other improvements. Depending on the scale of treatments you want, your total commercial drywall cost per square foot will increase.
Thickness
In general, drywall panels come in 4 standard thickness values: ¼", ⅜", ½", and ⅝". The costs to buy and install these sheets rise with increasing thickness. Not all thicknesses can be used for every commercial setting, as each building has different needs for wall/ceiling infrastructures. For example, 5/8-inch drywall is mostly suitable for ceilings and soundproofing and is also the most expensive because of its added thickness. Your choice of commercial drywall thickness will be determined by applicable codes that decide which thickness would be best for the given ceiling or what type of drywall panel would be compatible with fireproofing – and so on.
Conclusion
Commercial drywall is a great investment for a business owner because it promises several long-term returns for both safety and finances. For example, drywall comes as individual panels that can installed easily and in case of any damage, you just need to remove and replace target panels without worrying about a full overhaul. You can customize your choice of drywall so that it is equipped with features like fire resistance or soundproofing, which is again very business-friendly. Call your local commercial drywall experts for a complete consultation and site assessment, and make sure that you go through reviews, portfolios, and service packages before hiring a team. Quality work is essential, but it is also important to have the right experts who understand your building's specific needs and offer relevant services that stick to your local codes.