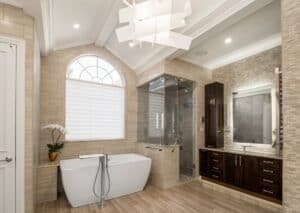 Bathroom renovations are very client-specific projects. Whether you are seeking to revamp the limited space, or add storage as vanity, or demolish the wall to accommodate a freestanding tub, knowing the right budget and service is imperative. Plumbing, electricity, tiling, and décor make it a long-term investment that has no room for errors; you need to have a realistic scope that does not unnecessarily prolong your project. If you have been exploring inspiration boards on Pinterest to find the creative spark that ignites your remodeling ideas, you will have a certain outlook you wish to achieve. Bathroom remodel packages combine services that are relevant to your needs into budget-friendly options you can choose from. Here are some examples of expertly devised bathroom remodel packages that will speed up your hunt for the best contractors.
Silver Bathroom Remodel Package
A basic silver package costs around $10,000 for a typical 5×7 bathroom dimension. It includes demolition, tiling, up to 24 inches vanity with mirror and lighting, toilet and bathtub installations, faucets, and paint choices. You can customize your vanity's sink and countertop styles or buy ready-made designs. You can also opt for pedestal sinks instead. Proper ventilation will be installed as part of the package. Some companies offer additional upgrades at negotiable budgets if you are aiming for only minor refurbishments like extra storage, ceiling lights, acrylic shower with glass door, etc.
Gold Bathroom Remodel Package
In addition to the features of a silver package, the gold bathroom remodel package comes with broader vanity choices and multiple other preferences at a minimum of $14,000. The vanity countertops are made of granite or marble. You can choose your shower to be custom-tiled or acrylic. Handheld showerheads are also included. There are modern lighting options and noiseless exhaust ventilation systems. Superior quality accessories for towel racks, tissue holders, etc. are available as part of the package.
Platinum Bathroom Remodel Package
A platinum bathroom remodel package will cost around $19,000 and above. Inclusive of silver and gold services, the package has unlimited personalization choices. It provides a complete state-of-the-art interior. You are free to choose from an exuberant variety of marble or rock tiles with custom designs and patterns. You can separate your bath and shower by installing a freestanding bathtub and adding water jets to your now walk-in shower place. The floor heating system is an irrefutable luxury for winters. Stylish and durable copper faucets with coordinated showerheads are one of the most trending combinations on Pinterest.
All packages must ensure you the best professionals for labor and materials research. Proper sealing must be applied to the required installations and tiling works. You should be informed of the relevant warranties for the project. It is always cost-effective to incorporate debris removal and thorough clean-ups once the project is completed.
Consider collaborating with potential companies on their bathroom remodel packages for your next renovation plan. Whether it is the entire master bathroom that needs reforming or just the vanity you need to upgrade, weighing your options against the budget is always a smart idea. Feel free to walk the extra mile and discover new possibilities for a rewarding bathroom remodel packages investment that will be worth the time and effort.