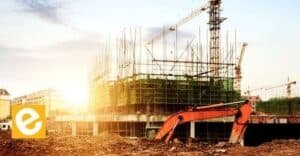 Image credits: eSUB
Commercial construction projects focus on both ground-up construction and renovation aspects of commercial buildings. Each project differs according to the intended commercial activity, the business size, and custom amenities, so the commercial landscape is as vast as it can get. Over the years, there has been a rapid rise in commercial investments, which means that the need for commercial spaces is always growing. So, it is safe to assume that office workspaces, restaurants, retail stores, and similar businesses are back in demand and have succeeded to bounce back from their pandemic halt. To explore some of this commercial horizon, here is a look at the general commercial construction definition along with some different types of projects associated with this sector.
Commercial construction definition
General definition
Commercial construction is all about building leasable properties that can be used for the purpose of running commercial activities and making profits. Such projects can be both new construction and commercial remodeling projects depending on the current needs of the business. Offices, skyscrapers, hospitals, restaurants, gyms, schools, hotels, and retail stores are common projects within the commercial construction real estate. If a building has most of its floor space designated for commercial purposes, then it meets the commercial construction definition.
Also, the overall layout must focus on key elements like foot traffic, space optimization, and curb appeal, so there is a high emphasis on both functional and aesthetic features in a commercial property.
These projects differ from residential construction mostly in terms of the heavy-duty equipment used, the finances involved, and the size of the commercial structure to be built. Another major difference is that commercial construction is entirely tenant-oriented. Since the final space will be leased and occupied by a commercial tenant, it is crucial for the construction to go exactly as planned to meet the tenant's expectations for the required infrastructure, technologies, layouts, utility frameworks, décor, and so on.
Commercial construction types
Based on the above definition, you first have to clarify whether you want to invest in ground-up construction or simply remodel what you have at hand. In both cases, it is important to follow the latest building codes to ensure that the added alterations are code-compliant – and you will not face legal setbacks down the road as a business owner. The best option is to hire a commercial contractor who can provide relevant advice and services to match your needs. This will also include tackling all the applicable codes for your project, so regardless of new commercial construction or remodeling, you can focus on designing your space instead of worrying about the paperwork.
Once you decide whether your business needs a commercial upgrade or a new structure, you can clarify your requirements for the available project scope and discuss various possibilities with the contractor – who will, by this point, put together a team of designers, architects, managers, engineers, and technicians for the upcoming work. It will be great to sit down with this whole panel before signing any papers so that you can set your own terms for your commercial construction definition and check which resources fit the bill conveniently.
Depending on the size of your commercial context, your commercial construction project can be one of the following types:
Small-scale. Commercial construction for small-scale projects generally includes basic renovation, repair, and improvement aspects to boost the functionality and aesthetics of a building. While this does not necessarily entail ground-up construction, it does involve changes like adding new floors or revamping the whole technical framework. In addition, small-scale updates also include refreshing the interior and exterior of a commercial building, so this supports corporate rebranding purposes and gives a company a chance to restore its old façade. Since it really is a small-scale work expected to finish soon, the project does not require much equipment or labor.
Medium-scale. All medium-scale commercial construction projects go a step ahead of small-scale. They include various new construction areas to facilitate business expansion, space optimization, corporate remodeling, and so on. Medium-scale construction can last for several months, so there is an added project complexity and time constraint to take care of. It is usually relevant to those clients who want to build new commercial structures or add significant improvements to existing properties to accommodate their growing businesses.
Large-scale. Coming to the largest category, large-scale commercial construction is mainly considered to be the starting point of building – the ground-up itself. The new commercial building will be constructed for the first time, so this involves a huge construction crew of architects, designers, engineers, roofers, technicians, inspectors, etc. This also means that the building will get its official commercial footprint, which comes with all the applicable codes that the crews will follow. Commercial buildings like airports, skyscrapers, landmarks, warehouses, and hotels are popular examples of large-scale projects. Considering the size of the working crew, equipment, and resources to be used, these projects are often called megaprojects to represent the magnitude of the work ahead. Naturally, megaprojects can last for multiple years, so these are massive investments for business owners and the relevant stakeholders.
Conclusion
While the general commercial construction definition is the same for all projects, the main differences lie in the execution and specific commercial contexts for the given space. It is important to establish regular and updated communication between the construction crew and the business owner because all commercial structures come to life based on the owner's definition and scope of the project. This requires spot-on expertise and resources on the contractor's part, so you need to hire a construction company that specializes in commercial projects as opposed to general contracting.
During the bidding process, make sure to narrow down your hunt for the best commercial construction contractors by requesting in-depth consultations, providing generous details for your plans, and asking for itemized quotes from potential candidates. This will help you understand who has the best expertise in terms of relevance and past experience for your specific project, so you will be able to enlist the right minds within a suitable budget that works for you.