Image credit: myComply
Security is a top priority for construction companies to keep their employees, assets, resources, and data safe. It all starts with the site, so construction site access control is a major first step before any project begins. Access control helps owners, general contractors, construction managers, and project managers safeguard their personnel and work from unauthorized entries, hacking, and other breaches. Site access safety has come a long way from showing your badge to the security guard and signing your attendance. Since the construction industry is becoming increasingly tech-driven, companies are also relying more and more on digital solutions to improve their site security. Various hardware and software systems are installed to automate this process and streamline site access control for multiple entrances or even different locations. The goal is to keep unauthorized foot traffic away, and here is how construction companies go about it.
What is construction site access control?
Site access control in construction refers to the use of both hardware and software technologies that are integrated to authorize who walks in through the doors. In other words, such a system determines who has access to the site and everything inside it and who doesn't. This could be through physical access control, data security systems, and other features designed to improve the authentication process by allowing only authorized foot traffic to go through while strictly preventing anyone else from sneaking in.
Access control mechanisms are used to protect people working on the site, the physical property itself, restricted rooms (like server rooms), the equipment and vehicles present, assets, as well as the data stored on computers. Construction companies work with confidential and sensitive data like employee identities, passcodes, and project details – all of which require protection from getting intercepted. So, this creates a need for the industry to implement automated solutions that boost security for both people and data and can pair with existing human resource and construction management software to streamline attendance, tracking, and monitoring aspects.
Site access control mechanisms
Construction sites use a combination of hardware and software tools to control both physical access to the site and virtual access to its data. In general, a site access mechanism includes the following components:
The "locks" – gates, turnstiles, physical locks, keypads, card readers, biometric scanners, facial recognition, and other near-field communication (NFC) or RFID readers to secure access points and verify credentials.
The "keys" – cards, badges, fobs, smartphones, biometrics, etc. that provide authentication details to the above scanners for accessing the site.
The "control" – usually a hardware control panel or a cloud-based platform that stores verification data and sends alerts like "Access Approved" or "Access Denied".
Let's have a look at each of the above in detail.
The locks
Physical site access control starts with full-height turnstiles (or turnstile gates) that enable just one-way access to the site. These turnstiles are built with durable stainless or galvanized steel to create a strong frontline defense and also withstand the rugged construction environment and tough weather conditions. Turnstile doors with a combination of other technologies can further reinforce access control to a construction site. Biometric scanners, facial recognition, card readers, keypads, and similar devices are installed at turnstiles to bolster security at each access point and fully restrict unwanted or unauthorized foot traffic. These systems are often integrated with the company's construction management systems to serve both security and attendance purposes.
It is not necessary to install every type of digital "lock" at the entrance – this totally depends on what level of security you require for your site. Usually, a turnstile gate with either a biometric scanner or a card reader is adequate and commonly used by firms. They ensure site access control AND make it easy for those who are authorized to actually be able to enter the site – you only want to deter the outsiders, not your employees!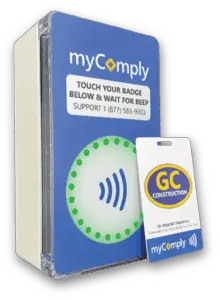 One great example of a physical site access lock is myComply's Smart Brick, which is a reader designed to automate access points by reading badges (more precisely, the myComply Smart Badges). It scans the badge and compares the information present with the contractor's qualification requirements for such an employee. So, if the worker has not yet passed a certification or lacks the minimum qualification for the job, he or she will be denied entry to the site. This is known as attribute-based access control and works by allowing you to set qualification criteria (like OSHA 10 or first aid) to let only competent workers walk through. Such a system helps general contractors and construction managers combine turnstile security with human resource screening to allow only qualified professionals to access the site – which is great because this eliminates accidents, failures, and lawsuits caused by workforce incompetence and expired/outdated training.
The keys
The main goal is to prevent the "keys" from getting stolen or intercepted in any way. Since cards, badges, fobs, and passcodes can be stolen, lost, or hacked, most construction sites rely on biometric identification – or better, facial recognition to streamline access control and prevent the risk of stolen identity. The more unique the key, the less vulnerable it is to being stolen, and since your fingerprint, retina, and face will match only with you and no one else, it is smarter to incorporate biometrics with turnstiles.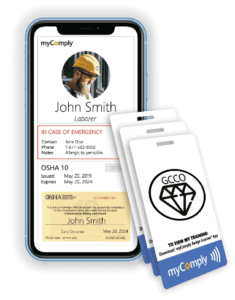 To understand how most card or badge systems work as site access control tools, here is an example from myComply. The brand's Smart Badge works with the Smart Brick (mentioned above) and is designed to collect worker data. It stores the employee's profile, qualifications, and emergency details to authenticate certification-based access to the site. These Smart Badges are of two types: NFC-enabled and Bluetooth-enabled, both of which communicate with Smart Bricks to screen entries and boost security. Construction companies use similar cards and badges that are equipped to support smart or automated verifications. They make simple and effective security passes that not only enable authorized access but also go a step further and grant entry to only qualified workers who meet the safety and skill criteria set by their contractors.
The Smart Brick and Smart Badge are both examples of how construction leaders combine attendance and security features right from the point of access at turnstiles, making it easy for managers to strictly control who walks in and prevent unqualified entries – effectively creating a smart jobsite for everyone. Since myComply integrates with Procore and Autodesk, it facilitates seamless transitions between your required services (such as payroll and certification-based attendance).
The control
This is mostly the software component of the whole access control setup and can be either a cloud-based software or a downloaded program on a control panel. It may have a combination of connected apps that support integration between the locks and keys of your security system. The software control decides the outcome of each turnstile verification, so whether you use cards, badges, codes, or biometrics, it is this software running behind the scenes that looks for a match and displays "Access Approved" on the screen – or "Access Denied" if no match is found. Construction managers and contractors also use this complete suite of access control apps to view dashboard analytics, real-time updates, attendances, qualifications, and other essentials from wherever they are. The use of smart locks and keys makes it easy to work with remote access control and management, so you could be out of town and still monitor your site demographics.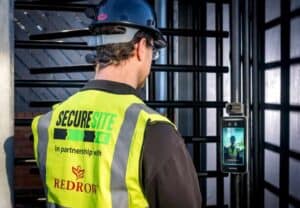 Image credit: Secure Site UK
In addition, access control systems offer real-time alerts and audits for companies to track the certification routes of their employees, so if these credentials are about to expire, managers can notify workers to get recertified on time.
Out of site. Out of mind.
Installing the right and relevant construction site access control system is important, and this depends on your specific requirements for Bluetooth badges or biometric preferences. The goal is to keep thieves and other unauthorized people from entering the site, and companies choose access control options based on their budgets to install technologies as well as the level of security they need for bigger projects. Make sure to look for system compatibility and integrability so that you can pair access controls with your company's existing human resource/management data. This will streamline tasks like personnel tracking, attendance review, alerting for recertification, and screening. Every jobsite is different and has different expectations for security, so it is important to identify what your site needs before making a decision – you do not want to overcomplicate the process and end up having your employees locked out of the site!