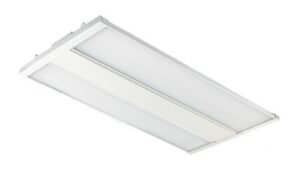 With every commercial lighting space comes different lighting requirements. Finding the right lighting products that are needed for commercial areas is crucial. Indoor commercial lighting with good power-saving attributes is an excellent solution for offices, corporate headquarters, and commercial buildings that are looking for reliable, sustainable and effective lighting. As you spend a great amount of time at your workplace, it is necessary to feel comfortable and able to perform at your best. Lighting can have a great effect on your work performance and it is imperative to buy the right lighting for your commercial space. Low maintenance LED technology uses less energy and lasts longer as compared to any other commercially accessible option. It is brighter, improves visibility, slashes operation costs, increases employee safety, and more dependable than the traditional lighting. Installing these indoor LED lighting fixtures can fully benefit you with its performance. If you are unsure about what sort of lighting fixture is perfect for your space, many companies manufacture commercial indoor LED lighting fixtures and provide them to you to optimize your workplace's lighting potentials. Let us take a look at some of these companies.
GE Current
Current by GE has consistently striven to bring life to spaces with light from the streets to hospitality suites, from offices and banks, from storefronts to storage facilities since it has embarked in 1892. It offers a broad portfolio of commercial indoor LED lighting fixtures that include Lumination LED luminaires that transcend the traditional concepts of retail and office lighting and, Albeo LED luminaires for both high and low bay warehouses and industrial applications which are ideal for high ceilings and expansive spaces.
PRO Lighting
PRO Lighting Group is a reputable distributor of energy-efficient lighting products. Headquartered in Michigan, USA, PRO Lighting has been a reliable partner in lighting for more than 15 years. It features an extensive catalog of commercial lighting LED fixtures that range from flat panels, high bays, troffers, vapor tight high bays, commercial lights to explosion proof fixtures and exit signs. PRO Lighting is a licensed dealer of some of the industry's leading brands like CREE, JUNO Lighting, GE, RAB Lighting, Lutron and more, with almost 200,000 residential and commercial customers nationwide. It has been focusing on being one of the most innovative e-commerce companies in the lighting industry and is responsible for providing a wide range of high-quality commercial lighting LED fixtures that are reliable for the safety and productivity of your building.
Conservation Mart
Based in Georgia, USA, Conservation Mart is a one-stop-shop that serves the conservation demands of the market place since 2008. It is a minority, certified woman-owned business that serves customers such as contractors, utilities, businesses, weatherization agencies, state and local governments through their extensive product line and unrivaled service. You can reduce both your carbon footprint and energy costs by selecting indoor LED lighting fixtures from Conservation Mart that offer decades of exceptional lighting. It comes with smart but simple indoor LED lighting solutions that can meet any facility size, shape and budget for all residential and commercial customers which include LED troffers and panel lights, LED ceiling mounts, LED ready T8 fixtures, bathroom fixtures, and high bay and low bay LED fixtures. Each of the indoor LED lighting fixtures features the same great light output and longevity to make your building look great while meeting all regulations. And many of them come with 5-10 year warranties from leading manufacturers like MaxLite, TechBrite and Alphalite. 
Super Bright LEDs
Super Bright LEDs is based in the USA and has been striving successfully to offer one of the highest quality LED technology and customer service since 2002. It offers quality products by testing every product in its premier testing facility that is backed by the industry's leading certifications and warranties. It provides a broad range of lighting solutions for both commercial and industrial needs. Its products include high bay lights, linear shop lights, vapor tight fixtures, and industrial retrofit kits. You can enhance your industrial space, cut down costs and improve working conditions by purchasing high-quality, energy-efficient commercial indoor LED lighting fixtures from Super Bright LEDs.
Deco Lighting
Deco Lighting is responsible for providing commercial and industrial LED lighting solutions for indoor and outdoor lighting fixtures like wallpack, downlights and recessed LED lights. Based in California, USA, Deco Lighting is one of the advanced LED technology company that delivers end-to-end and comprehensive solutions for energy and architectural markets. It is consistently striving to be a leading provider of top-quality lighting fixtures and related products to the USA and international commercial and utility markets. It comes with a strong list of sustainable and beautiful luminaires that serve everyone from designers to electricians. It creates superior quality and energy-efficient commercial indoor LED lighting fixtures like canopy lights, channel lights, channel retrofit, contractor flat panel, high and low bay lights and many more.
Viribright
Headquartered in California, USA, Viribright has been providing one of the highest performing LED lights in the market. It is responsible to bring customers energy-efficient LED bulbs at just a fraction of the cost. Viribright comes with many types of LED lighting such as linear high bay LED lighting, T8 LED tube bulbs utilized in flat panel and troffer light fixtures that lowers your electric bill, LED troffers/ flat panels which allows you to do away with the entire lighting fixture as an alternative to just the bulb, commercial downlights, strip light fixtures and LED UFO high bays which do not emit heat and have exceptional working lifespan.
LBC Lighting
LBC Lighting is an American based company that serves you with the most convenient way of purchasing contemporary lighting for your business and home. It offers a comprehensive variety of commercial indoor LED lighting fixtures which include LED troffers/panels, recessed downlights, commercial LED lights and many more that completely fulfill your lighting requirements. LBC Lighting provides products from leading brands like Juno Lighting, Tech Lighting, and Nora Lighting that fit your needs and also meet your budget requirements.