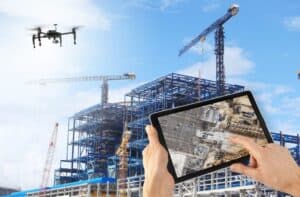 The responsibilities of construction superintendents encompass a diverse range of on-site and off-site aspects. As a team leader and supervisor, you get to oversee every project from its inception until a successful, market-ready result. Having a bird's eye view of the entire construction necessitates a multi-tasking caliber that can streamline each milestone efficiently. All stages progress down the conveyor belt only if you approve of them. It might sound like a daunting responsibility, as though a single error can cause a domino effect throughout the site. Not to mention Murphy's Law and its affinity for bad timing. Whether you work for commercial, residential, or industrial firms, a set of adaptable construction superintendent skills is crucial to remain a frontline expert.
Skills that will stand the test of time
1. Effective communication: A construction superintendent is responsible for interacting and negotiating with employees, clients, and project stakeholders. These include architects, engineers, lawyers, managers, etc. Strong interpersonal skills help to win audiences and own the conversation with grace. Being multilingual is an added benefit to address language barriers in the team. Communication via emails, Skype, and WhatsApp is necessary for instant information sharing and updates.
2. Accurate documentation: All project requirements, site permits, and legal procedures need to be agreed upon in black and white. Construction superintendent skills heavily rely on information gathering and presentation to target relevant audiences. Being proficient in Microsoft Office Suite applications or Google Docs greatly simplifies the process for creating and sharing documents, presentations, brochures, and spreadsheets.
3. Construction-specific software skills: There are enterprise solutions that automate labor and project management systems to achieve a real-time tracking of each stage. This allows to synchronize the workflow, coordinate tasks between contractors, and isolate bottleneck issues that impede progress. Construction superintendent apps (explored in detail in our Construction Superintendent App article) help to insert logging data and reports efficiently. Scheduling, budgets, finances, personnel timesheets, and critical deadlines can be adjusted quickly on Android or iOS smartphones. Exploiting the latest technologies will help to conquer several skills at once, with automated data backups saving the day from catastrophic losses.
AutoCAD: computer-aided design application
Lombardi Teamworks: a business process management software for dispute resolution, taxation, supply chain management, etc.
Axios Systems assyst: a cloud-based app for holistic IT management
HCSS HeavyBid: an estimation software for constructions
UDA ConstructionSuite: solutions for construction management and estimation
4. Listening and encouraging: A successful construction superintendent creates a friendly collaborative work environment where everyone is welcome to voice their opinion. Taking feedback from teams and stakeholders bears paramount significance as it proves that their ideas are valuable for progress. Keeping a calm demeanor when things go haywire is the defining characteristic of a strong professional, especially during conflict resolution.  
5. Safety regulation skills: Occupational Safety and Health Administration (OSHA) covers site and labor safety protocols to prevent hazards. All employees must have a reliable and inspection-passed working environment. Rules and training programs are offered to workers and employers. Construction superintendents excel at these safety skills and audits, employing any outsourced site maintenance service where necessary. Site drones provide aerial surveillance that can be saved and viewed on computers and smartphones.
6. Quality assurance (QA) and quality control (QC): Project superintendents have to live up to the desired expectations of stakeholders and clients. Their supervision and workforce training should tailor the process to a standard quality, the QA, set by the specifications. Once each stage of the process is aligned towards successful completion, the end-result must showcase and meet an overall quality expectation, the QC. The skillset here requires hiring and delegating the right personnel for each job and monitoring all activities with regular inspections. There are several quality management software solutions to optimize this crucial aspect.   
7. Inclusion skills: The most inspiring construction superintendent skill is the one that discovers potential in others and takes them on board. Talent does not slow down with borders, whether geographical or physical. As a superintendent, you might have the opportunity to coordinate internship programs for fresh graduates. It is always empowering to implement an all-inclusive policy with assistive technologies and software. Your teams and interns bring their own set of strengths to the field. There is nothing better than cheering every individual on their way to smash the glass ceiling.
A final word
The skills discussed so far help to make your construction supervision easy and achievable as you rise to every opportunity. Technology is the common aspect that overlaps almost every skill set. It is undoubtedly important to be a tech-savvy professional who is not afraid to walk the extra mile. These are skills that stand out for most recruiters as they hunt for uniqueness through each resume on LinkedIn and Glassdoor profiles.