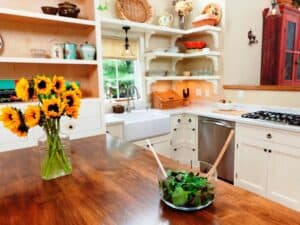 Kitchen remodeling is a popular and rewarding project for many homeowners, especially if it is a DIY renovation because then you want to reinvent your space with a personal signature by thinking outside the box. Outdated designs and cabinetry with lifeless wall colors can be very depressing and uninviting. Your kitchen should not be a boring gloomy place and if it is, then you can bring it back to life with invigorating ideas that you can implement very efficiently by yourself. In this blog, I will share some of the best DIY kitchen remodeling blog aspects from my experience that have proven to be simple, smart, and timeless.
Inspiration
Your first step in this DIY pursuit will be to know exactly what you are looking for. Inspiration boards from Pinterest are a good starting point; you can browse and pin your favorite ideas to spark your own inspiration. I always recommend gathering enough details about your outlook so that the required materials, colors, and installations begin to fall into place. This will help you readjust your expectations around your working budget and timeline.
Kitchen Backsplash
The kitchen backsplash is a definite DIY goal and there are so many ways you can personalize the design. Backsplashes are easy to install with adhesive sides, so you can use your favorite wallpaper designs to create visually dynamic patterns minus the cost of labor and expensive material. Peel-and-stick tiles are increasingly popular if you are not aiming for long-term decor. Painting a new coat of vivid colors is another simple yet effective upgrade for a small kitchen remodel.
Kitchen Island
If there is enough flooring space to accommodate a kitchen island, go ahead and work on it instead of repurposing the entire cabinetry and countertop. This is useful if you are short on budget, as the island will support extra storage and countertop space. I like to call it the kitchen's gravity as it really holds and brings the whole space together when done right. A lot of demolition work can be done without enlisting professional help, for example, removing and reinstalling cabinets, tiles, and baseboards.
Kitchen Cabinetry
Cabinetry is one of the most expensive investments in kitchen renovation if you are hiring a professional. However, you can explore your artistic freedom at affordable kitchen remodeling costs to create modern, rustic, vintage, or simplistic designs. You can either construct from scratch or fix the current cabinets with easy upgrades that redefine the look completely. Update the veneer for your cabinets' doors, drawers, and frames or just repaint them. It will be cost-effective to replace just the doors with your creations, like adding barn wood-styled doors or transparent screens. Simple adhesive LED lights in the cabinets add incredible color and brightness with your dishware. I personally prefer painting just the cabinet interior with bright colors and using transparent doors to enhance LED lighting. Go ahead and replace old faucets, handles, and knobs with brass or nickel alternatives for an elegant update.
Kitchen Flooring
Vinyl flooring and ceramic tiles are common choices for renovating the kitchen floor. I strongly recommend coordinating the floor color to complement the overall shades of your kitchen, as it completes the picture. The floor must be easy to clean and last for a long time. You need to measure and shape your tiles or planks to fit the required dimensions perfectly.
So far, I have shared some DIY kitchen remodel blog ideas. Whether you aim to bring a bit of the ocean in through turquoise colors and butcher block countertops, or incorporate a chalkboard painted wall to write recipes and grocery lists, or wish to add an industrial look with stainless steel, feel free to soothe your bohemian soul as you dream-it-yourself and do-it-yourself.