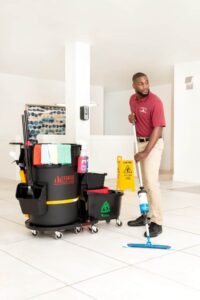 Image credit: Stratus Building Solutions
Professional cleaning is important for various construction-related services as well as miscellaneous upkeep for different properties. Some examples include post-construction clean-ups, commercial cleaning, property maintenance, deep cleaning, janitorial cleaning, and so on. Construction cleaning services are the most popular in post-construction aspects where the site needs to be cleaned by removing debris, dust, and other waste, which makes the place suitable for moving in.
These services are required by both residential and commercial clients and need specialized equipment, trained staff, and heavy-duty cleaning products – preferably those that are environmentally friendly – to keep the area tidy and safe to use. For this reason, construction cleaning is usually kept separate from the main construction itself and outsourced to a professional company that specializes in these services. The following are 5 such companies in Denver that offer construction cleaning services to both residential and commercial clients.
Construction Cleaning Services In Denver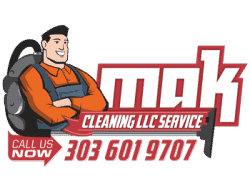 MAK Cleaning LLC is a locally-owned construction cleaning company in Denver, established in 2007. Garnering top Google reviews and ratings, it is popular for using the latest equipment, cleaning techniques, eco-friendly products, and tailored services for each project – big or small. MAK specializes in residential and commercial cleaning, providing a full spectrum of janitorial services, after-construction clean-ups, building cleaning, and similar solutions that keep properties tidy and functional. It does not subcontract projects – MAK's cleaning experts are all certified and trained to do their job professionally and on time. Its portfolio includes projects for:
Commercial janitorial cleaning, carpet cleaning, post-construction clean-up, day porter services, hard floor care, and water restoration.
Residential carpet cleaning, tile and grout cleaning, and upholstery cleaning.
COVID-19 disinfection.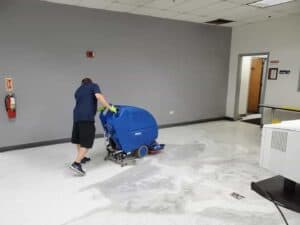 Professional construction cleaning by MAK
MAK Cleaning LLC is also one of the leading companies in Denver that focus on environmentally-safe and LEED-compliant cleaning services, utilizing industry-standard resources like Green Seal Certified products, non-toxic cleaning chemicals, and HEPA filters.

If you are looking for a one-stop junk removal and cleaning service, then Clutter Trucker is the best choice. It is a family-owned company in Denver, specializing in junk hauling, junk removal, and a range of construction cleaning expertise. Clutter Trucker's founder and owner – Jennifer Hanzlick – is an expert in junk management and decluttering. She actively speaks on issues like hoarding disorder and helps people identify the junk they keep at home that needs to go – and provides solutions to actually get rid of it. Using this approach, the company offers both residential and commercial support to help you get rid of all the clutter you own – whether it is unusable furniture and appliances at home or construction debris and waste on a jobsite.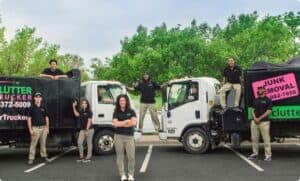 The Clutter Trucker family
Clutter Trucker has a huge Yelp and Google fanbase of happy reviewers who are glad to have enlisted the company's professional construction cleaning expertise.
It also received the Angie's List Super Service Award in 2020. With certified, licensed junk removal experts and 20% bigger trucks, you can trust the company's process to always deliver – no matter how tough or easy the project is. You will receive both residential and commercial help for household junk removal, move-in/move-out support, hoarding clean-up, furniture removal, commercial cleaning, office decluttering, deep cleaning, post-construction cleaning, and tons of other services.
Whether it is an office build-out or a home remodel, here is a list of things that Clutter Trucker can remove from your property to help you get rid of all the junk and dispose of it in an eco-friendly way:
General construction debris and dust.
Chunks of walls, broken tiles, planks, and various unused materials.
Plasterboard, windows, broken glass, shingles, concrete, and rebar.
All kinds of trash.
Mattresses, furniture, appliances, and bathtubs.
All recyclable objects.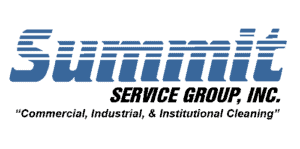 Summit Service Group, Inc. is another popular company that provides construction cleaning services in Denver to commercial and industrial buildings like academic institutes, offices, healthcare facilities, banks, manufacturing plants, warehouses, and shipping facilities. Partnering with leading industry names like Betco and Jon-Don, the company uses state-of-the-art equipment and cleaning chemicals for each project. It has been around since 1981, excelling in commercial and industrial janitorial services and building long-term client relationships throughout its timeline.

Tile and grout professional cleaning by Summit
Summit offers a range of cleaning services like:
Virus disinfection
Trash collection and removal
Porter services
Exterior cleaning
Window washing
Warehouse cleaning
Marble restoration
Graffiti removal
Floor refinishing
Property management
In addition, the company specializes in final construction clean-ups to streamline the turnover process and make the site move-in-friendly. This allows clients to focus on their build-outs, remodeling, or new construction without worrying about the after-cleaning, as Summit can step in at this point to make everything spotless before you move in.

Since 2006, Stratus Building Solutions has been building a massive portfolio full of green commercial cleaning and janitorial services in Denver. It is a member of the U.S. Green Building Council (USGBC) and the Green Business Bureau and only uses Green Seal Certified products – so you can trust it to be an environmentally-responsible construction cleaning company. Stratus Building Solutions uses state-of-the-art cleaning equipment and non-toxic chemicals to ensure truly sustainable and LEED-compliant methods of commercial cleaning and maintenance. They do not emit toxic fumes, so the air does not become saturated with strong chemicals that make it difficult to breathe once you move in – which is a huge plus. Schools, offices, medical centers, warehouses, shopping centers, retail stores, and gyms are some of the repeat clients that work with Stratus on customized service packages for each facility.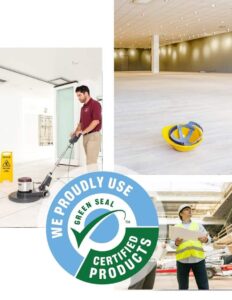 Environmentally-friendly construction cleaning from Stratus
Here is a glimpse of construction cleaning services offered by Stratus franchisees:
Routine janitorial services
Facility disinfection
Green commercial cleaning
Hospital-grade cleaning
Hard floor stripping and waxing
Pressure washing
Carpet cleaning
Day porter services
Tile grout removal
Post-construction cleaning
For post-construction cleaning, in particular, you can get customized packages to tidy up your site and make it suitable for occupancy. This includes removing all the construction dust and debris and taking care of various finishing touches like polishing fixtures, doors, and windows, and power washing the entrance.

Tiger Cleaning Services is a commercial and residential cleaning company in Denver – in business since 2001. So far, it has worked with over 4500 clients on a total of 950 projects, building a growing portfolio with services like house cleaning, post-construction clean-up, move-in/move-out cleaning, VCT floor stripping and waxing, deep cleaning, and office cleaning.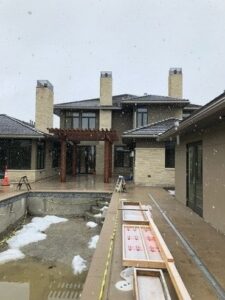 Home post-renovation cleaning by Tiger
With Tiger's post-construction cleaning services, you can focus on your build-out or home improvement projects without enduring any after-cleaning headache. Cleaning experts at Tiger remove dust, construction debris, leftover materials, surface smudges, and other junk that needs to go – leaving everything spotless and welcoming for the move-in day. This is what a typical Tiger post-construction cleaning checklist looks like:
Dust, clean, and wash countertops, sinks, cabinets, drawers, fixtures, appliances, door frames, windows, and all hard-to-reach areas.
Polish windows, glass, fixtures, countertops, and furniture.
Clean and vacuum floors and carpets and mop tiles.
Disinfect contact areas and tabletops.
Remove all trash and debris.
Conclusion
Construction cleaning companies focus solely on various clean-up and junk removal aspects of construction, giving this key stage the undivided attention that it needs. Most construction and renovation companies do not and cannot extend their services to clean-up activities after all the work they have done so far, considering the equipment and chemicals required for thorough cleaning results – not to mention the training and knowledge about safety standards, environmental friendliness, and proper disposal. Therefore, it only makes sense to hire a separate firm that specializes in professional cleaning and has a trained staff that knows what to do.
The company you choose for post-construction clean-up can also help you with future upkeep and maintenance for your space, which is what makes this a long-term partnership when done right. So, take your time while choosing construction cleaning services in Denver – our list above will hopefully be a good guide – and connect with trained experts who can tackle the aftermath of any construction or remodeling projects on your property.