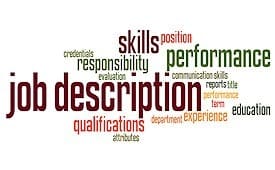 Construction firms are in regular need of superintendents to optimize their day-to-day operations within budgets and scheduled deadlines. They post vacancies with job descriptions on their official websites along with famous recruiter platforms like LinkedIn, Glassdoor, and Indeed. Every construction superintendent job description reflects the company's expectations for professional industry competence. In general, you will be expected to bring in your supervisory and management skills to lead teams from the project's inception until its end result. With thousands of applications flooding the vacancy databases, discovering the best candidate can be like finding a needle in a haystack for human resource departments. Which is why your qualifications and experiences must meet the superintendent criteria and stand out immediately to catch their attention. Here is an example of a job description that you might stumble upon during your hunt. [The name Capital Improvement is used to represent the hiring company.]
Construction superintendent responsibilities
Capital Improvement requests full-time services of a reliable construction superintendent for its commercial site supervision and quality control. If you meet our requirements and believe that you can deliver these responsibilities, we will look forward to welcoming you aboard!
Collaboration duties:
Represent as the communication liaison between Capital Improvement and sponsors, contractors, and legal authorities. Reach out to potential stakeholders with impactful communication regarding project updates and meetings.
Ensure clear instructions and conflict resolution among team members.
Address and overcome language barriers on and off-site. This includes making sure that all rules and protocols are understood unanimously.
Encourage a friendly and collaborative work environment where employees feel free to voice their opinions and transition towards timely solutions.
Attend official conferences and discuss project observations, progress, and bottleneck issues.
Organize regular meetings with teams to follow up on the construction project and highlight red flags, safety issues/toolbox talk, updated laws, etc.
Arrange training workshops to bridge gaps that you identify among the workers. These sessions must support internship programs for college graduates.
Recognize talent and elevate those skills by offering opportunities to motivate your teams.
Worksite duties:
Allocate tasks to the right personnel and delegate foremen as needed.
Schedule and coordinate the workforce activities, keeping track of all milestones and delays.
Recognize the need for job rotations to streamline the projects.
Carry out inspections regularly to enforce quality assurance and quality control. Design the necessary checklists.
Implement safety and cleanliness precautions, warning symbols, first-aid emergency services, dress codes, and instruct the employees accordingly. Comply with OSHA standards, Capital Improvement's policies, and local regulations.
Ensure that all equipment, HVACs, and technologies are functional. Schedule maintenance audits and preventive services with authorized companies to keep operations up and running.
Management duties:
Review and manage budget allocations within project timelines and determine feasibility.
Manage daily employee timesheets and field reports. 
Supervise logistics, storage, material inventory, and cost estimation.
Execute effective project management strategies.
Technological duties:
Update logs and databases on Capital Improvement's enterprise resource planning (ERP) system.
Automate management and estimation aspects through our construction management software. 
Employ back-up technologies to avoid unforeseen loss of valuable data.
Construction Superintendent Skills and Qualification Requirements
EITHER a 4-year bachelor's degree program in any construction management/building sciences/architecture/engineering majors.
OR a 2-year associate degree in similar fields.
Recognized industry certifications for superintendent or equivalent training to authenticate continual learning as a practicing superintendent.
Verifiable on-the-job internship.
5+ years of construction-based experience in commercial or residential firms, including at least 2 years of supervisory leadership.
Proficiency in using Microsoft Office Suite, Adobe Acrobat, email services, Skype, WhatsApp, and CAD applications. A tech-savvy approach that employs construction site technologies is always preferred, e.g. working with drones. Previous ERP software expertise is a definite bonus.
Multitasking caliber, influential communication skills, exemplary leadership, work ethics, time management skills, organizational power, and the ability to isolate detrimental aspects.
Familiarity with construction documents, like contracts, blueprints, reports, legal policies, etc.