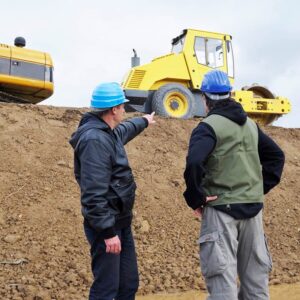 An assistant superintendent is second in command to the construction superintendent, who delegates various on-site supervision and management tasks. Based on recent Glassdoor reviews, the leading construction companies to work for in the United States include Bechtel, Fluor, and W.E. O'Neil Construction (O'Neil Industries) internships in construction management or engineering, the job prospects have a promising, lucrative charm. Construction assistant superintendents require agile multitasking productivity in their work. Organized efficiency and adaptable management skills are imperative. The job description for this multifaceted profession is quite dynamic and full of opportunities to climb up the corporate construction ladder.
Significant roles in every job description
1. Vast communication aspects: Stakeholder interaction takes up a large proportion of communication responsibilities. As an assistant superintendent, you are required to communicate with directors, subcontractors, and other construction professionals regarding budget allocations and site updates. Language barriers among teams must be addressed for clear instructions. Work-based calls and emails need quick responses and so you will frequently use email correspondence, Skype audio/video conferences, or WhatsApp chats to update and report to the supervisors.
2. Site management and schedules: Based on the chief superintendent's schedule, you must track all projects to monitor progress and detect bottleneck issues. Various management software and smartphone apps help to streamline this work. The superintendent might also appoint you to represent the company for site meetings with sponsors.
All machinery, vehicles, equipment, and technologies need to be fully functional and not gathering dust in the corner. You should make sure that the team does not incur workforce inefficiency due to unexpected downtimes. Every milestone task must align accurately towards the scheduled deadline.
3. Information technology areas: You are required to demonstrate competent IT skills for a wide range of applications, both on and off-site. Your job description as an assistant superintendent will rely heavily on using enterprise construction software for punch lists, employee timesheets and payrolls, finance controls, project observations, delays or updated timescales, meetings, etc.
Microsoft Office applications such as Word, Excel, and PowerPoint are crucial for making documents, presentations, and spreadsheet analysis. You will often find yourself organizing impromptu conferences through quick PowerPoint slides and brochures. Training workshops for graduate interns can turn into stimulating and collaborative environments via proper IT facilities.
4. Safety, health, and legal compliance: The construction site must be OSHA-approved and conform to any local safety authorities. Apart from preparing a detailed inspection checklist with your superintendent, you will enforce safety procedures and conduct routine audits. Fire alarms, emergency services, and HVACs need to be monitored and fully-operational, with warning symbols placed strategically where needed. Basic site safety covers areas like reliable scaffolding and updated equipment. Workers must adhere to the dress code for hard hats, reflective vests, goggles, thick boots, and gloves. Maintenance services are mostly outsourced to professional companies, and these firms are frequented by various assistant superintendents to confirm schedules.
5. Material, labor, and costs: Once the superintendent allocates the material and labor plans, you will inspect each stage to optimize the investments for any commercial or residential projects. This includes performing inventory controls and managing supplier deliveries to avoid traumatic logistical nightmares.
The databases need regular updates to keep track of incoming and outgoing materials. You will also generate feasibility reports for senior approval and collaboration.
6. Miscellaneous roles: While on-site, you are expected to work on various terrains to assist the workforce with instructions and equipment in case of problems. The landscape will not always be smooth, so be prepared to climb and maneuver through vast distances. When the project is successfully completed, the superintendent will rely on you to tie up loose ends by allocating site cleaning and debris removal tasks to the required teams. 
Qualification requirements
An assistant superintendent must demonstrate verifiable work experience, degree certifications, and regular apprenticeship interests. These mainly include:
Associate degree or bachelor's qualification within relevant construction majors like construction management/sciences, engineering, and architecture
Computer literacy
Recognized internship participations
Around 2-5 years of on-site work experience for various-sized projects like multi-family, offices, etc.
Prior hands-on approach with enterprise resource planning (ERP) solutions, like Procore, is preferred
The next rung on the ladder
Most construction firms provide workshop opportunities for assistant superintendents to revamp their job profiles. These are great for continuous appraisal as you climb through the hierarchy to become a project manager, senior superintendent, coordinator, regional manager, business owner, or director.