Himalayan rock salt lamps are crystals carved from amber-colored Himalayan rock salts that are hollowed out in a manner to fit a light bulb inside. They give out a reddish-pink warm glow when you light them. These aesthetically pleasing lamps serve as beautiful interior decoration and a natural source of light. Nevertheless, the diverse functions of Himalayan rock salt go far beyond just aesthetics.
The salt in these lamps comes from the Himalayas which is a mountain range stretching about 1500 miles covering Pakistan, India, Nepal, and Bhutan. True Himalayan rock salt lamps are from Khewra Salt Mine in Pakistan. The salt from this mine is reddish, pink or off-white. There are several fake lamps sold online. However, the real ones are fragile and produce a dim light.
How do Himalayan Rock Salt Lamps work?
The Himalayan salt crystals combined with a light source inside the lamps, originally absorb water molecules along with dust, smoke, pollens and other particles in the air. When the lamp is turned on, the water molecules are evaporated by the heat from the light bulb while the contaminants remain trapped inside. Himalayan rock salt emits negative ions on heating that reduces mild radioactive and electromagnetic substances present in the air of your room producing some of the positive effects on indoor air.
Benefits of Himalayan Rock Salt Lamps
Placing a Himalayan rock salt lamp in every room can reap many health and environmental benefits. Let us see how these lamps can benefit you.
Balance Electromagnetic Radiations
As mentioned earlier, Himalayan rock salt lamps produce negative ions and cancel out positive ions. These positive ions are released into the air constantly by everyday appliances like computers, cell phones, and televisions which can cause an overflow of electromagnetic radiation, that although is invisible but is believed to be potentially hazardous. Consistent exposure to electromagnetic radiation can cause fatigue, weaken the immune system and increase stress. Himalayan rock salt lamps neutralize these electromagnetic radiations, reduce artificial frequencies and prevent static buildup.
Cleanse and Purify the Air
Himalayan rock salt lamps help in cleaning the air through hygroscopy which absorbs and attracts contaminated water molecules present in the immediate environment and traps them in the salt crystal. Cigarette smoke, dust, and other pollutants can be easily removed through this process. As salty air behaves as an overall health booster and can also help clear the air passages, this benefit has particularly become popular.
Reduce Asthma and Allergies
Himalayan rock salt lamps are likely to filter dust, mildew, mold and pet dander from the air in your room. They help to reduce allergy symptoms of all types similarly as a nasal saline spray utilizes salt to clear airways. People who suffer from asthma have also claimed to benefit from these Himalayan lamps. It is such an amazing breathing aid that some of the manufacturers have made Himalayan salt inhalers targeting people dealing with asthma, bronchitis and similar other respiratory issues.
Enhance Mood
Several studies have suggested that negative ions have the potential to improve mood and energy levels through increasing serotonin levels in the brain. For that reason, Himalayan rock salt lamps can benefit people who suffer from the seasonal affective disorder (SAD) and other forms of depression.
Improve Sleep
Irregular sleeping patterns can result from over-exposure to positive ions which reduce the blood and oxygen supply to the brain. The negative ions emitted from Himalayan rock salt lamps are believed to reverse this impact, making them a popular choice as a sleeping aid. Also, in a direct link to chromotherapy, its soothing light can help people suffering from insomnia.
Let us take a look at some of the best Himalayan rock salt lamps in the market.
Himalayan Glow Natural Himalayan Salt Lamp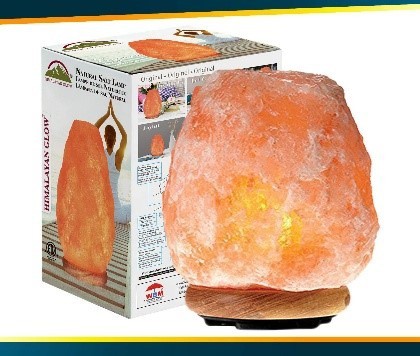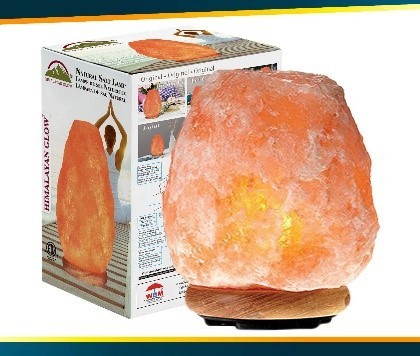 This unique salt lamp is a hand-mined product that is made from natural Himalayan salt crystals from the Himalayan Mountains. It is one of the best sellers in the market making it one of the good accessories in your home. It emits a calm amber color when turned on and hosts extensive health and environmental benefits. Each of the salt lamps is cheap, unique, and cheerful and varies in color and shape.  This Himalayan rock salt lamp is one of the environmentally friendly light sources. Most of them are powered by low wattage bulbs that require only a small quantity of energy while the others are lit by a candle flame. This lamp remains a classic by adding a unique style to your home. The only disadvantage of this lamp is that it is not cordless.
Levoit Kana Himalayan Salt Lamp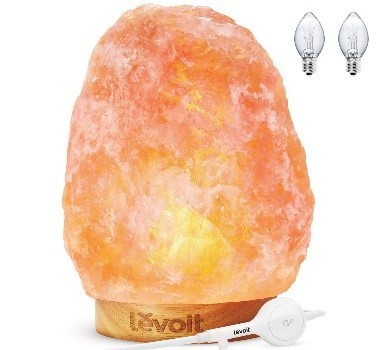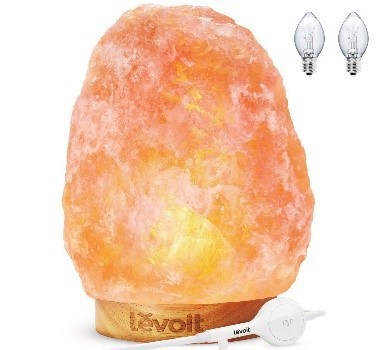 This Levoit Kana Himalayan Salt Lamp is an ideal salt lamp for beginners. This small though a perfect lamp is the smallest in the Boho-chic series of Levoit salt lamps with a size of 5-8 lbs. It comes with different types of choicest bases that are available for your lamps like premium rubber wood base and stainless steel base. The Himalayan salt crystals are 100 percent natural and hand-carved. This salt lamp comes with a touch-sensitive dimmer switch to adjust the brightness of the lamp. To reduce fire hazard, it uses a 15W bulb at 120 volts. The Levoit Kana Himalayan Salt Lamp is a perfect choice for gifting purposes and comes with a one-year warranty. The package includes 3 bulbs for the lamp. This product is safe, completely heat and fireproof. The only downfall of this salt lamp is that it is not safe around pet animals as rock salt is not safe for ingestion.
Natural Himalayan Salt Lamp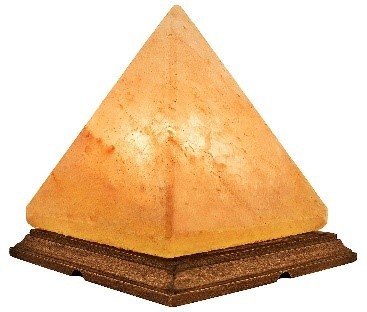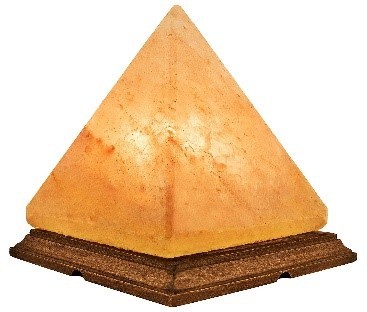 This Natural Himalayan Salt Lamp is a popular choice among customers and it is one of the good options because of its unique pyramid design. This salt lamp comes with its attractive pyramid-shaped design which is 5.5 inches high. It comes with a 6 ft. cord that is UL certified making it completely safe. It features a rotating dial to adjust the light brightness. Its neem wood base is durable and offers the required degree of firmness. This salt lamp uses a 15-watt bulb and emits an orange glow producing an amazing ambiance. It is 100 percent all-natural and handcrafted making it a perfect choice as a unique home décor that acts as a beautiful night light or a decorative light.