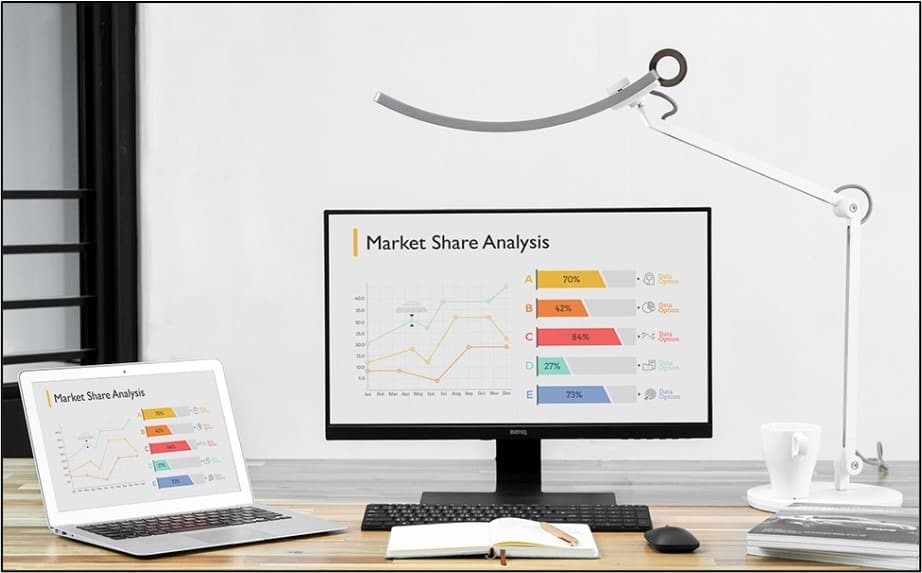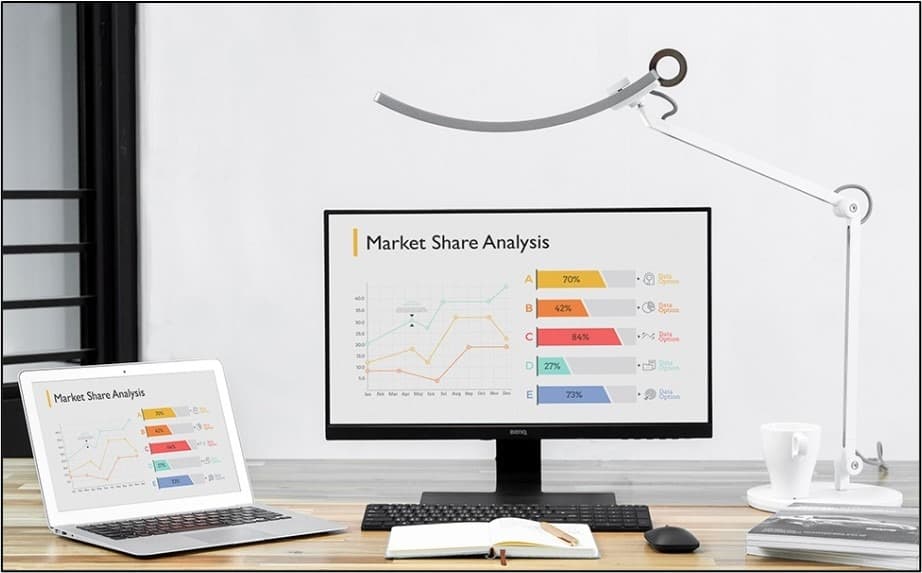 Modern LED lamps have a unique ergonomic design that provides adjustable lighting with the least glare. LEDs are popular choices for long-lasting illumination through affordable energy-saving technologies. It is no surprise that they are increasingly used in slim desk lamps for a standalone, focused light source. The space-saving overhead light can be customized to set various color temperatures depending on the task at hand. LED brightness of at least 450 lumens and color temperature between 2,800 – 5,000 kelvins are ideal to light up a general workstation. Frosted panels enclosing the diodes prevent eye strain as they never appear within your line of vision. Overall, an LED slim desk lamp adds a futuristic touch to your study and office. The following designs prove how less can always be more.
The cordless slim desk lamp is available in silver, gold, rose gold, and space gray colors so you can match it with your laptop, iPad, and smartphone. It offers 3 lighting modes for neutral, warm, and cold working atmospheres, within color temperatures of 3,100 – 5,200 kelvins. These modes and 6 brightness levels can be customized from the touch-sensitive panel for creating the ultimate soft or bright light. The lamp can be recharged through its micro USB port to deliver around 40 hours of illumination. You can adapt its LED panel at 360° to spread or focus the light. Luxe lamps efficiently avoid glare and do not emit much heat. They inspire a futuristic edge that looks amazing in all interiors.
The solar-powered small desk lamp has a smart control panel and can also be charged via USB cabling. It has a foldable design that creates great versatility. The lamp leaves a small footprint on your table and countertop, so it does not obstruct your accessories and still provides reliable, non-flickering light. Its lightweight structure offers portable convenience for nighttime reading and outdoor camping. The color temperature ranges between 6,000 – 7,000 kelvins. It is an added benefit to be able to solar-charge your lamp instead of being confined to electrical outlets. When night falls, the lamp will be ready to help nocturnal writers overcome their writer's block.
This stylish LED metal desk lamp is supremely durable and flexible for multi-angle illumination. 5 color modes and 6 brightness levels can be adjusted from the touchscreen panel. It also provides sideway lighting to reduce glare for nighttime efficiency. The intuitive technology has an advanced memory retention feature that "remembers" the lighting preferences, bringing your favorite settings at your fingertips. The color temperature of 6,000-6,500K sufficiently lights up your reading nook and workstation. The slim desk lamp sets a 60-minute timer functionality and is USB-rechargeable.
LED desk lamp for computer monitors is manufactured in a diverse range of swing-arm ergonomics and shades. It covers a wide illumination area for warm and cool tones depending on the atmosphere it is used for. An integrated sensor detects the ambient lighting to automatically update the brightness levels and activate auto-dimming. BenQ's LED panels have a 50,000-hour lifespan for promised longevity throughout the years. This e-Reading lamp offers a flicker-free illumination that is comfortable on the eyes for multi-monitor gaming. Its curved overhead design works perfectly and equally-well for laptops, tablets, smartphones, and paper without interfering with the screens' native lights. So, there is no monitor glare, and your workspace gets lit up with customized color temperature and brightness. It is ideal for graphic designers, photographers, architects, and any professional who uses the computer for prolonged hours.
The slim LED desk lamp is Qi-enabled with an integrated Hyper Air wireless charging pad for compatible iPhones and Samsung devices. If your smartphone does not charge wirelessly on the pad, it can be USB-connected instead. This versatile technology cuts down the need for additional outlets to charge your phone while the lamp lights up your desk. Its control panel allows setting the desired mode and brightness level. The lamp can be tilted and rotated to offer multi-angle illumination. A smart memory feature saves the recent lighting preference for the next use.