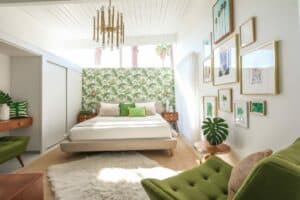 Interior designing plays an imperative role in all kinds of residential and commercial pursuits. Home and building owners seek professional expertise to add an aesthetic edge to their living spaces. Tenants regularly employ the services of interior designers to upgrade their rooms, kitchens, lofts or balconies and keep up with the latest trends. As an owner, tenant, potential client or DIY enthusiast, you want a solution that reforms your project idea with a visual flourish. An interior design services list is a good place to start, as it integrates all essential aspects of your design endeavors.
Companies offer services ranging from minor refurbishments to full-scale overhaul. Your immediate environment directly impacts your mental, physical and emotional health. It is always helpful to implement smart interior design services that encourage happy, cheerful vibes. The most important elements of such a list are discussed below.
1. A service can be full-scale interior design, covering an entire building. It may include electricity, plumbing, material research, and accessorizing.
2. Some interior designers provide an hourly consultation service for your project, costing around $30 – $500 per hour. This could be executed online if you are a DIY client looking for the right direction to customize your ideas and reinvent your space. Designers can collaborate via video chats and follow up with you on their plans, calculations, and resources to be purchased (along with the best affordable stores).
3. Interior styling helps to complete your room with perfectly placed accessories. This is an optimum choice if you have already gathered the main furniture, carpet, and centerpieces and just need to create a picture-perfect view that speaks a thousand words.
4. If your project requires construction, you can hire a designer to evaluate current plans, door/window positioning, fireplace location, floorboard styling, etc. This will bring any warning signs to light. You can also receive inspiration boards, or mood boards, to get a clear visual.
5. Designers offer space planning and 3D rendering services, where they use computer-aided design (CAD) software to draw up a layout of your room. This is exceedingly efficient for deciding furniture dimensions and positioning so that they actually fit. The service can include budget-friendly options for the best retailers and logistics providers for your chosen items.
6. A design consultation service comprises several décor components like drapery styles, upholstery, carpeting, wallpaper selection, paint swatches, and real estate staging. In the corporate world, recommendations for creative artwork will definitely invigorate the workplace for its employees. It is always pleasing to walk into a symmetrical foyer with all parts aligned in perfect symphony.  
A comprehensive kitchen and bathroom service may cover countertops, cabinetry, vanity, faucets and tubs, tiling and ambience.
7. Interior designs are charged differently based on packages such as area, duration, expertise, and budget. A fixed fee for a complete project may cost around $10,000. Designs can be categorized as:
contemporary and elegant
classic and inspiring
traditional or vintage
simple yet timeless
8. Green services facilitate eco-friendly living conditions, especially for smart homes. All designs, installations, and resources resonate perfectly with the environment. You can welcome a bit of nature into your home or enterprise through wall-length glass windows overlooking spectacular views.
So, in conclusion, whether you are chasing an urban dream or bringing vintage back, an interior design services list is a great guide for feasibility. You will enlist the help of skilled professionals who know where to look, what to look at, and how to get there.