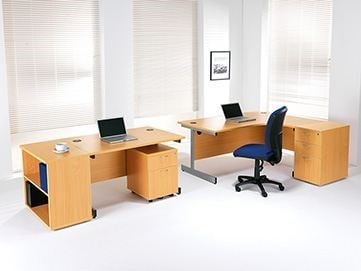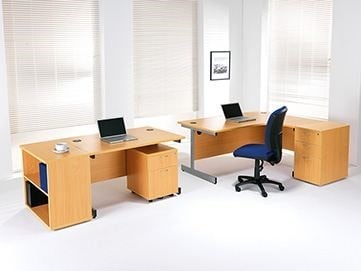 Creating your ideal work environment is not a problem these days. Thanks to various companies who provide help to you in finding dependable office furniture that suits your taste and needs, all at affordable and amazing prices. Whether you are furnishing a home office or updating your business interiors, these companies provide you a varied array of choices that allow you to confidently purchase low-cost office furniture. Here is a list of some of these companies that offer amazing options.
Office Furniture
Based in Wisconsin, Office Furniture offers ideal low-cost office furniture for any working environment. No matter if you are buying for a small home office or an executive conference room, Office Furniture has one of the best selection at affordable prices for every customer.  It offers a wide variety of office furniture from ergonomic office chairs to a compact computer desk, from a full office desk set to a traditional guest chair. All these varied arrays of style are from leading and trusted vendors that include Boss, Sauder, Martin, Bestar, Bush and many more which completely fulfill your unique wants and needs. Moreover, Office Furniture offers free shipping along with a nine-year warranty for business furniture.
Furniture Wholesalers
Furniture Wholesalers is also a US based online company that has been offering commercial quality discount office furniture and seating for more than 30 years. It sells one of the best quality office furniture like tables, chairs, desks, and more which are not only backed by their experience and integrity but also by leading and successful manufacturers with outstanding brands and reputations. Furniture Wholesalers is one of the respected internet providers of ready to assemble furniture and seating from a long list of top brands like Boss, Balt, Bestar, Global, JSI, Mayline, Lesro and many more, for small businesses and home offices.
HON
Headquartered in Iowa, HON Tables has striven to provide quality office furniture at a low cost for many years. It takes pride in offering a varied array of furniture that ranges from conference tables to collaborative tables, gathering points to private spaces. HON is one of the recognized names in office furniture and comes with all you require to support a productive workspace no matter what industry you want it for – government, education, healthcare or business.
Poppin
Poppin is an effortless one-stop solution for your entire workspace. headquartered in New York with many showrooms across America provides office furniture collection that is specifically designed keeping the changing workspace in mind and that too at affordable prices. Each of its furniture can be expressed in a breadth of colors in your favorite shade or can also be branded in your company color. Every piece of furniture offered by Poppin that range from office desks to filing cabinets are simple to assemble and ready to ship on simply a moment's notice.
Walmart
Walmart offers a great assortment of office furniture at the lowest prices. No matter of if you are setting up a small, serene workspace or establishing a large-scale, busy office, Walmart comes with a comprehensive array of office furniture that includes a myriad of options from office chairs to guest seating, desks to organizing storage, which helps your workflow move as smoothly as possible.