Efficiency is vital for every business or non-profit organization especially when many projects are being managed simultaneously. Metal wall mount file organizers attach to the walls to save space on already crowded desks. They come in handy when you need to categorize and sort important information in your office as it helps any office manager to sort file folders, mails, and other literature in a jiff. Metal wall mount file organizers offer compartments that are perfectly sized to keep traditional folders, however, other publications such as magazines and catalogs can also be placed into these hanging racks. Keeping files at your fingertips is a great way to increase efficiency, save time and spruce up your office all at the same time. You definitely don't want to slow down by sloppy filing when you are at work. Instead, you can keep your clients happy by installing a wall mount file organizer that offers you that "quick-draw" ability. Let us take a look at some of the metal wall mount file organizers that can help you organize your documents in a better way and solve untidy desk problems as well.
Nozzco White Wall Mount Hanging File Holder Organizer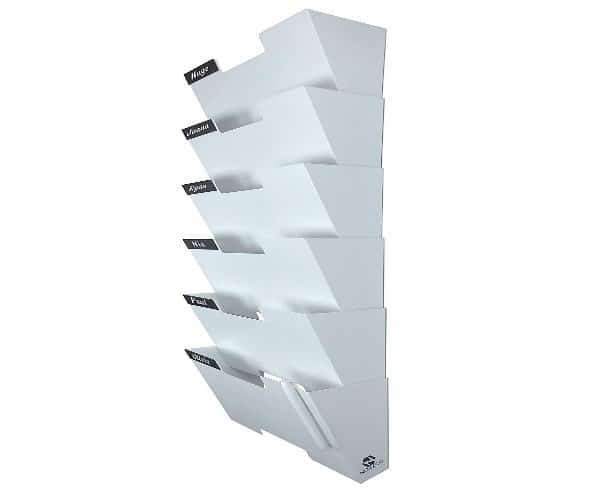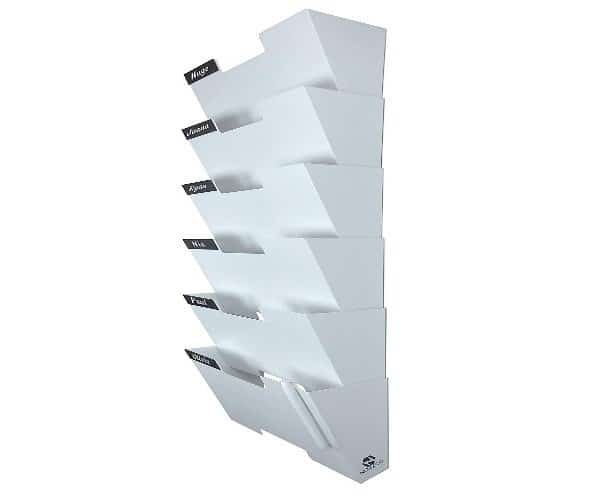 This 6 Pack Wall Mount File Organizer by Nozzco is an outstanding idea to increase work efficiency and keep your work desk tidy. This organizer can be used in any sort of setting from schools to restaurants, offices to a dorm room, and it serves the purpose to maximize your available space by keeping your letters, magazines, and other documents well sorted. It is made from high-quality rustproof steel that is solid and sturdy perfect to withstand the test of time. It can be easily wall-mounted vertically or horizontally with the help of compact and lightweight steel holders that come along in the pack. Moreover, Nozzco Wall Mount File Organizer comes with one eraser marker and six magnets padson for you to write. Each folder comes in a size of 7 ½" x 13" x 4" that does not take much of your wall space and is excellent to locate files and documents on the spot.
SimpleHouseware Wall Mount Single Pocket File Organizer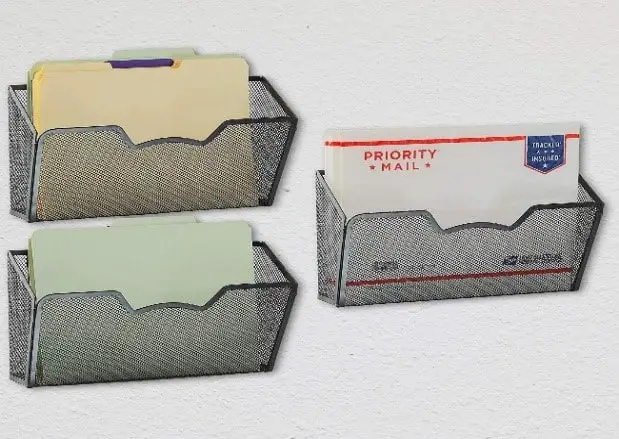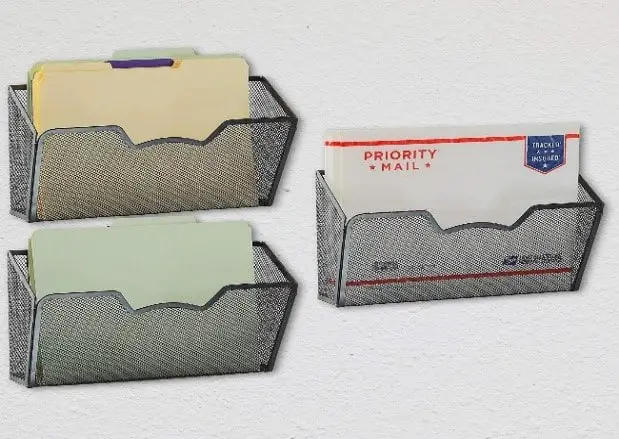 SimpleHouseware Wall Mount File Organizer is specifically designed for holding your important documents, letters, and magazines conveniently. It comes in a pack of 3 with each having a size of 13.9 inches width x 8.25 inches height. Moreover, this file organizer is built from a strong metal which is highly durable with a classic black coating that gives it a more professional look. It can be easily mounted to the wall with the help of only two screws in a matter of seconds. By having this set in your workspace, your room, as well as your desk, will become a lot more organized and clutter-free.
EasyPAG Mesh Wall File Holder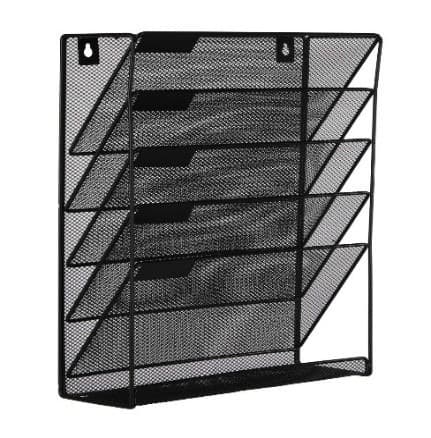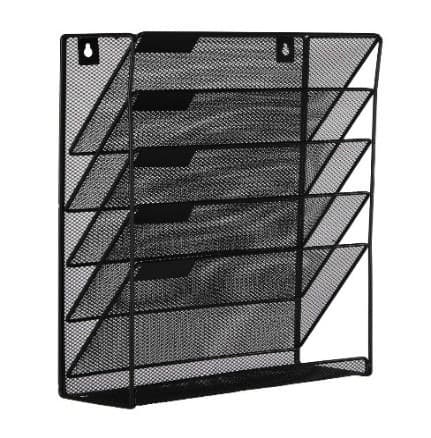 This EasyPAG Mesh Wall File Holder is great at space-saving and is ideal for keeping magazines and brochures in an ordered way. This wall organizer comes with a heavy-duty mesh metal construction that offers the best durability and can be used for many years. Moreover, it is also finished in a black coat which is ideal in preventing rust also. This 5 tier vertical mount organizer comes with one bottom flat tray which is 12.25 x 3.75 x 1.25 inches in size and can be used to place desk accessories and stationery. It can also be mounted easily on the wall with the help of hardware and screws which are included in it, taking full advantage of your vertical space and keep your desktop clean at the same time.
Rolodex Mesh Collection Single-Pocket Wall File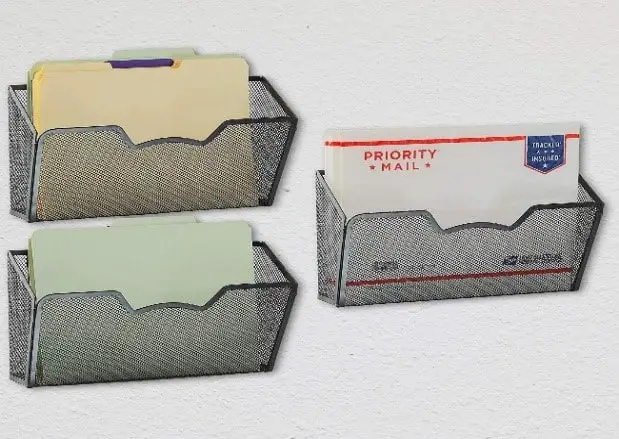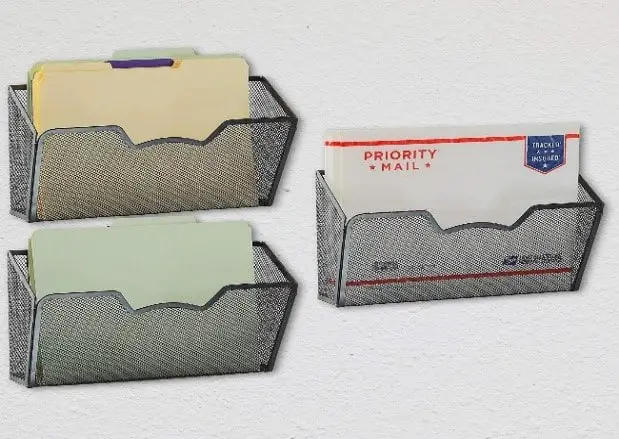 Rolodex Mesh Collection Single-Pocket Wall File is another metal wall mount office organizer that serves the purpose of holding letter-size and A4 size papers and folders conveniently. This single pocket is made of steel that offers high durability and comes along with a good finish that gives it a nice look. It comes with the height of 9 inches (22cm) which provides good amount of space to store things and keep your workplace more organized. Additionally, it is well constructed with mesh materials that resist water and dust. It is a perfect choice for storing things and keeping your workspace more organized. More than this, it is easy to install and mount on the wall with the help of hardware that comes along with it.
Veesun Wall Mount Single Pocket File Holder Organizer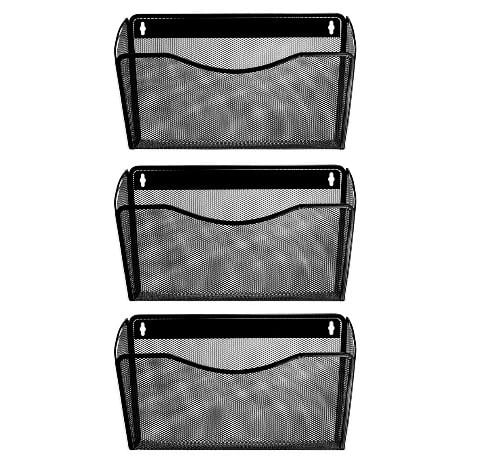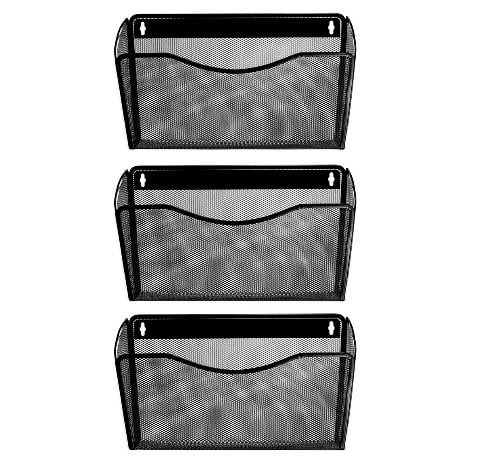 Veesun Wall Mount Single Pocket File Holder Organizer is ideal for maximizing your workspace and comes in 3 pack that allows you to organize your work desk a lot better. Each file organizer is 13.7 inches in width and 8.5 inches in height which is a sufficient space to organize your paperwork. It features a durable metal structure with a steel mesh design that is sturdy and durable at the same time. It comes with mounting screws and hardware by which you can easily mount them the way you want whether together or separately. Veesun Wall Mount File Organizer is suitable for your homes and offices and is an excellent way of organizing books, folders, mail or any sort of files in your setting.
Wallniture Lisbon Wall File Holder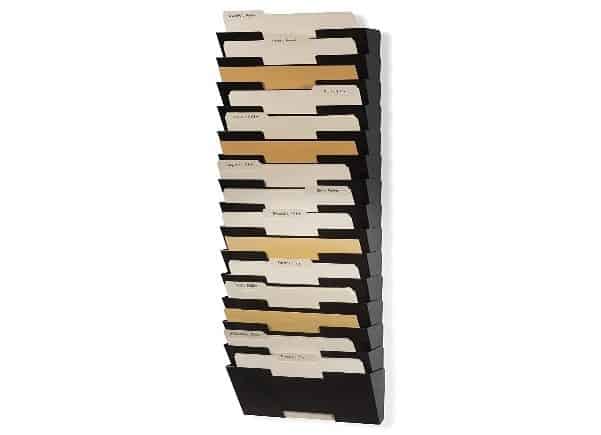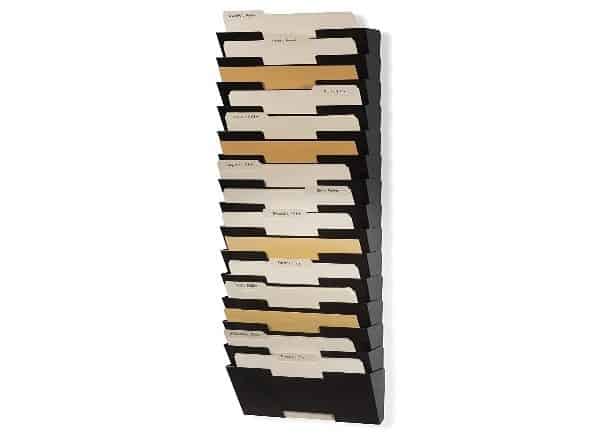 This Lisbon Wall File Holder Metal Vertical Rack by Wallniture is ideal for office organization which gives you enough space to store letters and files easily. This 15 pack vertical rack wall mount comes with three 5 sections of metal file holder that can be placed on one wall or in separate rooms. It also comes with three wall mount brackets that allow you to hang it vertically or horizontally in three different wall space. With each folder having a size of 13 ¼" x 6 ½" x 3 ½", offers you enough storage for all your important paperwork to be at hand. Moreover, it is constructed from steel that provides strength and durability to it making it fit to be used for several years. This metal wall mount file organizer is another great choice to work efficiently and declutter your workspace.