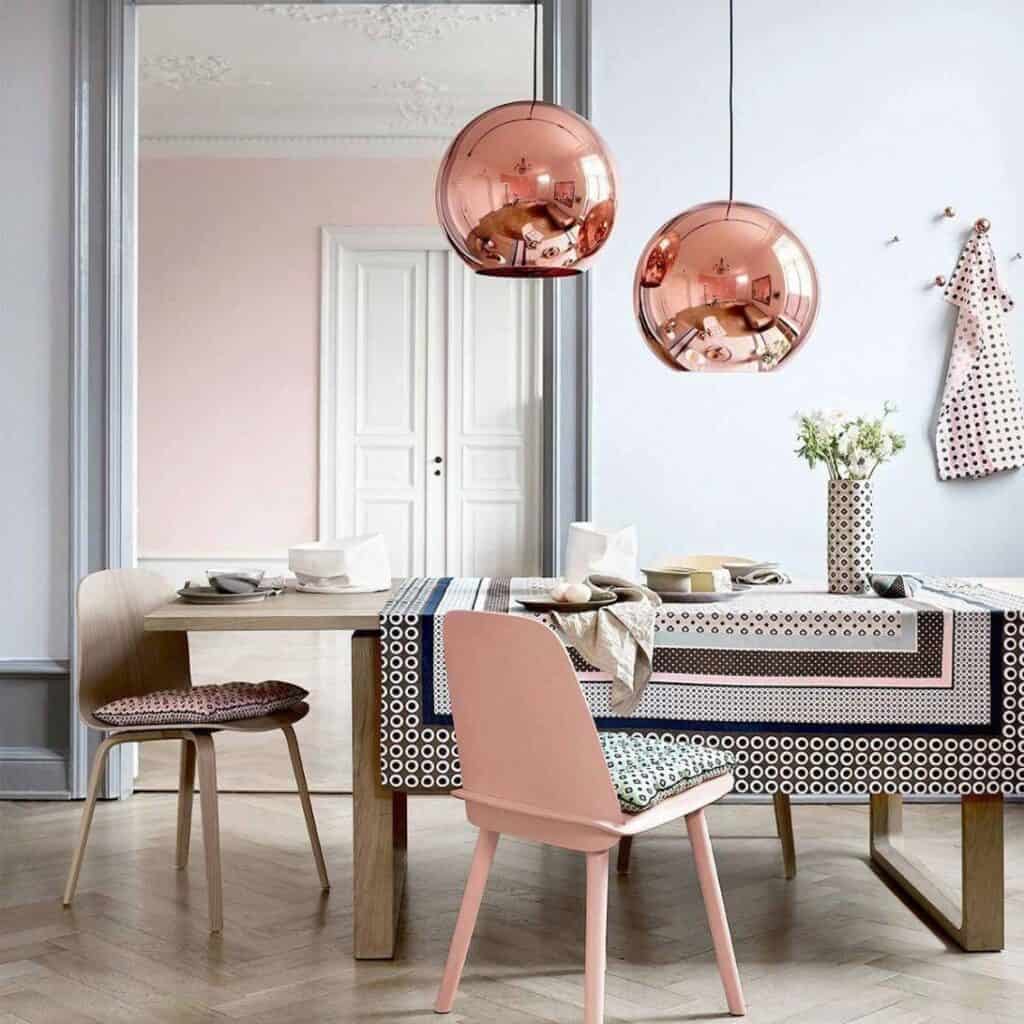 Metallic fixtures and accessories have added a new dimension to contemporary interior designs. Brass, bronze, and stainless steel create an adventurous remodeling plan for your kitchen. Copper, in particular, makes a great accent color that harmonizes with all backgrounds. Copper lighting fixtures, faucets, cabinet knobs, and stylish vases capture everyone's attention and effortlessly complete the room or kitchen. For example, a copper light shade will form a classic centerpiece over your dining table. Its pinkish-red hues and reflective surface add a lustrous appeal to the interior space, creating a lovely design aesthetic. Copper pendant lighting has become a new décor trend that inspires homeowners to turn even the coziest spaces into warm, inviting living rooms. The following copper light shade designs will prove just that.
Industrial Modern Mirror Glass Ball Pendant Lamp,Adjustable Mirror Ball Pendant Ligh, Ceiling Lamp Shade for Kitchen,Dining Room,Bar (Copper, 25cm)
This copper pendant lamp shade makes an elegant ceiling light with its fully-reflective warm glow. Arranged in a group of pendant lights, you will have an exquisite centerpiece for your dining room, hallway, loft, kitchen, and bedrooms. Apart from being your favorite light source, the copper light shade will add a timeless decorative touch to any interior. Its surface is rust-proof and retains the quality over time. Incandescent and LED bulbs can be used with the globe in restaurants as well as offices.
120V Italian Designed Hanging Industrial Pendant (Copper)
Italian-style copper pendant is designed to suit various residential and commercial interiors. It has an industrial quality of durable aluminum and powder-coated copper finishing. A dimmable LED feature and frosted diffuser provide evenly-distributed ceiling light. The LED bulb can be attached quickly to the twist-lock socket. Die-cast aluminum pendant top bears maximum mass so that the cable does not strain against the downward weight. It makes the perfect rustic and contemporary combination for conference rooms, vintage cafes, restaurants, and overhead lighting for kitchen islands and peninsulas.
Industrial Nautical Style Single Pendant Light-LITFAD 15.15″ Wide Pendant Lamp with Frosted Diffuser Mounted Fixture Polished Nickel in Copper
This single pendant light adds Scandinavian vibes to your barn, warehouse, kitchen, and various interior designs. Its copper finishing and style are retro-inspired for a classic dome pendant that looks great with all background colors. The light shade cord can be installed easily to provide efficient illumination through a single incandescent, fluorescent, or LED bulb. The bulb is not included in the package. This antique design is very durable for lasting through years of decorative lighting and easy maintenance.
Lingkai Industrial Pendant Lighting Single Light Hanging Light Fixture Antique Copper Finished Ceiling Light with Cone Shade
Copper-finished ceiling light shade is compatible with any single incandescent, fluorescent, or LED bulb. It is designed with easy hardware installations to create a wonderful décor for your cozy café. The downlight cone pendant offers versatile illumination to suit kitchens, basements, attics, and reading nooks and stand out as an impactful centerpiece. It is a great indoor choice that walks the fine line between vintage and modern.
Country Club 12397556 Large Round Drum Light Shade With Cut Out Pattern Copper 29cm
This copper round-drum light shade has an exquisite floral pattern that disperses light efficiently. LEDs, energy savers, and incandescent bulbs can be used. It is designed to revamp all kinds of interiors with a Moroccan edge. This fine copper light shade projects its floral pattern on the surrounding walls, adding a graceful finesse to living rooms and restaurants. It is an ideal choice for high ceiling lights and effortless décor that brings the indoor space together.
WILDSOUL 20011AC Vintage Classic Edison Mini Pendant Light, LED Compatible Industrial Modern Farmhouse Metal Kitchen Ceiling Lighting Fixture with Bulb, Adjustable Cord, Antique Copper Finish
The antique copper light shade comes with an adjustable cord to fit any indoor area, including farmhouses, kitchen-dining spaces, and corridors. It is compatible with LED, incandescent, fluorescent, and halogen bulbs, and the package includes a single vintage-style starter bulb. The industrial ceiling light delivers low illumination if you use dimmable light sources with a dimmer switch. All hardware can be assembled conveniently to create timeless functionality throughout the years.
IJ INJUICY Tom Dixon Vintage Industrial Brass Bowl Mirror Glass Ceiling Pendant Light Shade Retro Led Edison Ceiling Lights for Bedroom Kitchen Living Room (Dia. 300mm Copper)
The ceiling pendant copper light shade supports a global voltage range, and you must take care to use the correct incandescent/LED/energy saver bulb. The mirror glass bowl creates a stunning vintage light to adorn your loft, balcony, and enclosed backyards. Its reflective design and copper color seamlessly blend into modern interiors as well, so you get to adapt the light shade to all environments. You will have the perfect ambient light to take Instagrammable selfies with loved ones.
Modern Industrial Ceiling Pendant Light Vintage Brushed Copper Metal Lampshade Perfect for Kitchen Island Dining Room (Type A)
This copper metal lamp shade has a smooth brushed surface that is perfect for retro enthusiasts. The hardware can be assembled easily to create your classic source of indoor light. It adds great personality to home entrances, office foyers, and lounges. The package includes a copper light shade with its single-bulb socket, pendant fixture, and cord. You can use LEDs and Edison/incandescent light bulbs. The light shade is easy to mount despite its sturdy build that offers a great accent color against warm tones.     
Decmode Contemporary 9 x 13 inch one light iron pendant with bulb, Copper Brown
This copper globe pendant delivers a single-bulb lighting source. Its minimalistic dual design includes a half-canopy and half-mesh combination. You can introduce simple and classic elegance in your hallway and basement office with a ceiling light that adds depth to the room. It also works perfectly to redefine the balcony and kitchen island space during your renovation plans. There is nothing better than a proper overhead light to illuminate your culinary magic.
Franklin Iron Works Essex 16″ Wide Dyed Copper Metal Pendant Light
The dyed copper metal pendant light has a hand-hammered finishing that stimulates countryside vibes. The wide shade supports a single bulb and can be suspended from sloped ceilings as well. This makes it an excellent choice for loft bedrooms. It has an adjustable cord to help you urbanize the light shade in your modern kitchen. The rustic auburn color will add a sharp contrast against white walls and cabinets.