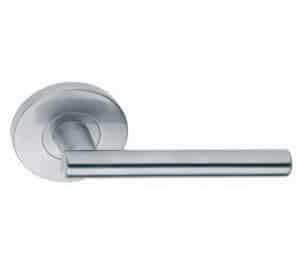 A passage set is used for doors that do not require locks but do need a latching feature. There is no means to lock a passage set and it does not contain a key cylinder as well. It is basically a hardware set that permits the function of a bolt in a door strike without the capability to lock the mechanism. Commonly they are used in areas that do not necessitate privacy or security. Passage set door hardware such as knobs and handles are usually installed on doors in general living area, offices, basement, and dens that don't require to be locked or secured. There are various companies in the market that manufacture high-quality passage set door hardware for your homes and offices. Here is a list of some of the most resourceful companies in this regard.
Rocky Mountain Hardware
Rocky Mountain Hardware manufactures expertly crafted and premium quality hardware in America since 2003. It uses only the finest art-grade bronze and mechanisms that are precision quality destined to stand the test of time. Its products come with a lifetime warranty. Rocky Mountain Hardware offers a comprehensive variety of passage sets for doors. Besides premium quality passage sets, it provides other reliable products that fulfill most of your hardware requirements as well like privacy sets, window hardware, cabinets, home accessories, and kitchen and bath products. Moreover, Rocky Mountain Hardware also provides you the feature to design your door hardware by their door hardware composer to create a piece that is unique to your requirements.
Schlage
Schlage is one of the well-known manufacturers of high-quality passage sets door
hardware along with secure door
locks, entry door knobs and modern style hardware in North America. It takes pride in gracing your doors with their ever-growing menu of top-grade and stylish hardware since 1920. It offers a wide variety of passage set door hardware. You can easily select the right passage set for your interior doors from its diverse passage sets.   
Signature Hardware
Signature Hardware has been offering memorable statement pieces and unique accents for homes since it was founded in 1999. It stocks up most of its items in Northern Kentucky that are quickly shipped across the United States of America or Canada. Signature Hardware pride itself in manufacturing passage door set hardware along with various other hardware that ranges from door handles and locks to pocket door hardware to door hinges and straps which are not only beautifully crafted but built to last the test of time.
Homestead Hardware
41-pass-Based in Ohio, America, Homestead Hardware provides unrivaled industry expertise and has been consistently striving to provide quality hardware products since it has embarked in 1981. It is responsible for offering a wide selection of door hardware such as door knobs, door pull handles, entry door handle sets, lever door handles, hinges, pocket door hardware and many more. Moreover, Homestead Hardware also includes door accessories, cabinet and bath hardware and home décor accessories from leading brands like Delany Co, Emtek and Johnson.