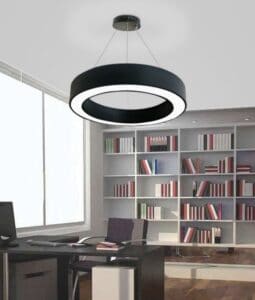 Good lighting in your workspace is a simple way to enjoy illumination while adding a small yet significant touch of great décor. Upgrading your office or even any table or desk is pretty easy with office lighting. There are myriads of designs and styles in office lighting that will enable you to find the right product according to your workspace lighting needs. Here we are going to discuss pendant style office lights that can lighten up an old and outdated office room with gorgeous lights.
If you want to invest and bring a change in your workspace by enhancing its ambiance, office pendants lights are one of the best fixtures, to begin with. This light fixture hangs from the ceiling being suspended by a metal rod, chain cord. They are responsible for giving an instant glow to your office interior and make a big difference in the office by just not affecting the look but space as well. Let us take a look at some of the companies that offer some of the best designs of office pendant lights.
Interior Deluxe
Interior Deluxe was established in 2004 in Florida, USA. It is specialized in supplying high-quality lighting products from the leading brands. It offers accent lighting, decorative lighting, architectural lighting, and lights for commercial and residential locations. It also installs these lighting products and fixtures with the help of its staff of well knowledgeable electricians. Interior Deluxe provides free shipment of its lighting products internationally as well. It takes pride in offering different types and sizes of pendant lights from renowned and reputable brands like Alma Light, Décor Walther, Catellani & Smith, Tobias Grau, Zaneen Panzeri, Santa & Cole and many more. You can choose from its different varieties of pendant light according to your preferences.
Lamps.com
Lamps.com has been striving successfully to provide its customers with top quality products since it has embarked in 2011. Based, in Philadelphia, USA, Lamps.com is a reputable Lighting and Design company that offers a plethora of stylish office pendant lights to you who are willing to personalize their work area by infusing color into it and turn it into an inspirational environment.
Lumens
Lumens was established in 2006 and based in California, USA. It takes pride in offering a wide variety of design-oriented ceiling lights, floor and table lamps, wall lights, furniture, fans and other home accessories from over 300 reputable brands. With a low price guarantee, easy return policy and free shipping it is dedicated to bringing you the best products in the modern design. Lumens feature a varied array of the pendant and hanging lights which include mini pendants, crystal pendants, LED pendants, bowl pendants, drum pendants, teardrop pendants and many more, with each one of them having the ability to give a colorful boost to your workspace.
YLighting
YLighting was launched in 2001 and is a flagship brand of YDesign Group. It is one of the most modern lighting retailers in the USA. It features an expansive selection of lighting that is curated to provide top quality products from leading international brands. YLighting offers a wide variety of office lighting that ranges from desk lamps, pendants lights to chandeliers and recessed lighting. Its office pendant lights not only give proficient task-lighting that is necessary for the office but also offers an unmatched decorative appeal.
Niche Modern
Based in New York, USA, Niche Modern has established a variety of extraordinary modern lighting and contemporary chandeliers for office, residential and hospitality use. It prides itself on bringing the perfect in lighting to consumers, architects, and designers across the world for over a decade. Niche handmade glass products offer a large variety that ranges from modern office lighting to kitchen lighting.  It offers some of the best designs in office pendant lights that will foster the creative force with its handmade glass lights that are in unique shapes and opulent glass colors.