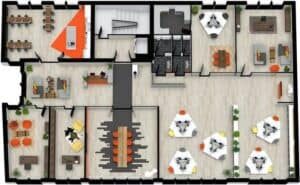 Image credits: Room Sketcher
Office design and remodel projects require different layouts and floor plans that you can customize on your computer to get some initial look and feel of the actual setting. These images can be both 2-dimensional (2D) and 3-dimensional (3D) depending on the level of details you want to look at. A 3D office floor plan is just the 3D version of your office's 2D floor plan, so you are only adding a third dimension to the original image for a better perspective. Such a floor plan offers an aerial view of what your final office would look like. It typically includes elements like walls, doors, windows, kitchens, private offices, conference rooms, office furniture, and different amenities.
By representing your office in this way, you can tweak the components until they make sense and the space feels more cohesive – which will help you understand your office layout better. Various 3D office floor plan software tools are available to make this possible, and they all allow companies to create efficient workspaces by first drawing them to scale. Here are 3 of the best software applications you can use for your 3D office floor plans and similar drawings.
3D office floor plan software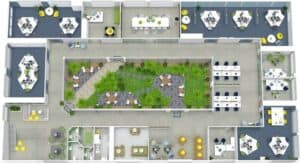 Room Sketcher is an office design software that you can use even without CAD experience. With its dynamic visualization tools, you will be able to create 2D images, convert them into 3D office floor plans, generate photorealistic 3D renderings, and even obtain a panoramic 360-degree view of your virtual office. All of these can be shared instantly with your contractors and designers for quick collaborations. Here is how you can go about it:
The Room Sketcher interface can be used to first create a 2D office floor plan to figure out the general layout and furniture placements and adjust measurements accordingly. You can simply use the tool's drag-and-drop feature to create the 2D drawing.
Room Sketcher has its own library of pre-designed office furniture symbols, which adds to the drag-and-drop convenience. There are also built-in measurement tools to help you build your floor plan exactly to scale. Therefore, you can add furnishings, choose wall materials, customize the flooring, update colors, and resize the elements anytime.
Once your 2D image is ready, you can switch to the 3D version using the tool's virtual camera feature. This will generate a high-resolution 3D office floor plan that you can use to visualize the space more realistically.
We also like Room Sketcher's additional 3D capability. You can choose the interactive Live 3D feature for a virtual walkthrough around your office plan.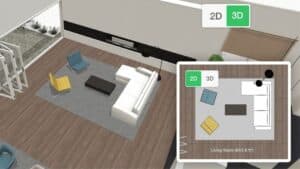 Planner 5D is another great 3D office floor plan software that can be used by beginners and professionals alike. You can create functional layouts in both 2D and 3D visuals that will help you focus on space optimization minus all the guesswork. The following are some of the key benefits of using this software:
Planner 5D allows you to visualize where each office furniture and equipment will go and how many rooms can be accommodated within the floor plan. Therefore, you can rely on the given outlook and measurements for a more confident space planning experience.
The software offers drag-and-drop tools for a more user-friendly digital visualization process. It also includes a predefined library of office symbols and quick-start templates to make your work even easier.
You can draw and customize an initial floor plan using walls, dividers, furnishings, and other library graphics to create a 2D model.
The tool then lets you switch to the 3D version of this office floor plan, and you can also get photorealistic imagery – which is simply as real as it gets in the virtual world!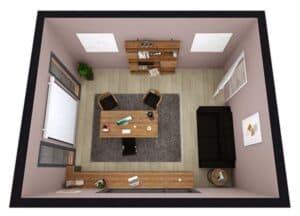 Cedreo 3D office floor plan software can also be used with or without CAD skills. It offers both 2D and 3D visualizations for office floor plans and has an intuitive interface with user-friendly tools. Here is what you can do with this software:
Create 2D layouts. Cedreo offers point-and-click controls to make labeled floor plans. You can access the software's library of symbols for office furniture, architectural elements, rooms, etc., so it becomes easy to customize your initial sketch.
Import existing floor plans. Cedreo can be used to import your existing office designs so that you can simply resume working on them without needing to start from scratch.
Create 3D office floor plans. Cedreo also has detailed design graphics in its library of symbols, along with customizable materials, colors, textures, and finishes that you can choose to add depth to the 3D versions. You are just a few clicks away from obtaining professional-looking office floor plans that make sense for your specific business type and workflow expectations.
Generate photorealistic renderings. You can also view high-resolution photorealistic images of your virtual office on Cedreo. This will probably be the clearest, real-life interpretation of your office before it gets constructed.
Collaborate with teams. Cedreo supports design-sharing features, so you will be able to get your team involved for more in-depth collaborations before making the required changes – which will be a breeze thanks to Cedreo's editing tools.
Conclusion
Office construction and remodel projects are a great opportunity for owners to think outside the box and get creative with their workspace settings. The same layout style might work for various offices, but this takes away your brand's originality and creative freedom. 3D office floor plan software tools are useful for leaving behind the cookie-cutter approach and exploring your own trends. They are useful solutions for visualizing your office space beforehand – not just in your mind or on paper but also as 3D real-life environments.
Apart from design, spatial planning, and furniture placements, you can use such software apps to focus on safety aspects like leaving the emergency exits clear. Since you usually begin with 2D drawings, you can first add primary features like doors, rooms, and furniture before introducing more details. This will help you start with a clutter-free layout and eventually add more graphics until both your functionality and design ideas are met.