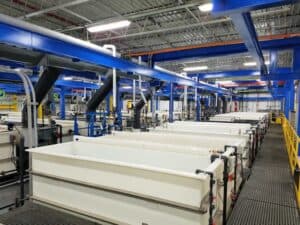 Image source: Anoplate
Anodizing refers to the electrochemical process of coating a metal surface to make it more durable. Metals like aluminum, its alloys, and titanium are submerged in an electrolyte bath, activated with a passing current. This process creates an oxidized finish on the metal's surface, making it resistant to corrosion and abrasion. The anodized coloring does not fade and is also resistant to UV light. Anodized aluminum will develop a thick layer of aluminum oxide on its surface. This protective coating becomes a part of the metal itself, unlike coating through paint. The reflective, shiny, and decorative layer adds to the overall cosmetic effect and does not peel away. Anodizing companies use computerized equipment for bulk conversions on various metal products. They rely on this finishing process to reinforce the oxide layer of metals for better durability and applications in pharmaceutical, automotive, aerospace, military, and other industries.
There are different types of anodizing coatings, including aluminum/titanium anodizing, hard anodizing, sulfuric anodizing, and chromate conversions. They tackle diverse applications relevant to their industries. Architectural companies use the anodizing process on roof panels and window frames, whereas automotive experts require anodizing for various vehicle parts. Electronic products also undergo the process for better finishing results and longevity – even industrial machines and equipment benefit from anodized surfaces.
Food industries have a lot of anodizing scope to manufacture durable pots, pans, and utensils. This reflects the widespread applications covered by anodizing companies, as discussed in this article.
Anodizing companies and their processes
Chicago Anodizing Company – Chicago, IL
A LEADING SUPPLIER
Chicago Anodizing Company has been around since 1947. With 7 decades of experience in metal finishing and anodizing, the company is famous for its high-volume, color matching, and repeatable processes. All anodized products become durable with an improved cosmetic appeal, and this has established a long-term customer relationship with the firm. The state-of-the-art facility features a bright dipping line, custom color options, and anodic expertise. This allows the company to be a critical supplier for high-quality finishes through cosmetic anodizing. It serves various industries like automotive, aerospace, medical, food processing, marine, electronics, and construction. Your metal products will also receive the relevant pretreatments, including polishing, sandblasting, acid etching, and buffing – depending on the anodizing process.
TYPE II ALUMINUM ANODIZING (SULFURIC)
With competent techniques and resources in MIL-A-8625 specification, Chicago Anodizing Company offers Type II Aluminum Anodizing (Sulfuric) processes. There are 25 in-house colors to choose from, and you can set custom color matching for additional colors. The company has Class 1 and Class 2 (dyed) anodizing options with finishes that suit a whole range of applications. For example, the anodizing stages produce a wide range of precision linear extrusions. Other precision machined metal pieces processed in this category include:
various screw machined components
CNC components
fabricated metal components
metal stampings
TYPE III (HARDCOAT) ANODIZING
The anodizing company provides MIL-A-8625 TYPE III Anodizing, which is better known as Hardcoat Anodizing. The Class 1 and Class 2 (dyed) Anodizing process uses low temperatures and high voltages with sulfuric acid. This develops a hard layer on the aluminum products, giving them a reinforced surface area. Components that require resistance against wear and tear benefit from hardcoat anodizing, especially in the nuclear and aerospace industries.
BARREL ANODIZING (BULK ANODIZING)
Bulk processing typically involves Barrel Anodizing and Bulk Anodizing services. Chicago Anodizing Company uses this process for customers who want anodized services in screw and fastener applications. The cost-effective process is ideal for anodizing small components in bulk amounts.
BRIGHT DIP ANODIZING
Not all anodizing companies provide the Bright Dip Anodizing service. Chicago Anodizing Company is actually one of the few suppliers who do offer the Bright Dip pretreatment. This process works just before anodizing begins on aluminum parts, allowing their surfaces to develop a polished look at the end. The proprietary service is offered on request, and you can choose the dye color for your metal parts.
Tiodize – Huntington Beach, CA
AN ADVANCED TECHNOLOGY COMPANY
Tiodize is a technology-driven anodizing company that was established in the year 1966. It specializes in composites, coatings, and green products for the primary reason of improving metallic structures. These services allow metal parts to withstand friction and corrosion in the long run. The company works for industries like marine, electronics, automotive, and aerospace.  Its electrolytic process is used to enable anti-galling properties and wear resistance on aluminum/titanium surfaces as well as their alloys.
ALUMINUM ANODIZING
The anodizing company offers [Type II – Clear and All Colors] and [Type III – Hard Anodize] services under the AMS 2468, AMS 2471, and MIL-A-8625 specifications.
Aluminum anodizing produces an aluminum oxide protective coating on the surface. This enhances the strength and resistance of various aluminum products. They develop better lubricity, dielectric strength, and mold-release benefits for all kinds of applications. Tiodize has a proprietary HARDTUF anodizing service that creates a lubricative aluminum oxide layer for added durability. This process can use various products for anodizing such as molds, die products, machinery components, bearings, control panels, actuators, marine parts, etc.
TITANIUM ANODIZING
This official Tiodize process uses an alkaline bath to anodize titanium and its alloys. The resulting improvement adds anti-galling and resistant features to the metallic surface. The complex surface treatment builds a finishing layer that becomes integrated with titanium products – such as helicopter blade assembly clevis, helicopter rotor hub, aircraft brake system, etc. There are different types of titanium anodizing processes from Tiodize, including:
TIODIZE Type I for pretreatment uses in semi-conductive finishing.
TIODIZE Type II for anti-galling surfaces.
TIODIZE Type III for surface color options on titanium products.
TIODIZE Type IV for an advanced Type II that offers product longevity.
Alpha Metal Finishing – Dexter, MI
A FAMILY-OWNED COMPANY
Alpha Metal Finishing was founded in 1976. The family-owned company excels in rapid turnaround finishing and anodizing services. With precise monitoring of each process, the company ensures quality results for all anodizing contexts. Its products are used by medical, engineering, robotics, pneumatic, aerospace, automotive, fabrication, and other industries.
COLOR ANODIZING
The anodizing company offers color anodizing for making decorative and durable metal parts. These can feature specific details for cosmetic finishes. The process allows aluminum components to become dyed based on your required specifications, enhancing the metallic sheen considerably. Various organic dyes are used in the process to enable colorfastness standards.
The in-house colors include black, royal blue, gold, citron, orange, green, red, and purple. You can also request for custom color dyes for your products.
ACID ETCH ANODIZING
This anodizing process gives aluminum surfaces a unique matte finish. Acid etch anodizing is environmentally friendly and is used for adding consistency to the results. The cosmetic matte effect can be achieved faster and more cost-effectively than other finishing processes. Acid etch anodizing prevents surface defects and imperfections. Its superior matte finish has a better consistency and meets the AAMA 611 specification.
HARDCOAT ANODIZING
Alpha Metal Finishing also specializes in hardcoat anodizing for Type III purposes. The hard anodized coating has a stronger and more resilient layer compared to Type II anodizing. This makes the metal parts more resistant to corrosion and frictional damages. They can have different color shades depending on the thickness of the hardcoat anodized layer. The process does not just impact the metal's overall resistance, but it also gives the surface a better cosmetic appearance.
On the metallic spectrum
The anodizing company Alpha Metal Finishing says that the process of anodizing is like developing a film. Any surface irregularities on the metal will become more pronounced when the anodizing is over. This is one reason why it is important to choose reliable anodizing companies that deliver fast turnarounds with the promise of flawless results. They should watch out for fingerprints and exposure before anodizing the metal. Any metal shavings need to be removed beforehand so that they do not interfere with the coating results – as these become permanent with the process. It helps to work with long-standing companies with a vast timeline in the finishing and anodizing industry – leaving a metallic trail you can easily follow!