Your workspace can be a spacious room that is dedicated to your work, a niche you have carved out of the corner or closet of your bedroom. Your desk is one of the most important pieces of furniture, no matter the size of your office setting, and it should be the base of your designing decisions for décor and accessories. There are various compact desk options available for small office settings to place computers, to write and even roll-top desks. Small is ideal because it can be easily added to your room or an existing office or an upstairs landing or a small nook around. There are many options available for small office desks whether you select a narrow writing desk, a floating table, a wall-mounted desk or a corner desk. With the right desk, you can turn any space into a flawless work nook. Here are some great small office desk ideas to offer you inspiration.
Prepac Floating Desk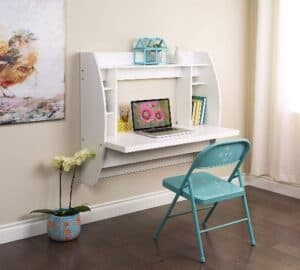 Small offices require to go deskless with this amazing wall-mounted Prepac Floating Desk. It can be mounted effortlessly at any height by its built-in metal hanging rail system. It comes in white, black or espresso colors and has a sufficient storage and shelving space, still maintaining the small profile. The two removable shelves are ideal for keeping books, electronic devices, speakers, etc. and the top shelf can be used for storing similar items as well. With 19.8" depth and 42.2" length, it can almost disappear when folded up. This desk is sturdy enough as its installation brackets can withstand a weight of 100 pounds on the desk. You can save valuable floor area by adding this classic yet stylish desk to a small working space.
Space Saver Computer L Desk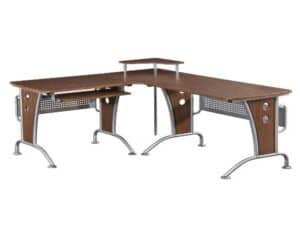 This Space Saver Computer L Desk is one of the most versatile desks around for small office settings. It features a corner mounted shelf that is perfect for placing a monitor or printer, in addition to the usual space-saving advantages of the L-shape. It also has a sliding keyboard shelf present on the left side of the desk. Moreover, its four wooden supports improve the stability and they can split off into two legs at the bottom as well. Space Saver Computer L Desk is made using fiberboard which works perfectly for regular office use. The smaller side of the L measures 10 inches, with the larger side measuring a little higher to 11 inches. This small desk packs a lot of great features which make it a good option for small workspaces.
Sauder Beginnings Computer Desk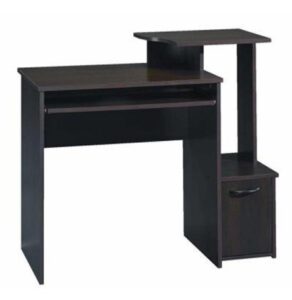 Sauder Beginnings Computer Desk is an ideal choice for keeping a computer, printer or for elevating a monitor. It features a slide-out shelf for a keyboard/ mouse and a nicely dedicated area for placing a vertical CPU tower. It also has additional storage that can be seen behind the lower door, just appropriate to store office supplies or books. Moreover, the gap between the desk and the floor based drawer is ample enough to fit a small desktop as well. This desk weighs 14.6 pounds, although you may require to disassemble it before moving. The main desk is 27.5" wide and offers approximately 25" of legroom up to roll-out shelf's base. Sauder Beginnings Computer Desk is an interestingly designed desk for small offices that adds a unique touch of décor to it and will get you organized as well.
Haeloen Wall Mount Desk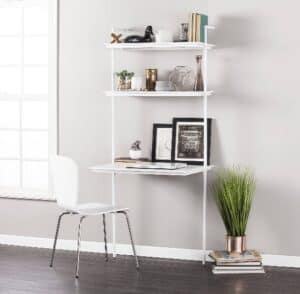 This ladder desk is another wall-mounted type of desk which is one of the excellent choices for small offices. Haeloen Wall Mount Desk does not only offer you a lot of desk space but they also have multiple shelves too. You can stack up smart shelving with this beautiful looking desk standing alone or you can also float two side-by-side. It weighs approximately 36 pounds and can withstand 80 pounds weight on the writing surface and 20 pounds on each shelf. This monochromatic looking, multipurpose floating desk serves the purpose of slaying clutter perfectly in your small working spaces.
Techni Mobili Modern Multi Computer Desk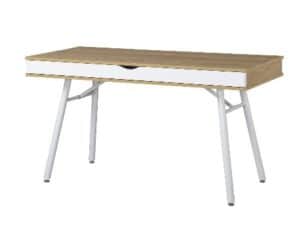 This Techni Mobili Modern Multi Computer Desk is one of the best options for small offices because of its stylish mid-century design and its budget-friendly price. In addition to its beautiful look, it is exceptionally well-made and greatly functional. It features a dual-compartment drawer and back storage section that opens for convenient organization of wires and plugs. Techni Mobili Computer Desk is about 45" long and has 21.7" depth. It has a five-year warranty as well that covers manufacturer defects which serve a nice piece of mind when you purchase a wallet-friendly product. This desk is an excellent option if you are looking for an affordable yet beautiful desk for small office space.  
Walker Edison Corner Glass Computer Desk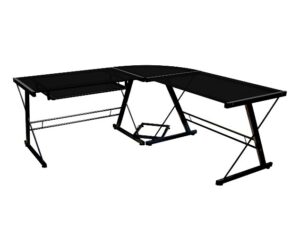 This Walker Edison Computer Desk is one of the best corner desks which takes little space in small offices. It is perfect for those who want the most of possible surface space for placing computer monitors allowing the smallest possible footprint. This desk doesn't offer much storage space beside a keyboard drawer, but it still looks roomy and spacious. It comes in five color options and is 51" long. It is constructed from tempered safety glass on a frame of steel. Moreover, the L-shape of the desk can be disconnected to make two desks, which is a great choice for you if you like to keep changing your workspace setting every so often. Buyers like the Walker Edison Corner Glass Computer Desk for gaming purpose also besides work due to its plenty of space for monitors and screens.
Mainstays Corner Desk with Keyboard Tray and Shelves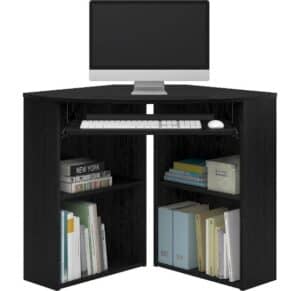 Mainstays Corner Desk with a pull-out keyboard tray and multiple shelves is another great option that knows how to make most of any nook. It can style any awkward corner which you could never figure out how to style it. With its compact and space-saving design, it offers sufficient space for placing computer. Its two lower shelves that serve the purpose of storing books, office supplies, documents, and other accessories. This desk is available in different colors. It comes with a contemporary look, it can blend conveniently with almost any décor by tucking neatly into a corner.