Small modern desks are great for small spaces. Their ingenious and contemporary design makes them excellently geared towards the modern time home worker or a simple touch to your home décor. These small modern desks are modestly sized that feature cable management, offer smart storage solutions as well as are designed for optimal desktop and laptop use also. Most of these furniture pieces fit nicely in more or less any interior and can be a beautiful addition to your homes or small offices. Here are some of the small modern desks that will help you in working smartly in compact spaces.
Ameriwood Home Owen Retro Desk
This Ameriwood Home Owen Retro Desk is a simple modern style desk that can be used as a desk, vanity or console in your workspace, living room or bedroom. It comes in a dimension of 26.75" H x 40" W x 19.5" D. This Desk can support weight up to 80 pounds. It is ideal for holding your laptop, desk lamp, important papers and family photographs. Ameriwood Home Owen Retro Desk is made from laminated particleboard along with powder-coated metal legs. It is easy to assemble and comes with a light brown with gray color undertones top which works perfectly well with the gray hairpin style legs reminiscent of mid-century designs that creates an industrial feel.
Tangkula Small Gaming Desk, 2-Tier Computer Desk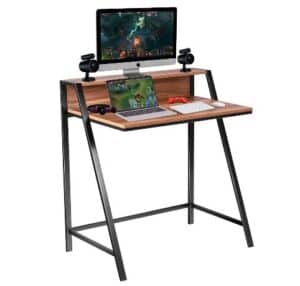 Tangkula Small Gaming Desk, 2-Tier Computer Desk is a simple design modern style computer desk that cannot only enhance your existing room décor but also can be used as a study desk, office desk or a writing desk. It is highly durable and features a sturdy powder-coated metal frame with stain and scratch-resistant walnut top. Tangkula 2-Tier Computer Desk has an overall size of 31.5 inches x 20 inches 29.5/36.5 inches. It does not occupy much space in your room and its 2 tiers can hold one computer, books, documents, and a decorative potted plant as well. This easy to assemble desk is a simple modern desk with a neutral color that is perfectly designed to give you a comfortable working space.                                          
Monarch Specialties Contemporary Style Computer Desk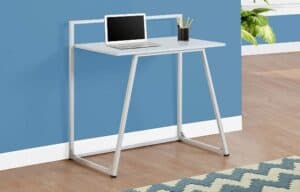 Monarch Specialties Contemporary Style Computer Desk with its clean lines and simple design can be a wonderful addition to your room. It offers ample surface area for working on a laptop or writing. It features sturdy metal legs that offer immense support and presents a sleek modern look. Its contemporary styling blends with any room décor. This Monarch Specialties Contemporary Style Computer Desk is 15 pounds in weight and comes in a size of 30 x 18 x 34 inches. It is an ideal option for small spaces and can be used perfectly for homework time or as a laptop table.
Sauder 42003 North Avenue Desk
Sauder 42003 North Avenue Desk is another great choice that incorporates an industrial vibe into your workspace. It comes with assembled dimensions of 41.5" L x 18.5" W x 28.03" H. It offers a spacious work area that provides you plenty of room for placing your laptop and all other office essentials. Moreover, it features two shelves for additional storage and display. It is crafted from a durable, black metal frame that is finished on all surfaces in Charter Oak. This easy to assemble and clean-cut desk offers you to work in style.
Essentials Office Desk with Drawers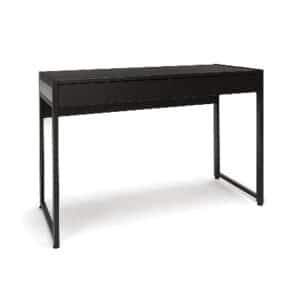 Essentials Office Desk features a sleek, modern design and consists of two drawers that are perfect for storing paperwork, office supplies, etc. It is an ideal option for any environment offering maximal under-desk space. This desk comes with a durable powder-coated steel frame along with long-lasting ¾ inches thick top. It has 30 inches height and is 18.78 inches long which provides ample surface for laptop, monitor, desktop computer and more. It has a 200 pounds weight capacity. Furthermore, Essentials Office Desk is available in three varieties i.e. espresso, driftwood, and harvest. The top of the desk features a subtle texture and a realistic wood-grain look that can add a unique style to any home, office, school or dorm.
Mainstays Basic Student Desk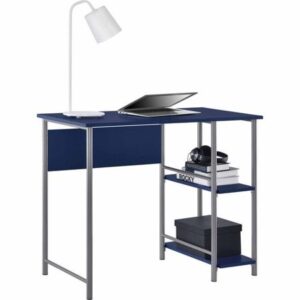 This Mainstays Basic Computer Desk is a great option to design a functional work environment. It comes with side shelves that can be used for storing important study material such as books, notebooks, and even electronic gear as well. This desk is available in 8 different colors and features a durable steel metal frame that is accented by white shelving. It has assembled dimensions of 30 inches H x 36 inches W x 20 inches D. Its center shelf can be removed to house CPU if required. This easy to assemble Mainstays Basic Student Desk has a contemporary design that is specifically made keeping hardworking students in mind. Lastly, it can easily blend into any office or home décor.
Yaheetech Modern Simple Design Desk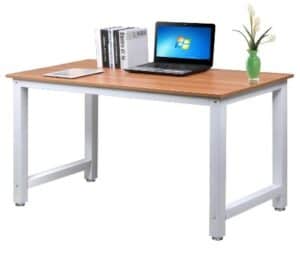 Yaheetech Modern Simple Design Desk is another outstanding small modern desk in the list. This sturdy desktop comes in a dimension of approximately 47.2 x 23.6 x 28.7 inches (LxWxH). It can hold a maximum load of 220 pounds. Its modern style can fit anywhere from décor of your room, to the office or the study room. Furthermore, it can be used as a writing desk, office workstation or a study desk as well. It features a sturdy metal frame that can hold a PC or a laptop conveniently. Moreover, it comes with floor protectors that protect the floor from any damage. Yaheetech Modern Simple Design Desk is a simple but practical contemporary desk that will surely add a unique touch to your home.
Flash Furniture Brettford Desk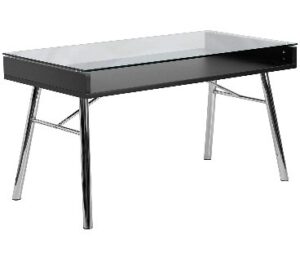 Flash Furniture Brettford Desk features a tempered glass top that allows you to place any books and paperwork neatly which will show through the glass. It consists of a shiny chrome frame that adds to the modern design of this beautiful desk. It has a size of 23.6 x 47.2 x 30.3 inches and has a 10mm thick glass. Additionally, it has a black laminated open shelf. You can invest in this contemporary style desk which makes working from home or managing paperwork a convenient and nicer experience.