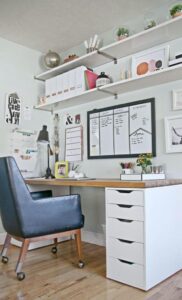 We all are well aware of the fact that being in an atmosphere that is inviting and comfortable plays a big role in our overall state of mind and productivity. But being in a well-designed office space also has a great impact on the success of your business. We pass 57% of our awake time at work and while at the office, you are expected to be creative, productive and social. The most productive workspaces maintain a nice balance in offering the comfort of home along with a professional business image. They provide a stylish setting that is full of color, inspiration, and life that leads to a healthy and happy working environment for members of your team to thrive in. Learning how to décor your work office properly can have an incredible impact on your business. Your work office décor should embody the values of your company in a manner that makes everybody feel great at work. You don't want people entering your office to have a bad first impression because your work office décor requires a facelift.
Whether you intend to outfit a space in your own home to work as an office or need to uplift your small corner of a rather bigger workplace, we have found a list of following beautiful and practical ideas that will help you feel inspired through daily grind from Monday to Friday.
1. Add a Lamp
It comes with no surprise that lamps reign pretty high in the electrical light aura factor. Just because your workspace may be present below the fluorescents does not mean that you have to, too. Adding a lamp in your working place can simply elevate its ambiance. You can turn your lamps on even when the office overhead lights are on and can feel a quick change in the atmosphere with its warmer lumens. 
2. Bring in some fresh flowers
Although they won't last long, fresh flowers add an instant beautification and color to a drab office environment. You can make a habit to change them every week by grabbing a fresh bunch of bloom once weekly on your way to work. The flowers not only look pretty and fresh but they smell great as well that proves to be a definite mood-filter.  
3. Hang Framed Art
When you spend a lot of time in your office than you do at your home, you are probably going to require a few inspiring items for you to gaze upon throughout your day. You can select a different variety of sizes of contemporary frames and place artwork of your choice in them. This hanged frame art conceals unsightly connector lines in your workstation as some of the cubicles might have them and they also offer a visual escape for you when you need it.
4. Select a shelf for décor
If you have a suitable enough space, it does not hurt to do without massive binders and reference books and opt for a more aesthetic, softer shelf resident. Decorations like a paper, wicker or crocheted balls can add a refreshing curve appeal to a working space that is angular by nature.
5. Paint an unexpected item
If some reference books are required to be out on your desk always, you can create a pleasing frame for these books. You can choose some considerable rocks and spray paint them gold or some other unique color conveniently. This is one of the easiest DIY ever which will have a great impact on your work office décor.
6. Integrate colorful accessories
A bold and colorful set of accessories may be just the boost you require that keeps your energy levels up and enthusiastic throughout your working hours. A single and simply unique colored pen holder that occupies a very small space on your desk can produce a jolt of décor appeal, moreover when paired with a distinctive colored lamp and natural bamboo stalks.
7. Outline different spaces with rugs
Rugs serve a great purpose in outlining a lot of places without creating any physical barriers. If you work in an area that has a larger space with multiple sections, you can painlessly separate those areas with rugs. Moreover, if your office is smaller, you can still put on rugs. Put them below the furniture that works as nice accents or you can simply add one directly out of your office doors. Even adding one or two rugs can greatly liven up your space. 
8. Add Mirrors
Mirrors have the potential that can change the whole outlook of your workplace. They can make any sort of space look bigger and makes your office look more refined and professional. By simply adding mirrors your workspace tends to feel more inviting and open. 
9. Incorporate a funky accent table
For some people an abstract art can be a source of distraction, however, if placed at the right angle in the right room, a funky accent table can prove to be a seriously cool centerpiece for your workplace. It can also work as a great conversation starter when you welcome new clients. 
10. Paint an accent wall
You can paint one wall in your office room with an accent or a bright color and then leave the remaining room light and neutral. By painting an accent wall in your working atmosphere you can add some look-at-me hue to it without overwhelming your senses. 
11. Make the most of natural lighting
Good lighting is of the most significant elements in a well- designed workplace. Your office can be well equipped with the most incredible furniture, best color combinations, but none of that will truly stand out in the absence of the right lighting. Because natural lighting is the best form of light, you should keep all window areas unobstructed in order to fill your workplace with as much natural lighting as possible. In case, if your windows have blinds, you can keep them open during your working hours.
12. Add hanging calendars
Wall calendars are an ideal way of keeping you on track with daily tasks and ongoing projects, while at the same time serving an eye-pleasing purpose as well. You can never miss a meeting or an important sales call if you simply add a beautiful hanging calendar in your office.