Post it note calendars help you organize and keep track of your daily events. They come in a varied array of fun and amazing designs that are intended to keep you organized in style. The smooth surface of the calendars allows post it notes to stay put on it. Post it note calendars are dedicated to a week or a month full of activities, notes, and events that you should not forget. There are endless ways to set up your calendars on a weekly or monthly basis that suit specific areas of your life. You can also customize your post it notes with different colored sticky notes to identify different types such as yellow notes for work-related things, blue notes for your children related tasks and many more. Let us take a look at some of the post it note calendars available in the market.
Post-it Weekly Planner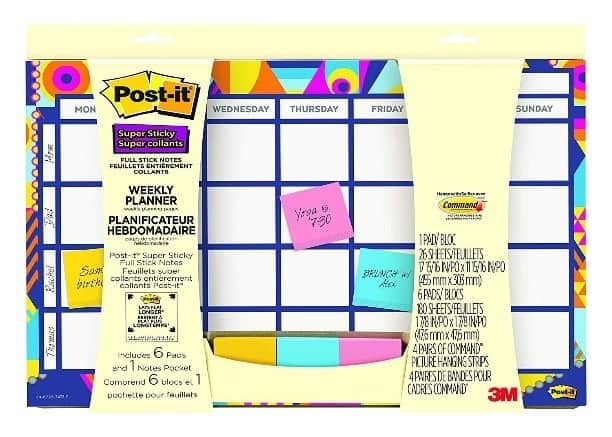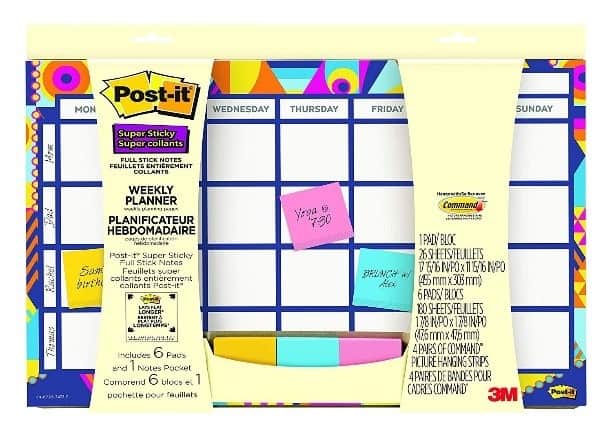 This Post-it Weekly Planner comes with super sticky post-it adhesive notes that help you in keeping track and organize your daily events efficiently. It has a dimension of 17-15/16 inches x 11-15/16 inches with 26 weekly planning pages of 2 inches x 2 inches. It also includes 6 packs of 25 or a total of 150 post-it super sticky adhesive notes in mixed colors. It is a perfect choice to follow everybody's schedule at a single place and you can never miss an important meeting with the help of it. This post-it note calendar features one note pocket in front to place pads of full adhesive notes. Moreover, it also features a fun gradient watercolor design that adds a unique style to your plan.
Post-it Super Sticky Printed Weekly Calendar, Marble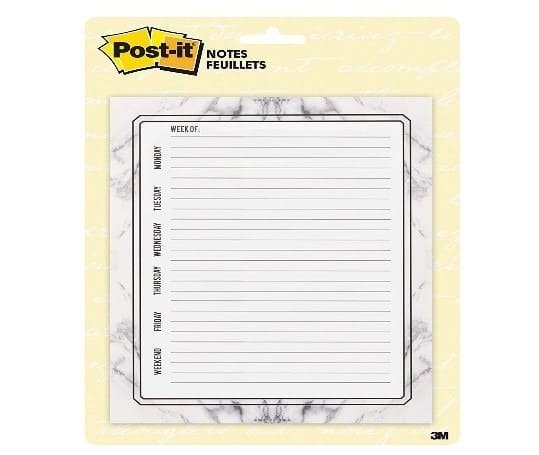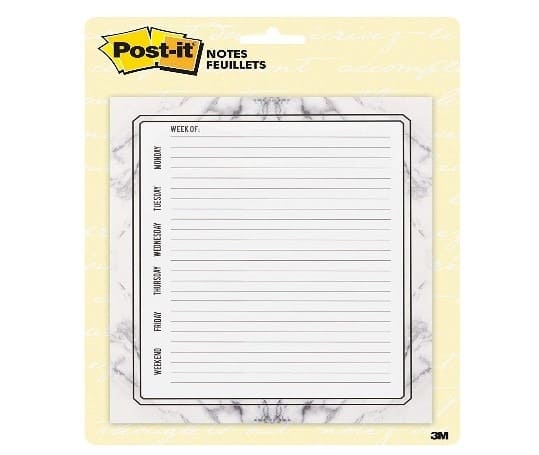 This Super Sticky Printed Weekly Calendar by Post-it is another great choice to plan your week and stay organized in a unique style. This calendar comes with pre-printed days of the week with sufficient space for notes. It features a marble design that adds a different style to your weekly notes and is 6.5 inches x 7.8 inches in size. It serves as a great tool to organize your week front and center. The Post-it Super Sticky Weekly Calendar comes with 25 sheets or pads for your convenience.
Idomik Sticky Notes, To Do List Notepads, Weekly Sticky Planner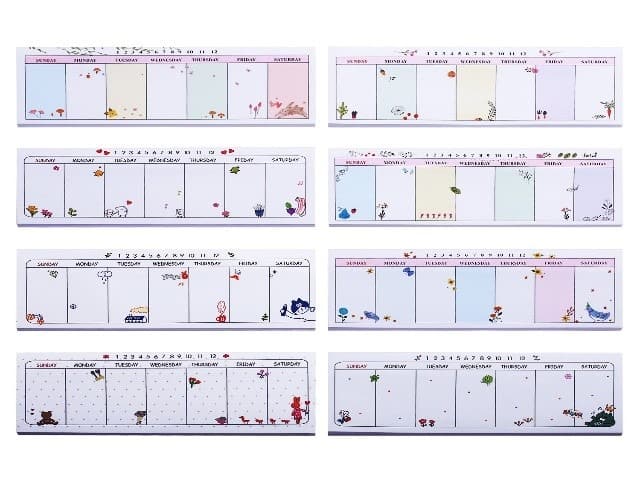 Idomik Weekly Sticky Planner is another excellent choice that can be used as post it note calendars. It comes in a dimension of 2.36 x 6.50 inches which helps to improve your productivity and stop procrastination. The pack consists of 8 sets of a weekly calendar with each having 35 pages. Each week is separated with durable sticky notes that can stand the test of time. Moreover, the reminder tabs are printed using high-quality ink on premium quality paper. Additionally, Idomik Weekly Sticky Planner comes with a 100 percent money-back guarantee in 30 days. Its uses are unlimited which allows it to be used on any size of bound material like books, manuals, bullet journals, reports or presentations.
Sticky-Note Weekly Task and Goal Planner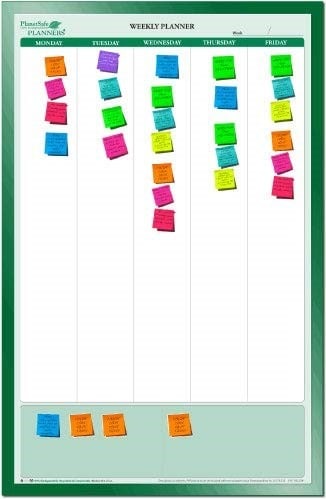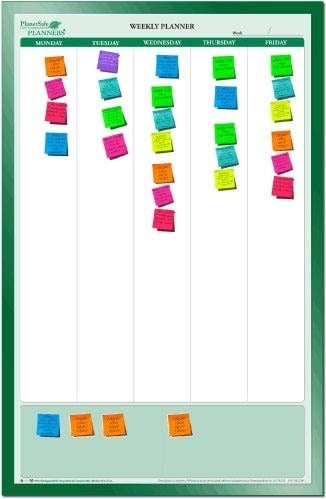 This Sticky-Note Weekly Task and Goal Planner by PlanetSafe Planners allow you to organize your week efficiently by providing a lot of space to affix sticky notes. Its size is 24 inches x 38 inches with each vertical column of 5.75 inches x 31 inches. It is made from 100 percent earth-friendly components. This weekly planner is dry-erasable and laminated which features a repositional surface that allows sticky notes to move around. Its surface is fit for all kinds of sticky notes to be positioned multiple times. Moreover, you can also further customize it by assigning different colored sticky notes to different tasks. You can also use dry erase markers or wet-erase markers on the calendar. This option is great for businesses with many appointments or for those who have to do a lot of tasks during the day.