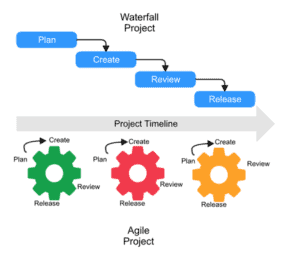 Agile Project Management Exam certification offers iterative strategies for managing and directing projects. Agile projects are executed as small, manageable sections that are also known as iterations. The teams and stakeholders review each iteration before progressing to the next one; this helps to identify loopholes early on and accommodate the necessary changes as supervised by a certified agile project manager. There are several certifications you can pursue to benchmark your career through an agile project management exam. This article discusses three such certifications from the USA, Canada, and the UK, with details about their exams. Click the hyperlinked titles to reach the websites.
Issued by the Project Management Institute (PMI) in Pennsylvania, USA, the PMI-ACP credential endorses your experience and knowledge of agile projects and skills within the competitive workforce. Agile companies that catch up with the latest dynamics are known to have considerably higher percentages of successful, versatile projects, compared to traditional approaches to project management.
PMI-ACP covers several agile techniques, including extreme programming (XP), Scrum, Lean, Kanban, and test-driven development (TDD).
You have the option to attempt the PMI-ACP Agile Project Management exam online, under the supervision of an online exam proctor. You will get 3 hours to complete 120 multiple-choice questions. In order to renew and update this certification, you are required to earn 30 professional development units (PDUs) within the agile sector after every 3-year gap. The exam will assess your knowledge of the following domains:
Agile principles and mindset
Value-driven delivery
Stakeholder engagement
Team performance
Adaptive planning
Problem detection and resolution
Continuous improvement (product, process, people)
Certified by the Project Management Association of Canada (PMAC), this Agile Project Management exam credential offers project managers an opportunity to stand out from the basic crowd. Even the PMI-PMP program has become so common throughout the world that additional certifications are required to reach the bar that is now raised too high for project managers. Cert.APM from PMAC proves that you are actively renewing your training and skills to develop your career.
The Cert.APM exam is comprised of 40 multiple-choice questions, with a 2-hour duration. It is held at various centers administered by the association. The examinable topics include:
Agile theory, benefits, and risks
Agile requirements management
Agile estimating and scheduling
Agile tracking and control
The certification is offered by APMG International, which is recognized by the United Kingdom Accreditation Service (UKAS). The Agile Project Management exam prepares you for effective project management through a reliable, tested agile methodology. You get to learn about stakeholder involvement and successful collaborations to streamline the project within each iteration.
The AgilePM Practitioner exam is a scenario-based assessment, containing 80 multiple-choice questions. The duration is 2 hours and 40 minutes. It is an open-book exam and you can only refer to the dynamic systems development method (DSDM) handbook. There are registered APMG centers within the UK where you can sit the exam; APMG also supports public exam sessions in various offices throughout the world. You also get the choice to register for an online exam via Remote Proctor Service. 
The Agile Project Management Exam certification has a validity of 5 years, during or at the end of which you will need to attempt a re-registration exam in order to verify and prove your continual training and knowledge.