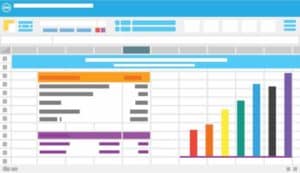 Google apps are widely used in project management, with dedicated solutions like Google Workspace keeping all your tools together for efficiency. Apps like Google Docs, Sheets, Slides, Calendar, and Drive offer online, cloud-based support in real-time work. This is an important element of any project management context. All the stakeholders and team members need to collaborate and stay updated on the progress. Google tools enable online collaboration and allow everyone to actually stay on the same Google page. There are various add-on facilities you can integrate into your Google work environment. They help streamline your project management aspects, and you get to focus on just one management app for all your goals.
Google Docs is the more popular online word processing and editing tool. In the construction field, it allows each collaborator to make characterized changes to the document. This enables stakeholders like the contractor, the project manager, and the engineer to edit the work with their names identifying who made the change. It is a cohesive and collaborative tool that offers a library of templates to simplify your work. You can pick a Google Docs project management template, insert add-ons from compatible websites, and create a personalized workspace where everyone can join in. This blog explores some dynamic uses and additions for project management templates. They save time, speed up your job, and maximize productivity among team members.
Why use Google Docs for project management?
It supports real-time work
Like all Google apps, Google Docs project management template is designed to take things online and, essentially, let you work on the Google cloud. All your construction peers can sign in using their Google accounts, open the document, and pick up just where they left off. They can leave comments for you to consider later on. You can collaborate on project meetings, deadlines, reports, new protocols, etc. without the hassle of emailing your end of the work to everyone else. This creates a synchronized, real-time environment that keeps the team on track. The changes are saved automatically, generating a revision history you can browse to check which user made the changes – and on what date.
It is compatible with Word
Google apps work alongside their Microsoft counterparts. For example, Google Docs is compatible with Microsoft Word, and so all your previous work can seamlessly move to the cloud-based platform. Alternatively, you can download and export your Google Docs project management template to the native Word format and carry on the work uninterrupted. Another compatibility type in Google Docs is its responsive design to fit the screens of desktops, laptops, and smartphones. So, once you post the new meeting details as the project manager, your team members can view and respond using their devices. These compatibility features streamline communication and instant responses.
It supports user-built templates
You can design your own project management template for different purposes like meetings, deadlines, schedules, etc. There are also templates designed by others that can be accessed via links – so you can simply work on them instead of assembling your own template library from scratch. The added benefit of using readymade templates is that your team members can make the necessary updates to the design and content. This helps you customize your project management template for all future applications. The templates present a framework for you to simply fill in the details under headings, follow the display format, etc. Once your team collaboration is finalized, you can make a PDF copy to email the results to clients and other recipients.
We followed the Google breadcrumb trail to pick up various templates that contribute to effective project management. Here are the links to a few Google Docs templates:
It is important to remember that Google Docs is mostly applicable for informative and communicative contexts of project management – where words work better than statistics. No project management is ever complete without Gantt charts and colored tables to track progress. Since a Google Docs template cannot keep a track of the project or help you color-code the progress, a Google Sheets template bridges those gaps. Google Sheets is the luxury upgrade to Microsoft Excel spreadsheets, and like Google Docs, it does most of the work for you. Here are some links to the best Google Sheets templates for visual representations of your project:
Essential add-ons that go the extra mile
On your Google Docs document, you can click "Add-ons" and select "Get add-ons" for compatible features that work with your creation. These add-ons are usually third-party solutions that help you extend the scope of your document. They enable integrations and customizations that would normally not be achieved with the built-in Google Docs features. Using an add-on in your project management template adds functionality and versatility to visually represent the information. Google Docs is primarily a word processor tool with limited visual scope, and so external add-ons offer an element of creativity. Here are some examples that make your project management duties a bit more dynamic.
Adobe Creative Cloud
The Adobe Creative Cloud is a creative hub that takes your imagination to a whole new level. It has all the apps you need for your artistic portfolio, including Illustrator, Photoshop, and InDesign. The reason why we think this creative suite applies to project management is that it integrates with Google Docs – and the possibilities are endless! You can focus on branding pursuits with your design team and create custom documents to share with clients. You can also pick assets from your Creative Cloud Libraries and use original graphics and styles in your Google Docs document. The add-on easily diversifies your collaborative scope with peers and gives you a signature in all your work.
Lucidchart
Lucidchart is a diagramming tool designed to support seamless integrations with various apps – including Google Docs. It enables team collaborations on project flowcharts and networks. You can invite your team members to map out the current project status and analyze complexities on visual representations. This generates the perfect insight into your project and tells you where you stand. Lucidchart helps you visualize and break down the milestones using diagrams that communicate the message faster than text. Using a Lucidchart template is much quicker than assembling your own diagrammatic perspective on Google. When the approach feels more aligned, your team can make informed decisions and move forward. All Lucidchart process maps, wireframes, mind maps, user flows, and data flow diagrams can be exported to any Google Docs file for the rest of the team to review – making a truly intelligent and collaborative diagramming tool.
SignEasy
SignEasy is another intriguing Google Docs add-on. It is an eSignature app that lets you sign your project documents with clients and stakeholders. We found this to be a valuable project management tool because it is Google Docs-friendly, so you can have all your agreements signed by the respective parties. Such on-the-go signing convenience makes paperwork more bearable and manageable. Electronic signatures allow you to move past the paperwork traffic and finally get started on your project. You can use your Google Docs project management template to create a new contract. By integrating it with SignEasy, you can collect legally binding and credible signatures remotely from all the team members.
The required contracts and approvals stay up there on the Google cloud while every involved stakeholder signs digitally from their own locations and devices.
MindMeister
MindMeister is an online tool for customized mind maps. You just need to highlight a bulleted list on Google Docs, right-click and select the option for inserting a mind map. The integrated tool converts your bulleted list into an easily comprehensible diagram. It provides an at-a-glance analysis of your text using keywords and colors. On Google Docs alone, you will have to assemble individual shapes and construct diagrams from scratch. MindMeister alleviates this struggle and builds a visual representation of exactly what you have typed. As a project manager, you can use this mind mapping tool to outline strategies and reinforce meeting outcomes. It is the perfect tool for brainstorming project ideas in real-time. These ideas can then be dragged and dropped into a cohesive project timeline – with each clickable element turning into a new task.
Good management speaks for itself
A Google Docs project management template will help you fill textual gaps in an existing document. However, there is more DIY work involved in creating visual and graphical elements – as you end up doing it yourself most of the time. This is because you need to pick and assemble every diagram shape, insert arrows, add texts, adjust sizes, etc. A smart alternative is to make use of compatible solutions that make your life easy. Integrating add-ons like those discussed above makes a substantial difference to your work. They upscale your project documents with the necessary features. For example, some add-ons allow you to map out project details for visually appealing collaborations. Diagramming tools use memory triggers like color-coded information and specific keywords to catch the reader's attention. This builds associative bridges in mind, allowing stakeholders to synthesize the information more easily.
Other add-ons offer real-time whiteboards, translator tools, grammar checks, or budget planners to boost your collaborative efforts. Using Google Docs add-ons helps you optimize various templates, especially the completed and filled-out versions. As a result, you are able to convey your message better because everyone can now speak the same visual language.