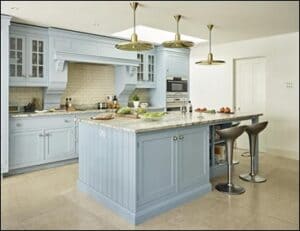 Homeowners and DIY enthusiasts are obsessed with using milk paints to give their kitchens a quick facelift. If you are gearing up to remodel your kitchen cabinets and island, you will be pleasantly surprised by the simple magic of milk paint. General Finishes, Rust-Oleum, and The Real Milk Paint are popular brands behind the scenes of several DIY Pinterest boards. With a whole spectrum of paint color swatches, the possibilities are endless to unleash your bohemian spirit and revamp just about any piece of furniture. We have gathered the perfect hacks in this blog to help you make the best of milk paint kitchen cabinets and create a timeless interior design.
A Stroll Down Memory Lane with Milk Paint
It may come as a bit of a shock, but milk paint can be traced back to ancient cave paintings. Its simple composition of milk, lime, and natural pigments allowed people to draw and leave behind the first-ever artists' signatures. Over time, the popularity of milk paints soared high, collapsed, and still continued to survive as people preferred the organic mixture over chemicals. Protective coating and decoration remained core applications of these natural paints.
Even today, milk paint is manufactured with lime, casein (milk protein), and color pigments and can be found in various stores. You can create it yourself to customize and balance the shade. It is entirely non-toxic and friendly towards the environment. Other benefits include:
Anti-bacterial properties
Easy surface bonding
Non-flammable quality
Quick-drying
Customizable tints
Durable colors
Sealed powder-form storage
Steps to Milk Paint Your Kitchen Cabinets
Inspired by these benefits, many DIY bloggers shared their experiences with milk paints, all of which were positive feedbacks with must-try recommendations. Bringing milk paints back under the spotlight has created an interior design renaissance from which there is no turning back. The following steps are generalized guides to direct your DIY kitchen cabinet renovation plan.
1. Gather the Milk Painting Materials
You will need a foam roller, paintbrush, roller pan, paint tapes, sanding material, and your choice of milk paint. General Finishes Antique White, Rust-Oleum Eclipse, and The Real Milk Paint Caribbean Blue are some examples of exquisite shades. An optional primer can be used in case your kitchen cabinet has not been painted before.
Mix the powdered milk paint with water in a one-to-one ratio to create liquid paint. You can blend this with a bonding agent for durable adhesion that is imperative on the first coat only, not the successive ones. Ultra Bond is an effective product for this step. Use separate containers for mixing and dividing the paint batches.
Experiment with different paint colors to achieve your expected shade. Stir continuously until the desired consistency is reached that will be easy on the arm. Finally, a topcoat can is needed for the last stage, to seal and coat your kitchen cabinets for durability.
2. Prep the Cabinet Surface for Milk Paint
Remove the knobs, handles, and glass screens. Make sure that you clean the cabinets and island doors thoroughly to get rid of dust and grime. Deglossers speed up the cleaning process. Most DIY painters say that milk paints do not require sanding and priming as some milk paints are designed to bond effortlessly through self-priming features.
However, if you have dug out the vintage cabinetry from your basement, prepping is crucial to avoid texture imperfections. Once the surface is cleaned and brushed, apply the undercoat primer as needed. Alternate each primer coat with gentle sanding to ensure consistency. General Finishes Stain Blocker can be used as a substitute if you are planning to apply light-colored paints.
3. Brush Milk Paint and Roll Milk Paint
Once the primer has dried over a few days, tape the edges of the cabinet to guide your painting. Use a roller to spread the milk paint in a V-pattern. Switch to the skinny brush to reach tough corners and frame the painting area. General Finishes milk paints support both hand and spray painting. You will see a considerable difference after applying just the first coat of milk paint. Add additional coating layers to suit your preference for the painted texture. Usually, just a couple of coats are required to completely revive your kitchen accents and décor.
As with the primer, gently sponge-sand each layer before re-painting at adequate intervals between the coats. This allows you to handcraft your cabinets' antique texture to customized perfection. It saves clean-up time to first paint the backside of the door, then the front. Prepare to be amazed at how quickly the milk paint dries into a low-luster sheen, compared to other variants. No fumes are released, and pungent odors do not saturate your home. Overall, the milk paint's signature matte finish creates a stunning makeover for the kitchen.
4. Add a Protective Topcoat to Milk Paint
This is an optional stage, but it surely adds to the milk paint's durability through the years. Your freshly-painted cabinets will be protected from abrasion and stains, apart from retaining their color over time. Let the paint dry completely and apply the layers of topcoat as required. Milk paint brands also sell compatible topcoats; General Finishes water-based topcoat is one example. Warnings are stated if using the topcoat on bright colors can lead to yellowing and fading, so read the instructions carefully.
5. Install Cabinets and Maintain the Milk Paint
Allow a few days for the topcoat/paint to dry fully before installing the cabinets back in place. Humidity and ventilation levels in the room greatly influence all drying stages.
Avoid using furniture polish and any alcoholic or acidic chemicals to clean your milk painted kitchen cabinets. Use mild soap or just water to remove stains and dust.
Find your Inspiration with Milk Paint
Pinterest is a resourceful inspiration hub that will guide your DIY remodeling project. Milk paint kitchen cabinets are becoming exciting pursuits for homeowners to upcycle their old cabinets and kitchen islands in a simple, classic, and affordable way. The best part about using milk paints is that you get to define the velvety, chalky outlook by applying successive coats. This lets you urbanize outdated cabinets, so they work well with your modern kitchen appliances and décor (minus the costly overheads of a full-scale renovation). Milk paints last efficiently through the years, allowing you to make every breakfast morning around the kitchen island memorable and worthwhile.