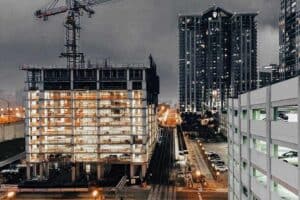 Image credits: H3 Construction & Design
Commercial construction projects focus on building structures like corporate offices, medical offices, retail stores, restaurants, cafes, educational institutions, and so on. Depending on small-scale, medium-scale, or large-scale projects, your commercial construction timeline can differ mostly according to how smoothly everything goes. This is because delays and unexpected events in construction are very common and usually affect supply chains and labor availabilities – both of which determine the success or failure of any project. Regardless of the project size, commercial construction undergoes a series of general stages that apply to various commercial buildings, as discussed below.
Commercial Construction Timeline
From planning to closeout, the typical commercial construction process is broken down into various milestones that are decided based on your specific project type. You can expect your overall timeline to look something like this at a glance: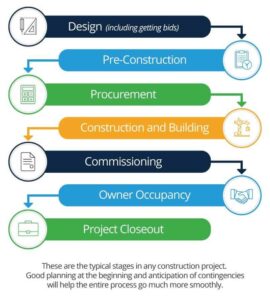 Image credits: Smartsheet
Here is a closer look at each of the stages that make up a commercial construction timeline.
Stage 1: Commercial Plan
The planning stage is all about creating a mind map. It includes brainstorming and writing down your initial ideas for the project – and then refining them until they reach a more achievable standard. At this starting point, you will mostly tune your construction compass to guide your project along the timeline. The initial outline for your project will be created so that your expectations are clearly understood by the stakeholders. This might include aspects like the type of operations you will run, any specific technological infrastructure you might need, your custom material choices, any specialty equipment required for construction, contractual details, litigation responsibilities, and so on. The following areas are some of the key considerations for commercial planning:
Team planning. It is crucial to hire experienced and licensed commercial contractors, architects, engineers, superintendents, project managers, and designers who have the right expertise for your specific project description. When deciding on your contracting company, make sure to check for project compatibility and relevance so that you only work with professionals who understand your commercial goals and respect your timeline.
Location planning. The location of your commercial building will play a huge role in the effectiveness and budget-friendliness of your project. This is because materials and labor are both connected to your choice of location, and you can expect the total prices to vary accordingly. It is important to choose a location that fits your business style and has the right demographics for your offered services. Good access, proper zoning, code compliance, compatible utilities, neighborhood impact, foot traffic, and soil evaluation are some examples of a comprehensive location planning process. A reliable contracting company will know exactly how to tackle these complex milestones to keep your project well-aligned and progressive.
Budget planning. Based on a suitable location, you will be able to set your initial budget by factoring in applicable permits to ensure a code-compliant commercial construction project. Another key benefit of working with professional commercial contractors is that they always have their finger on the construction pulse, so they are better informed about the highs and lows of this ever-changing market. Again, location has a huge part in determining your final budget, which is why all of these interconnected elements need to be handled by someone with impeccable commercial fluency. By factoring in updated material costs and labor charges, your contractors can help you work out a more realistic budget – particularly for specialty projects that focus on energy efficiency, disaster proofing, building sustainability, and so on.
Stage 2: Commercial Design
The commercial design phase is all about converting the descriptions from stage 1 into drawings and diagrams, so this is where you paint the official image of your commercial building. Moving from the mind map you created during the planning stage, it is now time to visualize exactly how your commercial building will turn out. For this reason, you will work with various engineers and architects who will design 3D drawings and blueprints to analyze aspects like the building's structural integrity, the scope for code compliance, compatibility with electrical/plumbing/HVAC frameworks, and so on. Since the experts will be zooming in on these drawings from different angles, the results of your design stage will tell you how feasible your project is. For example, you might discover that it is not possible to include a parking area or construct an extra floor because this falls outside the range of acceptable building codes. As a result, you will have to update your initial commercial construction timeline accordingly so that everything stays within the rules.
Quite often, design inspections need to be made by relevant authorities so that you have all the required approvals for your project.
Stage 3: Pre-Construction
By this point, you have traversed both the planning and design stages, so you are already armed with the most recent, code-compliant, and approved drawings. During pre-construction, your contracting company will typically prepare for takeoff. This stage covers areas like obtaining all the final permits, getting insurance, finalizing contracts, and keeping all your construction documents ready to go. Where stage 1 and stage 2 were all about trial and error, pre-construction is about getting everything in black and white, so all your major paperwork will be covered here. Also, this is the cue for your contractors to confirm their procurement schedules to make sure that your chosen materials and equipment arrive on time. All of this prep work ensures a budget-conscious, timely, and overall successful commercial project, as you have already looked ahead and taken care of suitable backups before any main construction started. At the end of pre-construction, your project compass is set, the runway is ready, and you are clear for takeoff!
Stage 4: Commercial Construction
All the previous stages were set to converge at this major point in your commercial construction timeline. Once you have all the paperwork ready, your commercial teams can finally begin the actual building process. This includes the following key elements:
Site preparation. Your commercial builders will first transform your chosen location into a primary jobsite. This involves creating a site schedule, organizing the site access, building temporary or makeshift storage areas for materials and equipment, and so on. This prep work essentially marks the "DO NOT ENTER" boundaries for your to-be commercial building, so once all of this is set up, the site will be ready for the main construction wear and tear.
Commercial construction. Your main construction will commence with concrete pouring and framework installation, both of which form the infrastructural support for your commercial footprint. This will be followed by installations for utilities, energy-efficient materials, walls, roofs, siding, and flooring – so now you officially have a structure that resembles a proper building. The remaining interior work for window/door installation, lighting, and painting will be finished based on your custom designs from the earlier stages. Similarly, regarding the exterior work, your commercial teams will add the façade, landscaping details, a parking lot, etc. according to your approved plans. By the end of this vast construction stage, your specifications for functionality, sustainability, and aesthetics will be in place.
Stage 5: Project Closeout
Before the commercial building is handed over to you, a few final steps will be covered to ensure your satisfaction and safe occupancy. So, your teams will arrange a walkthrough with you and relevant inspectors, and you can point out areas for improvement – which will make up a punch list. When these punch list elements are addressed and approved, you can get a certificate of substantial completion which marks the end of your commercial construction timeline and is your green light for occupying the building.
Conclusion
This was our general timeline for a commercial construction project. You can expect additional stages or a different breakdown depending on the contracting company you work with – but the basic lifecycle is the same. Remember to request detailed project and budget breakdowns so that you can understand your timeline better and aim for a good head start.