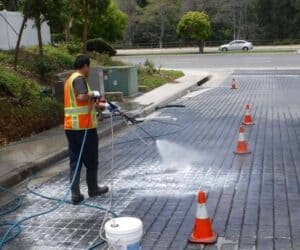 Image credit: West Coast Property Maintenance
Commercial properties have a huge aesthetic focus to help brands stand out and leave good first impressions on visitors. The exterior property can make or break your clients' impression about the overall space as well as your brand vision. Sadly, harsh elements, pollution, and build-up tend to leave their marks over time, compromising your property's aesthetic appeal and slowly eating into its infrastructure. To tackle such tough cleaning needs, commercial pressure washing is used by office, retail, restaurant, and other commercial owners.
This creates a neat and well-maintained façade, landscape, sidewalk, and parking lot that together help your property feel inviting and reflect your business character more strongly. In this article, we will talk about how pressure washing makes a worthy investment and also discuss some average commercial pressure washing prices.
What is commercial pressure washing?
Commercial pressure washing refers to the use of electric or gas-powered pressure washing equipment for some serious, heavy-duty cleaning on different surfaces like stone and concrete.
A pressurized jet of unheated water mixed with cleaning detergents is aimed at the surface through a nozzle. This high pressure cuts through and flushes away tough dirt, grime, mold, debris, algae stains, etc., revealing your property's original, clean colors that had been caked with years of dirt and build-up. Commercial pressure washing is designed to target only the layers of dirt without compromising the material underneath, so this helps your building façade, storefront, sidewalk, asphalt, and the surrounding landscape look as good as new.
Your commercial pressure washing prices can vary depending on the condition of your property and other factors like equipment specifications – we will visit these further below! Heavy-duty cleaning relies on two main units of pressure washers:
The pounds per square inch (PSI)
The gallons per minute (GPM)
PSI refers to how much pressure is required to loosen up dirt and grime per square inch. Stronger pressure washing equipment delivers more PSI, and this helps in getting rid of particularly stubborn stains on different materials. Commercial pressure washing teams make sure to use just the right PSI for your property's specific cleaning needs so that the underlying structure does not get damaged in the process – since too much pressure on the wrong surface can tear away its material along with the dirt. In general, commercial pressure washers will feature between 3200 to 8000 PSI. In ascending order, this delivers enough pressure to accomplish heavy-duty cleaning from blasting away dirt on concrete and asphalt to getting rid of graffiti stains and damaged paint.
GPM, on the other hand, refers to the volume of water the streams out per minute to flush away the dirt. While PSI tackles all the dirt, the GPM flushes it away. A pressure washer with higher GPM speeds up the cleaning process, but this should be balanced with the PSI in use for the job to be more efficient. Therefore, both these units are important while considering your commercial cleaning needs and associated costs for the project. (Translation: don't use DIY, call an expert!)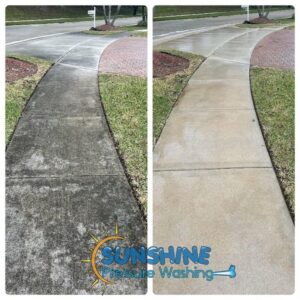 Sidewalk cleaning by Sunshine Pressure Washing
Benefits of investing in commercial pressure washing
Graffiti removal
Although commercial pressure washing prices can be quite high compared to residential prices, they are worth every penny to business owners. Professionally handled high-PSI equipment can remove graffiti from walls and sidewalks without damaging the main concrete or asphalt, which is great for exterior property maintenance.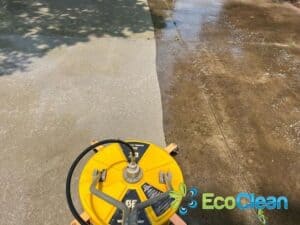 Concrete pressure washing by EcoClean
Added value
The before-and-after results of commercial pressure washing are simply stunning. By restoring the original look of your property, you improve its curb appeal – which adds value, making this a worthy investment as a commercial building owner. Commercial teams use specialized equipment and training to get the job done as efficiently as possible with zero structural damage, so this preserves the integrity of your establishment and allows you to clean up different areas like parking lots and façades. A sparkling clean property has a higher resale value and offers visitors more incentives to make the purchase because it checks major boxes like hygiene, durability, and aesthetics.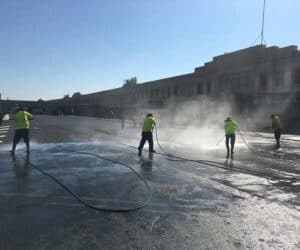 Parking lot pressure washing by West Coast Property Maintenance
Long-term savings
Dirt, mold, grime, algae, bird droppings, and pollution can start damaging your building materials if left untreated. Over time, this can compromise your building's structure and demand expensive (and often repetitive) maintenance down the road. With commercial pressure washing, you can reverse such damage before it is too late. It makes a timely precaution and allows your property to visually shed away its old layers and appear as good as new. This improves the durability of your commercial establishment against the usual weather and pollution threats, which in turn cuts down the frequency of repairs ahead.
In addition, there is far less elbow grease and cleaning duration in the future thanks to an already neat-looking property. So, even though the initial prices for commercial pressure washing can be high, they easily sweep further expenses out of your way, increasing your savings and valuable time as an owner.
Commercial pressure washing prices
Average costs
In general, commercial pressure washing jobs are charged per linear/square foot, per hour, or at a flat rate, and they differ based on the type of project involved. Here are some average numbers for context:
General commercial pressure washing: $0.75 per square foot
Sidewalk cleaning: $0.75 to $1 per square foot
Basic surface cleaning: up to $0.15 per square foot
Industrial-grade cleaning: $3+ per square foot
Parking lot pressure washing: up to $0.25 per square foot (around $15 per parking space)
Hourly rates: $250 to $500 per hour
Cost-influencing factors
Multiple factors can affect your final costs when it comes to commercial pressure washing projects. Surfaces with tough stains from oil or graffiti require more PSI for effective cleaning, so you would need a stronger (and more expensive) industrial-grade pressure washer for the job. If your project requires scaffolding or other equipment for reaching heights, then this will affect your total costs in terms of both labor and materials. The use of special cleaning detergents also increases the cost per square foot depending on how stubborn the stains are. The total costs often account for pre-inspection and post-inspection services and can bump up your estimates based on the inspection results, amount of prep work, frequency of rework, and so on.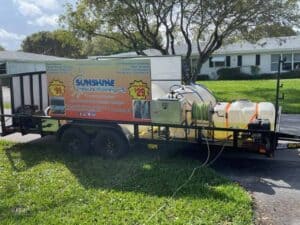 Sunshine Pressure Washing commercial cleaning equipment
Most commercial structures are priced by their square footage. Naturally, the bigger the cleaning area, the more materials and labor it will need, and the higher the price. Count in location complexities, and you can expect to pay your hired company much more than you initially thought. This is because factors like the time it takes to arrive on site and the number or type of equipment/supplies needed will add up as gas prices for your teams, so they will charge more for this added difficulty.
Sometimes commercial pressure washers are transported to remote locations where there are no easily accessible outlets to power the equipment. In such cases, gas-powered pressure washers are used, and they can be more expensive than their electrical counterparts because they use fuel and have higher PSI values.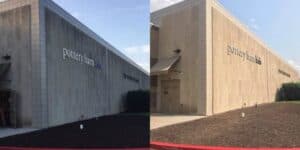 A My Guy Services project before and after commercial pressure washing
Conclusion
Commercial pressure washing companies need various licenses or permits to deliver professional and approved services, as the equipment and chemicals they use must pass local and environmental laws to ensure safety. The same applies to technicians who operate these tools. This is because commercial cleaning is a lot more complex than residential cleaning and can go horribly wrong if the pressure is too high, the chemicals are not compatible with the surface, or the operator cannot control the equipment properly. If you are planning for such a project, remember to hire licensed companies that have trained and certified technicians who know their job. Make sure to also look into their insurance because, without it, you will be responsible for covering any damage to the company's equipment – including worker injuries in the event of accidents.