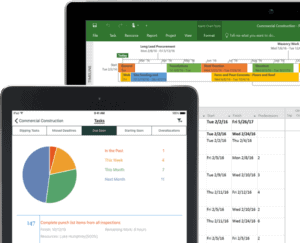 Project lifecycle for any commercial, residential, industrial buildings, or civil infrastructures needs to be distributed across achievable timescales. Generally, all lifecycles loop through the same basic stages, such as initiation, planning, execution, testing, and closure. A construction schedule breaks down the entire project into manageable steps that follow specified deadlines. This optimizes transitions between consecutive stages until the project is completed. Effective scheduling allocates resources and labor for each milestone. The start and finish dates delimit an expected duration for maximum productivity and reduced downtimes. This prevents worksite inefficiencies from piling up as bottlenecks and restricting the workflow. Contractors and project managers confirm the schedule so the site superintendents can oversee its implementation. There are various software tools and online templates for a budget-driven construction schedule that allows projects to be delivered on time.
Top construction scheduling software solutions
1. Oracle Primavera Schedule
Oracle Primavera Schedule is an evaluative software that allows construction field experts to plan and manage project schedules. What-if scenarios can be tested to determine the best routes that mitigate risks. Resource allocation among labors and carpenters is a useful way of tracking progress through maximum unit availability and actual consumption. Therefore, it becomes easy to track and update inventories of the assigned equipment and materials for high-rise buildings and landmark structures. Primavera helps to keep an eye on multiple schedules, statuses, and roles to ensure a profitable ROI. Stakeholders can access the plans and monitor changes in the original specifications through their iPads and Galaxy Tabs. The software supports lean task management to maximize profits and cut down wastes.
2. Teamweek Construction Scheduling Software
Teamweek is a free online service for creating small-team construction schedule programs. Residential contractors, interior designers, and various site professionals can break free from traditional Excel sheets and exploit more visually dynamic schedules. The intuitive software offers a drag-and-drop feature to distribute the construction roles among teams. Available time slots can be checked to add the next project in the timeline. Stakeholder meetings, client interviews, site visits, and team discussions will become easy to track and implement in order to streamline site operations and approvals. Teamweek also provides standalone solutions for calendar apps, online Gantt charts, and various other scheduling programs. 
3. Microsoft Project
Microsoft Project acts as a central hub for integrating and executing project, portfolio, and resource management plans. It can be adapted to match any work environments, including construction-based projects. Participating stakeholders and managers can easily supervise their teams' contributions across multiple timelines. There are built-in templates and scheduling tools for choosing the required project scope; this alleviates the struggle of creating new plans from scratch. User-friendly scheduling features like Gantt charts offer a visual track of development and unit testing throughout the stages. Baseline work can be compared with the actual work hours to determine efficiency rates. All reports and charts are shared for collaborative input via Project Online.
4. Procore Scheduling integration software for construction
The integrated scheduling software from Procore breaks down the complex construction project into a series of distinct, easily executable milestones. It can be integrated with Primavera and Microsoft Project to edit the start and finish dates. Advanced filtered searches allow the project calendar to display daily, weekly, monthly, and Gantt views. Tasks can also be customized according to employee or company filters to navigate through the current status. Furthermore, managers and superintendents can sort the assigned duties into completed, work-in-progress, or critical headings. Procore's Reports Tool offers unique logging features so that the construction's scheduling history remains archived. All schedule changes on Procore get reflected across other management tools for a real-time, one-for-all integration convenience. For example, the Daily Log Tool displays tasks based on the updated project schedule so that everyone stays on the same page.
5. Fieldwire Construction Scheduling Software
Fieldwire construction scheduling software merges various calendar-based features to optimize site planning and scheduling activities. Smartphone compatibility brings resource allocation to your fingertips for convenient remote access to the construction site. Fieldwire's Kanban board creates a digital sticky-notes facility to prioritize tasks and reminders. Crew schedules can be generated with efficient Gantt charts to locate overlapping stages that need parallel execution before moving to the next step. The software delivers lean field management and transparent progress supervision. Timestamped collaboration on various topics, like floor plans and new project proposals, speeds up feedback from teams. It becomes easy to keep track of quality assurance and quality control inspections in multiple trades using just one platform.
Some examples of construction schedules
Here are some images that show how a construction schedule will look on any software tool. You might stumble through the learning curve, but it will be a worthwhile investment once you discover how easily the tasks can be automated and scheduled.