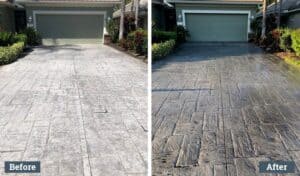 Image credit: Concrete Craft
Outdoor living spaces are some of the most long-term investments you will make as a homeowner. Driveways, walkways, and patios are important curb-appeal elements for residential properties, and they rely on one key construction material – concrete. In the world of construction, concrete is a very durable and versatile material that can last for years, which makes it a top choice for various residential projects. The best part is that you can add different finishes and textures to concrete to make a more visually interesting outdoor area. There are several exterior concrete finishes to choose from, including colored and decorative patterns, so this gives you more freedom to make your driveway and patio stand out as you like. Let's dive right into the different ways you can add depth to your exterior designs!
Exterior Concrete Finishes
Concrete finishes are any surface treatments added to either freshly poured or dried concrete. This creates a textured and polished look that is great for aesthetic reasons. It also makes concrete more durable with the right treatments, helping it last longer without much maintenance on your part. You can choose concrete finishes depending on your budget and the outdoor area you want to improve, as different finishes serve different purposes such as traction (which is great for driveways or pool decks) and coloring (ideal for patios). Concrete itself adds so much gravity to exterior designs, and with the right choice of finish, you can transform your landscape into a well-anchored, charming retreat. Here are some popular exterior concrete finishes you can choose from.
Smooth Finish
Smooth concrete finishes are quite common, and they have a leveled surface with no texture or pattern, making them quite versatile for both patio and walkway applications. Tools like screeds, trowels, and floats (both handheld and industrial) are used to achieve this smooth and even look right after the concrete has been poured. These tools have flat ends that are run back and forth across the concrete to spread it evenly, remove any excess, and fill gaps on the surface.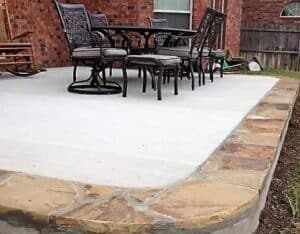 Smooth concrete finishes by Texas Patios
Broom Finish
Broom-finished concrete offers maximum traction and slip resistance, so it is best for driveways and sidewalks. Concrete finishers drag brooms on freshly poured and leveled concrete to create ridges and achieve a brushed, coarse look on the surface. This adds traction and prevents slipping, so you can also use these exterior concrete finishes for outdoor areas like swimming pool decks.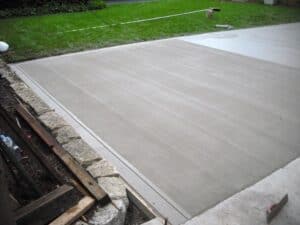 Broom-finished concrete by Mattingly Concrete
Exposed Aggregate Finish
Aggregate refers to granules like stone, gravel, quartz, granite, seashell, plastic, and glass that are combined with concrete to form a more visually interesting material for sidewalks, patios, walkway borders, and garden landscapes. The topmost layer of this concrete is washed away using chemicals, which exposes all the individual aggregates underneath – hence the name "exposed aggregate". It adds color, depth, and versatility to the original concrete and requires a good seal on top to preserve the material's integrity. The overall pavement is quite textured and offers good traction as well, so if you want something more upbeat for your outdoor spaces, consider using exposed aggregate finishes.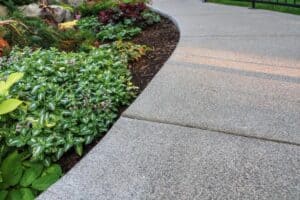 Pacific Garden Design's exposed aggregate concrete finish
Stamped Finish
Concrete stamping is a popular surface treatment for customized finishes. Freshly poured and leveled concrete can be stamped using different molds to create patterns, which gives your driveways, patios, and outdoor fireplaces a very stenciled and textured look. This type of exterior concrete finish must be sealed in order to preserve the stamping effect. There are so many ways you can stamp poured concrete, including cobble stamps, geometric stamps, creative patterns, and custom motifs. You can also create textures that mimic other materials like wood and brick – which is as versatile as concrete can get!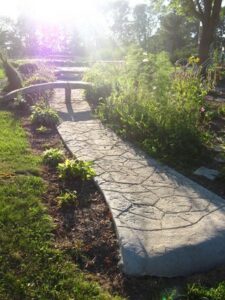 A stamped concrete walkway by Mattingly Concrete
Salt Finish
Concrete with salt finishes develops good traction and slip resistance for areas like swimming pool decks. Coarse rock salt is added to wet concrete and left to set on the surface. Once the concrete dries up, the salt granules are washed away to reveal small indentations in their places. This allows concrete to adopt a rough, weathered look thanks to the irregular pits that form while the salt granules rest on poured concrete. You can customize the result by spacing the granules closer or further apart from each other.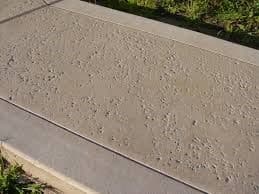 Rock salt stained concrete finish by Texas Patios
Sealed Finish
Concrete sealing is a surface treatment that uses different liquid coatings to preserve the original concrete underneath – which is naturally porous and tends to absorb water and stains over time. Adding sealants on top of concrete creates a waterproof layer to protect it from the elements, oil stains, and other pollutants, allowing the material to last longer and survive freeze/thaw cycles. For this reason, sealed concrete is the best option for driveways as they are prone to frequent air, water, and oil exposure. You can choose from multiple sealants such as epoxy, acrylic, silicon-based, polyurethane, and densifiers. Concrete sealing offers both aesthetic and functional advantages, giving your property more value and making it easy to maintain your driveways.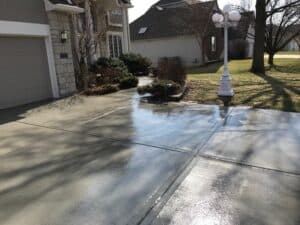 A sealed concrete driveway by Rock Solid Seal
Swirl Finish
If you are looking for something stylish and patterned, then swirl concrete finishes will make a good choice. In this process, poured concrete is spread in the form of swirls that add depth and personality to an otherwise dull and boring pavement. Swirl-finished concrete is commonly used in swimming pool decks because it offers more traction than smooth finishes – apart from boosting your pool's aesthetic appeal.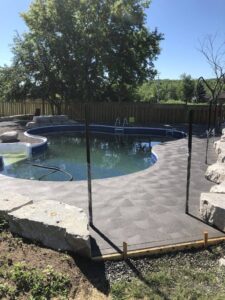 A concrete pool deck with swirl finishes by Capital Concrete Finishing
Stained Finish
Concrete staining is used to add colors and effects to the original concrete, so if you are tired of the dull gray monotone, you can level up your exterior design by applying stains to your driveways or patios. Different concrete stains like acid stains, water-based stains, and fast stains are available, and you can choose an option depending on the effect, color range, and chemical strength you wish to use. It is best to add a sealant over stained concrete so that the new color lasts longer.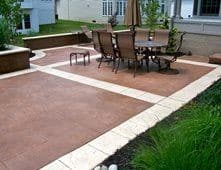 A stained concrete patio by Texas Patios
Cast In Concrete
Choosing the right exterior concrete finishes can make drastic improvements to the look and feel of your outdoor areas. They add aesthetics, ensure durability, provide traction, and boost the overall curb appeal of your property. Concrete on its own allows homeowners to build long-lasting outdoor structures like driveways and backyard fire pits. Combined with the right finishes, concrete can really bring the exterior design elements together and help your home warm up to its outer environment – thanks to concrete's ability to mimic other textures like wood or brick. Overall, the minimalism, durability, design freedom, and creative potential of concrete together build some truly Pinterest-worthy results that you can't wait to see outside your door and celebrate for years to come!