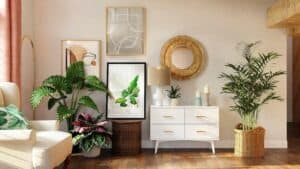 Starting your own interior design company is a great idea if you enjoy working on home décor and renovation projects. Also, carefully consider different interior design names to choose right one for your business. You can bring your own creative streak into the industry and get a chance to showcase your portfolio. Most professionals aim to set design trends that redefine people's expectations and introduce fresh caliber. The versatility of interior design projects allows you to focus on single as well as multiple areas of the work. This may include consultation services, kitchen-only renovations, décor aspects, etc. The flexible nature of this creative industry also helps you run an online business – or simply work from home.
A good starting point for any business is an appealing name that makes your idea stand out. For the artistic and creative scope that any interior design company offers, an inspiring name goes the extra mile. While brainstorming different possibilities, make sure that you come up with names that reflect your core services. They must optimize search results when clients Google various keywords, and so it helps to use at least one strong keyword in your interior design name. This article discusses some strategies to name your business, and they focus on creative ways to stand out from the crowd.
Key considerations for naming your business
Simplicity
Your chosen name should be simple and easy to remember. It helps to brainstorm interior design names to find "fluid" name combinations that simply roll off the tongue. Instead of making your interior design name sound too wordy or difficult to pronounce, try focusing on free-flowing ideas. When clients hear the name, they should be able to look it up on Google and recall it easily.
Originality
Always think outside the box and explore creative prospects for your business. An original name is going to be entirely yours, and only you can string together unique words for special effects. It does not have to be complicated – simplicity works wonders! – you just need to focus on a keyword and revamp it a bit to make it stand out. Think of your interior design business as an artist's canvas with the brand name as a signature.
Clarity
Being clear about the kind of services you offer is a definite bonus. Your interior design name should give people an idea of what you do. The clarity in names also speeds up search efficiency in terms of the specific keywords you might use. This enables potential clients to reach you faster, and it is a smart way to get the word around.
Availability
Another crucial part of naming your interior design company is the availability of that name. Both company and domain name availabilities are important, as you need to pick a name that is not already taken. Various online availability checker tools can be used to narrow down your list of unique and available names. This will allow you to have your own brand and website – and a custom social media footprint for others to follow!
Naming strategies for interior design companies
Use your own name
This is a popular strategy for naming any business. You want your name reflected in your work, and there is no better self-tribute than a brand that goes by your name. Most designers use their full name along with the words "Interior Design" next to them. If you have a simple, memorable, and unique name, then this checks the above considerations for an impactful name. Since it is a special and rare name, chances are that it will not be taken by someone else yet. You can even keep the initials only, assuming that your brand will grow to include more partners. Speaking of partners, using two names in the name could easily make an intriguing pair. Examples of such interior design names are:
Hailey Frank Interior Design
JT Interiors
Elizabeth Adams LLC
Mark & Smith Interior Design
M&S Interior Design
KS&F Designs
Steiner Designs
Use vocabulary freedom
This is a naming strategy that entails vocabulary alternatives for a unique business identity. You can use synonyms, verbs, adjectives, etc. – all of which are related to interior designs names. You can also play with relevant phrases to come up with exciting combinations. Some of these words may include Studio, Décor, Space, Group, and other synonyms. The main idea is that you pick a word that fits even better than the original to make a profound statement. Here are a few examples:
Swan Group
R&R Studios
JTE Architects
Design Heritage
Dream Structures
Spatial Liberty
Design Consulting
L&B Interiorized
Use rhythmic patterns or alliteration
The same initials in each word create a brandable rhythm for unique names. This works conveniently well if your own name has the same initials. It is important to keep it simple and memorable. We do not want figures of speech to leave our high school English class and haunt our businesses too! The idea is to let the simple coincidences speak for themselves. When done right, names with just the correct repetitive touch begin to sound more fluid in nature. They have a ring of memorability to them – all the more efficient for future clients! Some examples of these names are:
Sophie Seneca Studio
Rebecca Renovates
Design Dynamics
Design Destinies
Décor & Dwellings
Inventive Interiors
Ivy Interiors
Use creativity and think outside the box
There are endless ways you can brainstorm outstanding ideas for special names. For the name to be truly outstanding, one needs to think outside the box! Take your cues from various portfolios and the design lingo. You can pick interior design elements that make up a project and see how they fit into your imagined outlook. The common elements in any design project would be its blueprints, color swatches, portfolios, bespoke designs, alcoves, backsplashes, floor plans, and focal points. By using elements from your key services, you can find alternate ways of highlighting your expertise in the name. Here are some ideas for creative names:
Décor Era
The Urban Backsplash
The Metropolitan Studio
Bespoke Interiors
Sam's Color Swatch
The Creative Alcove
Safe Haven Trends
Square Feet Designers
The first impression of your company
A good name always speaks for itself and leaves a lasting impression on curious clients. You want to spark the attention of passersby so that they feel inspired to pay you a visit. Your interior design services will create a space with a better "conversational flow" than before. The cohesive mix-and-match of your ideas is going to elevate people's living standards. When all of these elements interact well with each other, it is undeniable that you need a deserving name to highlight your scope. Using interior design elements like those mentioned above gives you various anchor points to keep your ideas and services grounded. They open a scenic route for you to brainstorm truly unique interior design names. In the long run, these prove to have a timeless appeal as they continue to keep up with the tending wave – even when they are not leading it anymore!