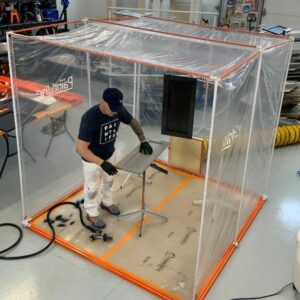 Image credit: The PaintLine
Portable jobsite spray booths are transparent enclosures designed for spray painting projects where you apply paint and finishes on various objects like furniture. They can be used for multiple applications like spraying, finishing, and sanding that require an enclosed workspace to contain the paint fumes and dust – which keeps your jobsite clean and speeds up your work. Such a spray booth should meet some key requirements for jobsite-friendliness. This includes a collapsible frame design to support portability, easy onsite assembling, sufficient work room that accommodates furniture pieces, and an overall professional setting for all jobsites. PaintLine offers a solution that checks all these boxes and many more, so let's walk right into its innovative spray booth and see how it works!
Paintline's Portable Jobsite Spray Booth
Description
The best of its kind, this Portable Jobsite Spray Booth (PJSB) from PaintLine is a fully collapsible and portable plastic enclosure.
It comes with reusable frame posts and disposable plastic liners that can be discarded after each session. The PJSB has won different awards for its ergonomics and jobsite-friendliness, including:
2022 WOOD® Magazine Innovate Award
2021 Finalist, 2021 Visionary Awards from the Association of Woodworking & Furnishings Suppliers® (AWFS)
2020 "Top Finishing Product" from The Woodworking Network
2020 "Tool of the Year" from Canadian Woodworking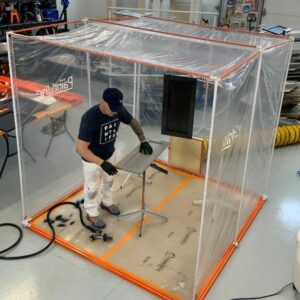 PaintLine's Portable Jobsite Spray Booth™ (PJSB)
The spray booth is made up of a collapsible aluminum frame that supports plastic liners and creates a perfectly sealed and ventilated space that traps all the fumes and protects your overall jobsite. The walk-in design features a 5-sided plastic booth (ceiling + floor + 3 sides) that works for all indoor jobsites and workshops – the scope for outdoor use is very limited. The plastic liners make a smart choice because they create transparent "walls" that help your spray area remain illuminated from the ambient lighting, allowing you to work easily in any location.
You can use it for different applications like spraying, finishing, sanding, and routing. PaintLine also offers a compatible vent system that you can attach to this spray booth and easily exhaust away fumes and dust particles.
Since the main frame is reusable, you can simply discard the plastic liners after your project is over and pack up the remaining accessories – ready to be used for the next project. This saves a lot of assembling and cleaning costs for professionals on the go.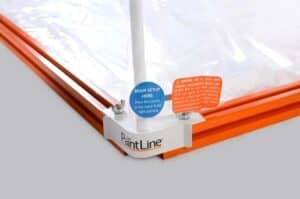 Quality PJSB components
Unboxing
PaintLine's portable jobsite spray booth costs $703.00 and comes with everything you need to set up your instant spray booth anytime, anywhere. The full set includes the following parts:
4 x 2m orange base extrusions
4 x white corner connectors
2 x white in-line pole connectors
6 x 2m white collapsible vertical support poles with 3 connected sections
3 x 2m orange collapsible horizontal support poles with 2 connected sections
4 x 1m orange horizontal support poles
3 x disposable plastic liners
1 x carry bag
All extra parts are sold separately. The vent attachment, air filters, ducting, and blower are also sold separately and are not included in this main spray booth package.
Using the given hardware, you can assemble your 5-sided booth that is both portable and collapsible to fit into the narrow carry case once taken apart.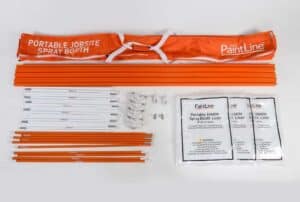 The PJSB hardware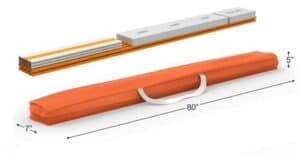 The PJSB carry case
Assembly
The booth's plastic liner base is made of 4 aluminum extrusions attached to welded steel corners (held with magnets) to support 6 vertical, collapsible posts. These posts hold the given plastic liners to form 3-sided walls, leaving one end open for you to walk in. The ceiling extrusions go next, followed by the final plastic liner that covers the top – and there you have a quick portable jobsite spray booth ready to use! The booth assembly takes around 45 minutes for the first attempt and can be completed by just one worker. No additional tools are needed to install the posts or liners – everything included in the package is all you need. The installation is very DIY-friendly because you can simply click the hardware in place before connecting the liners. Once assembled, the full spray booth measures 2m (80") x 2m (80") x 2m (80").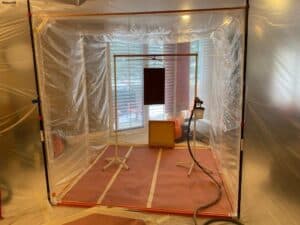 The PJSB setup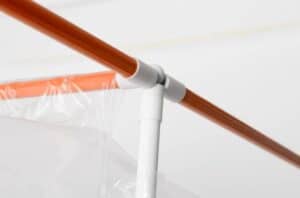 Corners held together by magnets
Once the booth is put together, you can attach the blower next, and this will take you another 15 minutes or so (making the total assembly time around 1 hour for the first attempt). The filtered blower system is available separately and makes a worthy investment for setting up a fully vented and portable jobsite spray booth.
The filtered vent connects to one plastic liner wall, followed by a duct that extends long enough to transport paint fumes and dust straight outside the door. You can route and install this filtered exhaust however needed regardless of the type of jobsite you are working in – thanks to the extendable duct that makes everything so easy.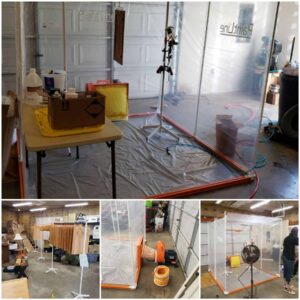 PaintLine's filtered blower system with duct
You can find all the user manuals and instructional videos on PaintLine to set up your mobile spray booth easily on any jobsite.
The complete aluminum frame can be dismantled and packed away in the carry case for reusing, whereas the plastic liners are disposable, so you can throw them and take fresh sheets for each session (all extra liners need to be purchased separately). In addition, the blower duct itself comes with integrated handles, so you can simply collapse it into a self-carry-bag while transporting. The PJSB is a truly ergonomic solution designed to streamline projects and make it easy to both work and move between locations as a busy professional.
Caution
PaintLine's spray booth is made of plastic liners, so you should only use non-flammable and non-combustible paints and solvents inside to prevent the risk of hazards within the area. You also need to wear a proper respirator to avoid inhaling the fumes and dust as you work, so make sure to buy one before working in spray booths for any project.
Benefits
PaintLine's PJSB comes with a range of benefits and has garnered positive reviews from jobsite and workshop professionals. Here are the top benefits of using this portable jobsite spray booth:
The aluminum frame posts are detachable and collapsible, which makes this booth truly portable for multiple projects.
All the posts can be collapsed to fit into a narrow case for easy transportation, so this is all about on-the-go convenience for busy experts.
The blower duct also collapses into its own carry bag to save time and storage space.
The addition of a filtered system allows you to assemble your booth virtually anywhere without worrying about space or window constraints – the vent takes care of this for you instead. The extendable duct also reaches across the room, so you can route it out the door easily without moving the booth.
It is super easy to assemble the booth – great for DIY installers!
The PJSB is ideal for various remodeling, refinishing, and repurposing projects.
The plastic enclosure provides maximum coverage to keep your jobsite clean, which reduces the final clean-up work on your part.
The booth has a neat, professional feel about it that makes it the top choice among jobsite workers.
It has comfortably sufficient room for one worker to move around and spray an object.
The plastic walls allow ambient light to enter your booth and keep it illuminated.
Add-On Hardware
PaintLine offers different hardware options you can buy to go with your main portable jobsite spray booth. For example, the ProDryingRack SD™ (PSDR) is a rack system that comes with hangers to hold cabinet doors and other objects as you spray paint them. This is a great accessory to use in your booth because it makes it easy to spray all sides of the hanging object, and it does not even take up much space in the booth – allowing you to maneuver around without any trouble.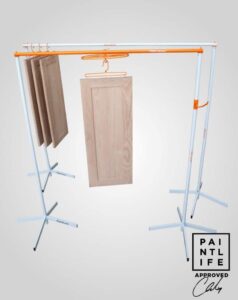 Another clever hardware from PaintLine is the SprayTwirly™ (SPTY) which is a smaller rotating spray table that rotates up to 360 degrees while holding an object to be sprayed, allowing you to work conveniently from one spot without moving around.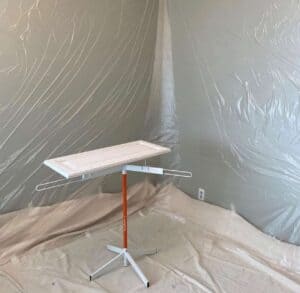 Conclusion
Most spray booths are designed for basic DIY and leisure pursuits, so they feature simple designs and are often small enough to just accommodate the object to be sprayed. Homeowners and DIY users can set them up in their backyards or garages for various DIY remodeling purposes. However, if you want something more heavy-duty as a professional, you need a spray booth that is specifically built for busy jobsite scenarios where you work on one project, pack up, and drive to the next location.
PaintLine has set the bar for such spray booths with its inventive and thoughtful solution – the PJSB – that features a walk-in enclosure, supports filtered ventilation, and has a collapsible design that improves portability. Combined with add-on hardware like the SprayTwirly, this creates a makeshift workspace that can be assembled anywhere and packed away for reuse – securing a long-term investment that pays off in functionality, ergonomics, and easy comfort.