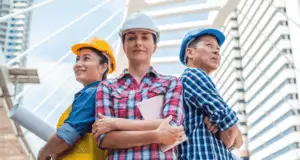 Image credits: Phawat Topaisan/iStock/GettyImages
Construction projects have two main work environments – the office and the jobsite – that require dedicated supervision to ensure the project's success. For this reason, the construction hierarchy includes a project manager and a construction superintendent as the two main leaders responsible for the whole project. They set the terms for the project's flow and oversee various construction aspects from the beginning to the end. While both of these professionals have a mutual target to achieve (completing the project on time and within budget), a project manager is required to represent the office work, whereas a superintendent is expected to represent the jobsite. When combined, this project manager vs superintendent dynamic allows construction companies to clarify their office and jobsite perspectives and take actions to bridge any gaps.
The duo is also responsible for initiating team building and communication, as all the instructions are passed on from both these leaders. An easy way to understand the project manager vs superintendent relationship is to remember that a project manager draws the map for the journey ahead, whereas a superintendent follows and implements it. In this article, we will zoom in on the key differences between a project manager and a construction superintendent in terms of features like their individual work environments, skills, qualifications, and responsibilities.
The Project Manager
Area of focus
Construction project managers have primarily office-bound jobs, so the office is their main area of focus, and they are in charge of all administrative aspects of a construction project. They have a more long-term perspective of what lies ahead, which is why they are responsible for setting long-term goals and managing the project accordingly. In the construction hierarchy, a project manager has more authority than a superintendent, so you can expect a project manager to be the official starting point of a construction project. Usually, only one project manager is needed to oversee the entire project. Since project managers work from their offices, they keep an eye on the construction progress through remote management. This means that their contributions are mostly off-site rather than on-site, and different stakeholders (including supers) are required to report back to the project manager in order to synchronize the office and jobsite work. Therefore, as a project manager, you will focus on connecting the dots to build the bigger picture and monitor the current status of the project to make the required adjustments.
Key responsibilities
Project managers have various responsibilities to fulfill, and these can be numerous behind-the-scenes responsibilities that drive the actual jobsite workflow. One of the main project manager vs superintendent differences is that a project manager will communicate directly with the client and stakeholders, so these interactions mark the starting point of a construction project. Some examples of a project manager's responsibilities include:
Schedule, cost, and budget management
Change tracking
Planning, problem-solving, and re-routing
Site selection
Information gathering
Communication with clients and other project stakeholders
Contract management
Risk detection and risk management
Skills
In order to carry out such extensive responsibilities, project managers need to work on acquiring relevant skills for the job, such as:
Leadership skills. This will help them manage the project and their teams better by keeping the synergy going and not allowing conflicts to slow down the project. Good leadership is also important to stay calm and focused within the whirlpool of construction activities. This in turn allows you to be a problem solver, a good listener, and most importantly, an inspiring leader.
Communication skills. Since project managers are the main communication point for all clients and stakeholders, having impactful communication skills is extremely important – both in terms of reporting and negotiation. This includes verbal and written communication as well as multilingual benefits that you can bring to the table.
Organizational skills. These overlap with computer or technology skills as every project manager needs competent software skills to keep an eye on their projects. Being familiar with relevant project management software and tools will allow you to simply use your digital dashboard as a reference point instead of relying on pen and paper. As a result, you can manage multiple aspects at once including procurement, payrolling, contracting, budgeting, scheduling, inventory tracking, and so on.
Education
Project managers can pursue various construction and business degrees to be eligible for the job. Construction companies usually require their project managers to have at least a bachelor's degree in construction management, contracting, business administration, or similar majors. A master's degree in business administration is also desirable and makes you a potential candidate. Aspiring project managers can also add to their credentials by taking courses like the Project Management Professional (PMP) certification.
The Superintendent
Area of focus
Just like a project manager is required to manage the office work, a superintendent has to focus on the actual jobsite, which means that superintendents have a more frontline role to play. Instead of project management, the focus here shifts to jobsite management, so this is the real construction work in action that is guided by a superintendent and remotely monitored by a project manager. While project managers have to look at the bigger picture, construction superintendents need to zoom in on minute details that form short-term, day-to-day goals. They are the main point of contact to the jobsite activities and take instructions from project managers, so they essentially connect the field to the office. Quite often for large projects, more than one construction superintendent might be needed to oversee different aspects and coordinate the jobsite management more effectively. So, you can expect to find trade superintendents, general superintendents, assistant superintendents, interior superintendents, and others working alongside the main construction superintendent. They all follow the roadmap laid out by a project manager using a hands-on approach to achieve every milestone before reaching the finish line.
Key responsibilities
Since jobsite supervision requires a lot of multitasking, construction superintendents have several responsibilities to take care of. In terms of communication and reporting, superintendents are required to regularly report back to the project manager so that information on the ongoing jobsite activities stays updated. They generally do not interact with clients – that is the job of the project manager – so if any updates need to be shared, the superintendent should immediately get in touch with the project manager, who will then forward the message to the client and other relevant audiences. Here are some of the key responsibilities of a construction superintendent:
Jobsite supervision and management
Field-and-office data synchronization
Quality assurance
Site coordination, safety inspection, and milestone tracking
Jobsite and equipment training
Equipment handling
Employee selection and interviewing
Employee tracking and skills appraisal
Conflict resolution
Scheduling
Procurement, vendor networking, inventory tracking, and resource allocation
Skills
To execute such heavy-duty responsibilities, a construction superintendent needs to have the following skills (which may overlap with the project manager's skills, considering both professionals are leaders in different environments):
Leadership skills. Just like project management, jobsite management also requires excellent leadership skills. Superintendents are jobsite leaders, so the rest of the construction workers look up to them, and it is important to set the bar for field standards in order to ensure the project's success. A good site leader will primarily be a calm, determined mentor, a good listener, and a problem solver – all of which are important traits for someone standing in the eye of the storm.
Communication skills. A construction superintendent is the main communication link to the jobsite, so there is the added responsibility to keep everybody informed on time. The superintendent is responsible to communicate all the project objectives clearly to the jobsite teams. This includes clarifying safety protocols, OSHA standards, equipment handling techniques, and similar important aspects. In addition, since superintendents do not interact much with clients, their primary external contacts are vendors and project managers themselves. Any gaps in communication can cause expensive project delays, which is why being a good communicator goes a long way as a superintendent.
Technology skills. In order to keep up with this fast-paced multitasking, it always helps to use current technologies and software tools to simplify your work. Superintendents should adapt their technological skill set to meet their projects' requirements. This might include using drones for remote site supervision or implementing construction management tools like Procore for better jobsite visibility. Construction software tools bring all the data to you, which saves time and helps you manage the field work more efficiently using an online dashboard. All in all, technology is the best organizational asset a superintendent can use to stay on track.
Education
Usually, construction superintendents require a high school diploma as the minimum educational requirement for this job. However, some construction companies prefer hiring candidates with at least an associate degree, so it is recommended to pursue either an associate or a bachelor's degree in relevant construction fields. Some of the common construction majors include engineering, construction sciences, and construction management. Since superintendents start out as various trade experts like electricians, carpenters, roofers, etc., their journey to the position of a superintendent is backed up by various on-the-job training and certifications in addition to a minimum degree. You can enroll in courses like OSHA certifications, construction contracting, procurement, management, software training, and so on depending on which gaps you need to bridge.
Two sides of the same coin
That was our insight into the project manager vs superintendent relationship. Both professionals are responsible for keeping a construction project well-aligned and headed towards the end. So, sometimes the pressure can create some polarity within the team, and it can be very easy to crumble under this mounting pressure to the point that both leaders forget that they are on the same side. When this happens, the resulting domino effect will quickly escalate to the rest of the stakeholders, workers, and the overall project. This can easily disrupt the workflow and even cause the project to come to a halt, which is why both project managers and superintendents need to get along well and focus on their mutual goal.
Project managers should remember that superintendents have a better grasp of the field status since they are physically present on the site and are constantly involved with small details of the project. Similarly, superintendents should rely on the managers' feedback because they see the bigger picture and can tell which way the wind is blowing. Any differences can be resolved with open communication, so building a respectful and collaborative leadership dynamic is crucial. If all else fails, simply toss a coin, and pick a winner!