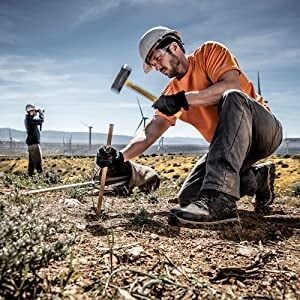 Image credits: Timberland PRO
Construction jobsites have very unpredictable and harsh working environments that demand a safety-first approach in everything you do – including the type of clothing you wear. It is important to prioritize functionality over style, especially if you have a mostly outdoor, onsite job. In addition, construction workers need to wear something that is comfortable, durable, and safe to withstand the tough jobsite conditions. For example, workers who are responsible for managing and handling machinery should avoid loose fits or baggy clothing that might easily get stuck or distract them as they work. Durable fabrics allow your construction outfits to last longer, so you will not need to replace them or buy a new pair more often. In this article, we will focus on the best shirts for construction workers in terms of functionality and durability from some of the top construction workwear brands like Carhartt and Wrangler Riggs.
Best shirts for construction workers
Construction shirts can be a little different from your ordinary work shirts depending on the type of jobsite you have been assigned to. Since business casual is the way to go for most indoor and outdoor construction jobs, there is an unspoken agreement that your choice of outfits should be site-conscious rather than formal. This includes everything that will make your time on the jobsite safe, productive, and weather-ready.
When looking for the best construction shirts, here are some of the main features you should keep in mind:
A good fit. The best shirts for construction workers need to have a good, relaxed fit. This will help you stay comfortable without the bagginess of loose clothing. It will also enable easier movements compared to wearing something strictly tailored and restrictive – remember, you do need outfits with better freedom of movement around a jobsite. Therefore, relaxed-fit shirts offer the ideal middle ground and can be worn by workers in various construction trades.
Durability. Construction work shirts should always be rugged and durable so that they can last conveniently longer. Since you will be exposed to harsh construction elements including dust, heat, debris, tools, and machinery, you want to buy something that can easily outlast the daily wear and tear of your construction environment. This also includes the wash-friendliness of your chosen fabric (cotton and polyester are the best construction fabrics in general). Durable construction shirts stay as good as new after each wash – for example, they do not shrink, lose their fabric strength, or become faded. So, make sure to pick shirts that check all these boxes for ruggedness and longevity before filling your wardrobe.
Sleeves. Your preference for short or long sleeves will totally depend on the type of work you do around a jobsite. If you mostly work with construction machinery and equipment, it is safer to wear shirts with short sleeves so that they do not get in the way or risk getting caught. For most other trades – especially during winter – you can opt for longer sleeves. You can also pair fitted, long-sleeved shirts with a sweater or a jacket in winters, as these provide excellent, cozy base layers that can be customized in multiple ways.
Keeping the above features in mind, here are some of the best shirts for construction workers along with our reasons for choosing them.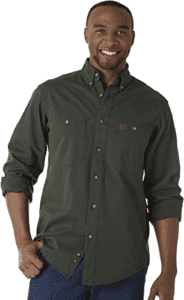 This forest green Wrangler Riggs shirt makes an excellent choice for construction workers for two main reasons: 100% cotton comfort and a relaxed fit. The button-down shirt has long sleeves and can be worn over base layers during winter or on its own during summer, so we really like this seasonal versatility. It features the brand's ROOM2MOVE design that enables easy movement which is just what you need around a jobsite. The shirt's fabric retains its quality after each wash, so it is quite durable for construction workwear. There are two chest pockets, and the shirt will go perfectly well with your choice of Wrangler Riggs pants and jackets too.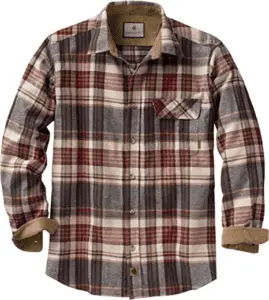 This cedarwood plaid flannel shirt from Legendary Whitetails is another great choice. Featuring corduroy cuffs/collar, the 100% cotton shirt weighs around 5.1 ounces, which is ideal for both standalone and layered clothing. It is one of the best shirts for construction workers who prefer a bit of style within something that is already jobsite-appropriate. The flannel material retains its shape, giving you an effortlessly neat look all day long – which also translates into less ironing chores in a week! The shirt has a single pocket with a pencil slot and also includes a locker loop – so points for functionality! Its relaxed-fit design adds comfort for busy site activities. Overall, Legendary Whitetails flannel shirts are a go-to choice for keeping a work-ready construction wardrobe for all seasons.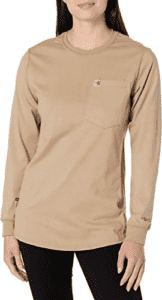 Carhartt has an impressive line of flame-resistant (FR) shirts that meet the NFPA 70E and NFPA 2112 performance requirements. This khaki, long-sleeved shirt is one example. It is slightly fitted and weighs around 6.75 ounces, so you can wear it both on its own and as a base layer. The material features a fast-dry design that wicks away moisture, which we think is just what you need while working in high-heat conditions. Combined with the mesh side panels, the shirt is easily comfortable, stretchable, and jobsite-friendly, especially for those who work near flames. The shirt also includes rib-knit crewneck collar/cuffs and a chest pocket, so it really accommodates every expectation for a safe and functional construction shirt in one package.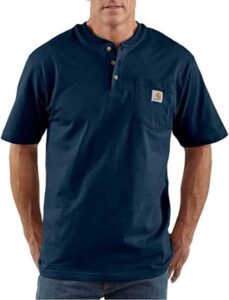 If you are looking for a short-sleeved shirt – and do not necessarily need a good fit – then this loose-fit shirt by Carhartt is a good choice. It can be worn on days with less workload like when you do not need to operate any machinery or tough equipment. The navy, 100% cotton shirt has a three-button front and is definitely comfortable for hot summer days. It includes a single chest pocket and a rib-knit collar – you simply cannot go wrong with Carhartt's short-sleeved henley T-shirt neatly folded in your construction wardrobe, ready to go for a light workday ahead.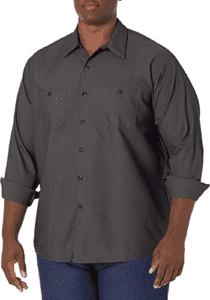 Red Kap's charcoal shirt is made of 65% polyester and 35% cotton. If you want something that is easily durable and will not fade after each wash, then this shirt is one of the best options. Its Touchtex design makes it stain-resistant as well as fade-resistant, which is the perfect combination for durable construction workwear. We also like the lightweight, breathable fabric that wicks away moisture and ensures maximum comfort, so if you work in high-heat jobsites, Red Kap offers the right material choice. There are two chest pockets – one with a pencil slot – and this shirt is available with full sleeves. It retains its color and shape over time, so the fabric stays mostly wrinkle-free, and you will not need to iron it as often as other shirts. Functionality? Check. Effortless appeal? Double check!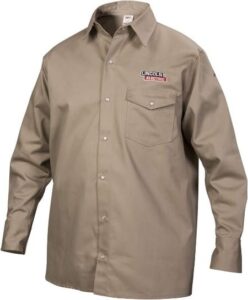 This is one of the best flame-resistant shirts for construction workers, specifically designed for welding applications. Its self-extinguishing, ASTM D6413-compliant cotton fabric keeps you well protected against flames and sparks, which was the primary reason why we added this shirt to our list. The tailored fit looks neat and effortless, and the cuffs can also be adjusted as you like. In addition, the khaki fabric features an anti-static coating for better durability. High-contact points like the neck and cuffs have been reinforced with double layering to withstand the tough welding environments. For example, the cuffs include chrome-plated metal snaps to keep your wrists safe from stray sparks. Considering all of these protective features, the shirt is actually quite lightweight and comfortable to wear, so you will not have to worry about any added weight slowing you down. There is also one large chest pocket with a pencil slot, and we particularly like the fact that this shirt still retains its flame resistance after multiple machine washes – so it really is built to last long.
Conclusion
Construction workwear should check some major boxes for durability, comfort, safety, trade-specific ergonomics, and functionality in order to make your job that much better and more productive. While your choice of construction clothing may differ according to where you work, some features like ruggedness and a good fit remain common for all workers. The best construction shirt is one that you can easily call your go-to work shirt for the jobsite, so it is important to buy shirts that actually last longer and can withstand exposure to the daily wear and tear. Long-lasting construction wardrobe does not have to be too expensive or stylish. You can find several affordable options that offer the required safety features and design to match your jobsite role. Make sure to add some clothing duality to your wardrobe with shirts that go well in both summers (as standalone pieces) and winters (through layering). In this way, you can stay within your budget and still look sharp at work all year long!