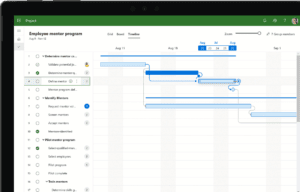 Image credits: Microsoft
Microsoft Project is a resourceful management tool for construction teams, as they require a single scheduling platform that everyone can work with. With features like Gantt charts, cost tracking, and resource allocation, Microsoft Project supports powerful integrations to simplify your work. You can either build a schedule from scratch or download a suitable Microsoft Project construction schedule template from online sources. The reason why construction professionals prefer working with MS Project over other tools is that it already has a familiar Microsoft look and feel about the platform, so you can quickly tap into the software benefits. This reduces the time it takes to learn the ropes as a beginner, and you can instead spend more time on the actual scheduling tools and templates to get on with your work. Most websites require a paid subscription for more customized templates that target specific construction areas like kitchen renovations or office construction – as discussed below.
MS Project features for construction scheduling
Visual management
With MS Project, you can quickly get started on your construction schedules by using both Excel-like tables and visual elements such as Gantt charts, Scrum/Kanban boards, interactive roadmaps, and so on.
These visual management tools remove the guesswork from your scheduling tasks and let you focus on creating insightful, relevant, and user-friendly templates. There is more flexibility with using grid views and building visual timelines to observe your construction flow from different perspectives – all the while keeping the main data untouched. This also helps you centralize the project data in a visual form that paints the bigger picture for simple, at-a-glance comprehension. For example, Microsoft Power BI creates interactive dashboards that you can customize and share between members so that everyone knows where they stand without having to read lengthy tables. All in all, visual management simply increases your construction project's visibility.
Task allocation
MS Project makes it easy to assign tasks and materials to your construction teams, so you can manage material and labor allocation areas more effectively. Construction experts need a central tool that they can use for both task and resource allocation to minimize the risk of schedule conflicts, forgotten deadlines, and under-utilization of assets. MS Project helps you create a more realistic construction schedule that factors in your employee availability, vacation days, key deadlines, etc. This allows you to organize a reliable timeline that is better equipped to reach a successful closeout. It also bridges gaps between overused and underused resources by helping you plan timely reallocations.
Customizable templates
You can use various Microsoft Project construction schedule templates that are either built-in templates on the platform itself or external, downloadable templates available online. This is a useful, time-saving feature that lets you work on predefined templates instead of figuring out how to create a new one by yourself. It is usually time-consuming to get the functional aspects right – such as mathematical functions or responsive chart integrations. Once you find a good template that has all the features and functionalities you want, you can always save it as your key template for construction projects and simply adapt it for different settings. This saves the need to manage and track multiple templates that you may or may not use in the future. The following section includes 2 ideal template choices for construction projects.
Microsoft Project construction schedule templates
Construction Scheduling is an excellent source for customizable, pre-formatted templates that you can download and use after signing up for your chosen paid package. You can then access different construction schedule templates, guides, and add-on features to be able to use these templates more productively – so apart from providing the templates, the website also includes guides to help you up the learning curve.
The complete construction templates bundle includes a total of 68 scheduling templates that span different project types for residential, commercial, architect – engineer, industrial, metal building, and subcontractor categories. These templates are designed to give you a ready-made and centralized scheduling tool that you can easily adapt for different projects – which cuts down the need to restructure existing templates or start from scratch. Here are some benefits of using Construction Scheduling templates from this online source:
Access to pre-formatted, organized, and editable task lists.
Access to preconstruction checklists.
Options for pre-linked templates that already include project relationships and connected files.
Ability to use custom filters to refine searches.
Access to editable project calendars with pre-marked holidays.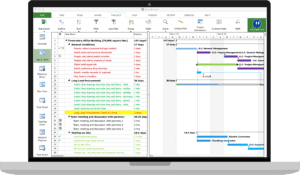 Project Plan 365 is another valuable template archive for construction projects. It has both paid subscription packages and templates that you can download and use as MPP files. Project Plan 365 is an ideal companion management tool for MS Project, as it supports seamless file collaborations between users of either platform. If you are already familiar with MS Project features, you can easily work with Project Plan 365 – so there is no significant learning curve involved, which saves time. Here are some cool features that make it the perfect scheduling partner for MS Project:
Advanced scheduling engine
Language support
20 date formats
Over 100 currencies
Customizable Gantt charts, dashboards, and timelines
Cloud integrations with Microsoft Project Server, Google Drive, Dropbox, OneDrive, SharePoint, etc.
You can build project-specific schedules that factor in costs, end dates, critical paths, and complexities like over or under-allocated resources. The website includes construction templates for residential construction, kitchen renovation, commercial construction, and interior design processes, and you can download them as MPP files for seamless changes in MS Project.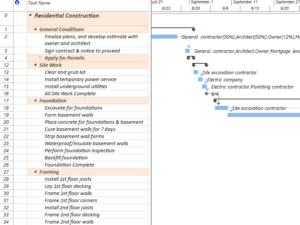 Project Plan 365 residential construction schedule template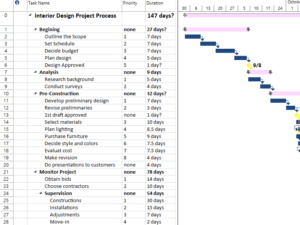 Project Plan 365 interior design schedule template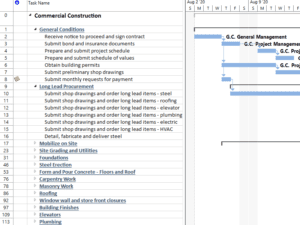 Project Plan 365 commercial construction schedule template
Conclusion
When choosing a suitable Microsoft Project construction schedule template, make sure to subscribe to only reliable online sources if the template bundles require a paid subscription. Bespoke templates for construction projects have various key features and visual elements that take time and effort to work around, so they are usually not available for free. Such templates are already equipped to make calculations using mathematical functions, adjust charts, and accommodate changes as you add to the template over time, which is why the amount of guesswork on your end is greatly reduced. The richer the amenities, the higher the template costs, so it all depends on how good-to-go you want the template to be.