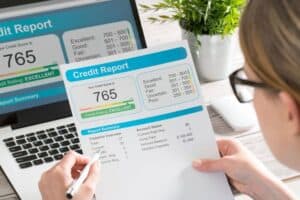 Image source: Oracle Screening
Renting your residential or commercial buildings to tenants requires a lot of verification and background checks to ensure the safety of your property – and timely income. As a landlord or landlady, you need to check tenant credit report options before renting out your space. A credit report displays the financial aptitude of a tenant and helps you decide if the person is suitable to occupy the building. It is a financial background check on various aspects like regular bill payments. Such a report optimizes your tenant screening process, and several verified online tools are available to streamline your hunt for prospective tenants. Credit reports include a tenant credit score along with comprehensive payment history for mortgages, loans, credit card transactions, etc.
Building owners have a better chance of making smarter rental decisions with credit reports. These reports display valuable insights into red-flag considerations like delinquent accounts or insufficient payment activities. A tenant credit typically features bill payments, credit availability, credit utilization, financial presence, and inquiries into the tenant's credit-seeking behavior. Owners prefer consulting with trusted reporting agencies using their online services. It makes the process much more efficient and helps you find out how responsible the tenant is about money management. Tenant screening and credit report firms offer specialized, web-based services, bringing you all you need to know within a few clicks. Two such companies are discussed below.
Tenant credit report
How it works
To run a tenant credit check, you require the applicant's basic information like name, address, social security number, or individual taxpayer identification number. These details are normally available on the tenant's application, and the application itself is your permission to conduct a credit report investigation.
What to look for
A credit report is your best resource for mining key financial data. As a building owner, you want to avoid tenants with a history of suspicious, careless, and fraudulent activities. The report will reveal various red flags like bankruptcy charges and delayed bill/loan payments. It includes criminal as well as eviction histories, so you can find out if lease violations are going to be a problem. Tenant credit reports include all sorts of lawsuit events your applicant might have been involved in. These findings let you decide if the tenant is financially stable to pay rents on time – and avoid trouble on the whole.
What it calculates
Different tenant screening agencies offer different types of reports. They all usually generate similar credit scores using verified calculation methods. The two popular tenant credit scores are known as FICO and VantageScore, ranking tenant potential from 300 to 850. The score measures how financially reliable your tenant is going to be – and if there is a risk of nonpayment. Higher scores move towards the green end of the scale, indicating a better potential for occupancy. Lower scores take up the red end – with enough red flags to chase you away! Buildings owners tend to accept a score of at least 650 for medium to no risk.
Is it enough
While a high credit score does look promising, it does not mean that this strategy is entirely bullet-proof. Credit reports are valuable tools for learning about the tenant's past and ensuring peaceful coexistence on your property. Low scores with recurring nonpayment and legal clashes help you rule out that applicant and save time.
However, a high score cannot guarantee that the tenant will occupy your space responsibly, cause no damage to property, or be friendly with neighbors. So, apart from a tenant credit research, make sure that you clarify your expectations before signing the papers – and get them in black and white!
Tenant screening companies
Two of the leading tenant screening companies are TransUnion and Equifax. Their online services allow you to sign up and check your future tenant's credit report. Most US states give building owners the legal permission to charge potential tenants a credit report fee for the whole process. A reasonable screening fee could range around $30 – $50 according to your state laws, and you should create an itemized receipt of your investigation if you are not using online methods. Prospective tenants need to be informed about this credit check fee, including the amount and reason for conducting the check. They can then sign up with the service website and apply for a background/credit check. The service helps them procure the final report and make it accessible to you on the same website. This pay-as-you-go option adds transparency and credibility to the check for the involved parties, as discussed below.
TransUnion SmartMove
TransUnion is a leading credit reporting agency that helps building owners request tenant background checks. You can sign up for free and invite prospective tenants for a credit check on the website. This streamlines the rental screening process and sends you verified results for criminal eviction, income insights, and other financial concerns. TransUnion's patented SmartMove solution uses a ResidentScore between 350 – 850, which delivers better predictions than other credit scores. This comprehensive ResidentScore stands out in its ability to predict rental performance, not just loan probabilities.
The pay-as-you-go feature optimizes rental screening by giving you the required information and allowing hesitant applicants to rightfully protect consumer data – and pay the agency instead of paying you. Resident scoring converts credit histories into rental feasibility to help you decide if the tenant is right for you. This cuts down issues from hiring tenants with possible eviction charges and lease nonpayment. The credit scale lets you assess various risks and make informed decisions that go beyond the score.
Also, the SmartMove credit inquiry will not affect the tenant's cumulative credit score, as it is only a soft inquiry made on the credit history and does not count as a suspicious investigation.
Equifax
Equifax is another popular resident and tenant screening program. It is a web-based service to help owners screen applicants and pick the best tenants for their properties. You can verify the overall creditworthiness of potential tenants by confirming their identity, criminal record, rental background, and financial footprint. The credit report looks into various eviction histories and allows you to customize the research as needed. This makes Equifax a very client-specific service for instant and accurate reports. It uses the InstaCriminal Statewide Search for better data mining. You can obtain superior tenant credit knowledge with competitive predictions for all business and consumer perspectives.
Equifax uses the VantageScore method to calculate inclusive credit scores for improved evaluations. These enable you to assess risks more effectively and leave no stone unturned! The online tool generates a detailed credit history. It gives a resourceful vantage point to view your tenant's financial validity and caliber.
On the credit spectrum
Checking the tenant credit report is an important step before hiring tenants. The statistical insights you receive with just a few clicks tell you everything about the tenant's financial origins and legal profile. The high end of the spectrum indicates minimum risks, whereas the lower end screams for trouble. While you do have the legal right to conduct such a test, it helps to keep realistic and smart standards that actually convert into steady rents – and happy coexistence on your property.