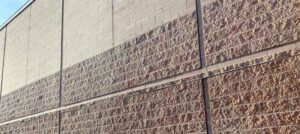 Image credit: Archtoolbox
Concrete is one of the main construction materials used in commercial, residential, and industrial projects. With features like remarkable durability and design freedom, concrete structures are simply timeless, and the good news is, they do not have to be dull and gray always. Concrete blocks – which are also known as concrete masonry units (CMUs) – are manufactured with different styles, shapes, colors, and finishes for more architectural freedom in construction projects. Your choice of CMU block finishes will set the tone for your building's exterior design. In this article, we will talk about some popular finishes you can use to level up your property's curb appeal.
CMU block finishes
CMU blocks are manufactured in accordance with the American Society for Testing and Materials (ASTM) standards. This allows them to be fabricated with key features like compressive strength, fire resistance, durability, and so on. Various finishing treatments can be added for aesthetic reasons during the manufacturing process to update the traditional gray look into something more impactful, which brings a lot of design flexibility to the way you plan your project. Here are the top options for CMU block finishes in construction.
Burnished or ground face finish
CMU blocks with ground face finishes are ground into a polished look on one or more sides of the block, which results in a smooth, matte finish with exposed aggregates. They are quite maintenance-free on their own and can be manufactured to develop fire resistance, mold resistance, added strength, and energy efficiency. The included aggregates offer a bit of texture and allow the end results to look very aesthetically pleasing – great for both commercial and residential buildings. Ground face CMU blocks are also available in different colors, shapes, and patterns.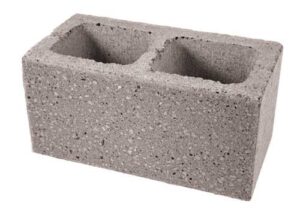 Regalstone ground face CMU finish by RCP Block & Brick

A ground face CMU project by Westbrook Concrete Block
Ground face finishes are also called burnished finishes. In masonry terms, burnishing means grinding the outer faces of concrete to expose the natural aggregates and develop a smoothened look – which is even better than basic smooth finishes.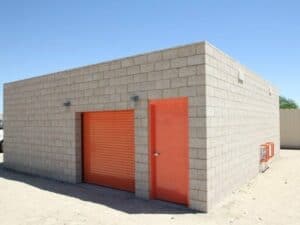 A burnished CMU exterior finish by Romtec, Inc.
Polished finish
If you want to take the ground face or burnished look to the next level, you can choose polished CMU blocks to achieve a reflective, glossy result. This allows the exposed aggregates to stand out even more and look great on both interior walls and façades. The polishing process can differ to create customized textures based on your chosen design, and they are all pretty easy to maintain as the polished layer adds more durability and fade resistance to the main concrete surface.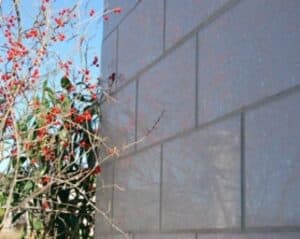 An exterior wall made of polished CMUs by Jandris Block
Smooth face finish
Smooth-faced CMU blocks are quite common. They have a simple, smooth finish on all sides and can be manufactured with properties like fire resistance and energy efficiency. This type of finish has a natural monotone look without any exposed aggregate and is made using smooth molds. It can be found in different colors, styles, and shapes and is also quite maintenance-free.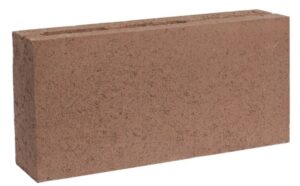 Jandris Block's smooth face CMU block

Smooth molded CMU block finishes by Westbrook Concrete Block
Scored finish
Scored CMU blocks are available in different options such as single scored, double scored, triple scored, etc. The type of scored block you choose determines the overall texture of your wall, and you can combine this with other finishes as well for more design flexibility. Concrete scoring is ideal for adding accents to your exterior design – both for commercial and residential spaces.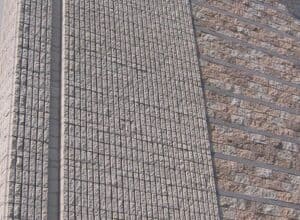 CMU scores and split face finishes from Angelus Block
Colored finish
If you are bored of the usual gray monotone, you can have colored CMU block finishes for a more upbeat façade. Both interior and exterior surfaces can use colored or pigmented CMUs, but make sure to pick the right color palette that lends itself well to the design you are aiming for.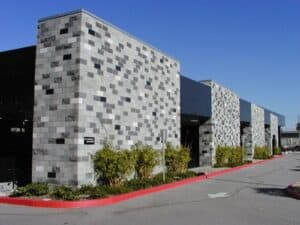 Mixed color CMU blocks manufactured by Angelus Block
Glazed finish
Glazed CMU blocks include resin coating to create a glossy finish similar to tiles – so this is a huge aesthetic leap for a project made of concrete. You can choose from different colors and patterns whether you are designing interior walls or building your property's commercial façade. Glazed blocks are super easy to maintain because of their texture, which is also resistant to stains, pollutants, chemicals, graffiti, etc. They are popularly used in schools and medical buildings.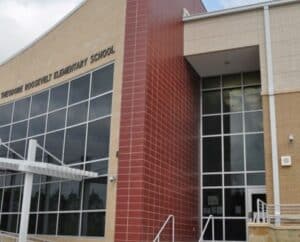 Spectra Glaze CMU block finishes by Westbrook Concrete Block
Split face finish
Split face refers to the process of splitting large CMU blocks so that they develop a rugged, rocky surface on the fractured end. This creates a very rough and weathered look with split aggregates that add to the texture – so this is the opposite of a smooth CMU block. Depending on the type of block you need, you can have blocks with one or two split faces on each unit. The bumpy, uneven blocks create visually dynamic walls for both interior and exterior designs.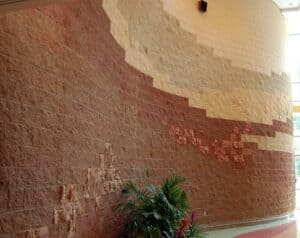 Split face CMUs – a project of Jandris Block
Split rib or fluted finish
Split rib or fluted CMU block finishes are similar to split face finishes in that the blocks are fractured to develop a rough side. The difference is that split rib blocks have narrow columns on the surface to create a ribbed effect, which works perfectly for exterior accents because of the unique texture it offers.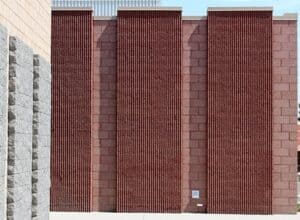 Split rib CMU blocks from Angelus Block
A chip off the old block
Concrete is a truly flexible material on its own and checks several functionality benefits like durability, energy efficiency, and customization. It is also a very aesthetic-friendly material, and for anyone looking to explore some architectural freedom – without losing the concrete touch – this is a huge win. CMU block finishes can dramatically transform buildings because of the added texture, color, pattern, and style they add to the design. They allow you to build impressive structures without buying expensive materials. So, you get a bigger architectural range and more design flexibility with finished blocks – while still enjoying the supremacy of the good old concrete!