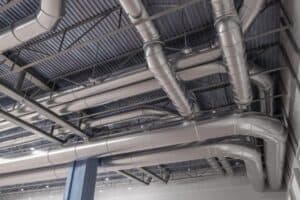 Image credits: Estimate Florida Consulting
Commercial HVAC systems are important for setting and regulating optimum indoor temperatures within the building. Heating, cooling, and ventilation units all require proper ductwork to guide the airflow, which is why the efficiency of a good HVAC system relies on its ductwork layout. Such a layout makes up a very exposed, industrial look in any setting, and it is crucial for these air "tunnels" to remain intact for maximum efficiency and zero leaks. Different business types have different HVAC expectations for their buildings, so you would find considerable cost variations simply based on the type of building that needs to be heated or cooled. For example, the HVAC load for an office space will be far less demanding than an all-time-busy hospital space with the same square footage. This is because medical settings have tough technical needs for 24/7 operability, which means that their HVAC usage is considerably higher than that of a simple office. Here is a glimpse into commercial ductwork installation costs to give you some ideas for setting reasonable budgets.
Commercial Ductwork Installation And Replacement
Businesses have different reasons to install a new HVAC system or replace an existing one. This includes installing or updating the ductwork too, as the ducts are prone to damage over time depending on the type of material you have used – such as sheet metal.
In general, you might want to tap into the ductwork essentials for the following reasons:
Your commercial utility bills keep increasing even though there is no significant increase in HVAC usage.
Partially occupied or unoccupied areas of your commercial building receive more airflow traffic compared to the main work area.
Both the heating and cooling are noticeably uneven in high-demand zones.
The ductwork has become old and damaged, causes air leaks, and requires a complete replacement. This is usually the case when the ductwork reaches a lifespan of 20+ years and can no longer be fixed, so it is better to replace the layout altogether instead of paying for frequent – and exhaustive – repairs.
There is a need to install insulated ductwork for better HVAC efficiency.
Based on the current status of your commercial building, your ductwork project can vary from small-scale to large-scale changes, especially if your HVAC inspection team discovers key retrofit areas that need attention. The costs also differ accordingly, considering first-time installations/replacements and future repairs, as we will see below.
Commercial Ductwork Installation Costs
If you are installing commercial ductwork for the first time or replacing an old layout, you are looking at $25 – $55 per linear foot on average. Factor in the labor rate of $150 per hour, and the total costs can go from $10,000 to $30,000 depending on the size and complexity of your project. The following elements can affect the ductwork costs for your HVAC system:
The size and condition of your commercial building. Older and outdated buildings may need to undergo renovations before any ductwork analysis can be done, and this will push your budget to the higher end.
Applicable building codes and permits for your choice of ductwork. Assuming that your commercial building does require structural changes, your teams will first get all the permits and approvals covered to ensure project compatibility – all of which adds to the permit fees.
Pre-installation challenges to retrofit the building accordingly – for example, through demolitions and ceiling cuts. The greater the complexity, the higher the commercial ductwork installation costs.
High-end ductwork materials for maximum durability.
Your choice of piping mains, branches, and connectors for the whole setup.
Sheet metal requirements for the ductwork, exhaust fans, and grilles.
Total linear footage of the ductwork.
Ease of access for ductwork installation. If infrastructural obstacles get in the way of your installation process, they will make it difficult for teams to maneuver around or access the ductwork location. This will increase labor costs and add to material costs as well if longer components are needed to work around your building's obstacles.
Ductwork insulation requirements for optimum HVAC efficiency. This is a must-have if your inspection teams have detected a lack of insulation as the main culprit behind your building's HVAC inefficiency and rising bills. Since this will be an added step, the overall costs can increase depending on how much of the ductwork needs to be insulated – and whether or not the individual rooms also require some level of insulation.
Here is an example by HomeAdvisor for different commercial building sizes, their required ductwork lengths, and the corresponding costs.

Image credits: HomeAdvisor
Once you have installed the ductwork, the follow-up repairs will cost far less than the above commercial ductwork installation costs. As a business, you need to take care of regular upkeep for your HVAC system – which includes inspecting and maintaining the ductwork too for that valuable stitch in time. Commercial ductwork materials are already designed for longevity so that they can easily outlast residential options – considering the heavy-duty use for businesses. Therefore, tackling minor fixes right away can prevent them from growing bigger over time, and this will help your ductwork do its job well. On average, a typical repair program will cost you around $1000.
If you notice frequent, recurring problems towards the end of the ductwork's lifespan, you should exit the continuous repair loop and simply invest in a ductwork replacement project.
Conclusion
Good commercial ductwork can last up to 25 years based on how well they were maintained and repaired over time. If you do not plan regular updates like duct cleaning and filter changes, you might encounter untimely HVAC failures that call for expensive replacements much earlier than expected. Quite often, HVAC replacements are only limited to certain components like the actual units or specific parts, so the main ductwork will not always need to be replaced. For this reason, it is important to hire licensed and reputable commercial ductwork teams who will not only install a fully functional system but also offer you tailored services in the future. Look for local options that have high reviews and an active social media footprint, as this indicates transparency and professionalism in the type of services you want. For the ductwork to actually last 2 decades, it should be handled and installed with careful attention to the smallest detail – and working with experienced installers is the best way to go.