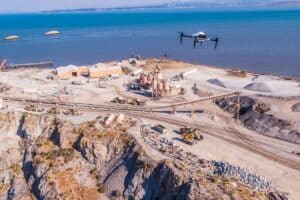 The construction industry has a direct impact on the economic power of a country. Pioneers of the field transform an empty space into iconic, skyscraping visions and infrastructures. This brings in investment opportunities from global investors. No matter the scale of construction, whether it is residential, commercial, industrial or civil engineering, the end result gets there with the help of several, irreplaceable construction instruments. These, along with the agility and expertise of engineers, architects, and project managers help to create a spatial wonder.
1. Heavy-duty equipment for megaprojects is generally classified as:
Earthmoving equipment in the form of excavators, loaders, bulldozers, etc.
Construction vehicles like trailers and tankers.
Material handling equipment in the form of cranes, forklifts, and conveyors.
Construction equipment, for example, concrete mixture machinery, pavers, and road rollers.
2. Theodolite:
A theodolite is a precision and surveying instrument used to scale points and measure horizontal and vertical angles. It is mostly used to map out corners with lines, measure angles for alignment of frames and walls, and for defining the plumbing area within a column.
3. Pipe lasers:
Pipe lasers are effective instruments for contractors and civil engineers. They are ideal for road and bridge construction and sewer pipeline installations. The pipe laser makes sure that the rate of fall between pipes is equal. With an automated self-calibration for laying down pipes, engineers can get accurate numbers by relying on the laser beam's long-distance range.
4. Magnetic locators:
These instruments are used to locate underground ferrous water lines, utilities, and other survey monuments for construction or excavation purposes. The on-site professionals are responsible to avoid causing any damage to underground installations. Magnetic locators trace the magnetized field with acute precision to ease their jobs.
5. Measuring wheel:
A simple and productive measuring wheel easily calculates the required distance based on the number of revolutions the wheel covers from a starting point. It is a time-saving machine for constructors and engineers.
6. Cordless drill kit:
The cordless drill kit is an Amazon novelty and comes with a combination of ergonomic tools, including hammer drill, reciprocating saw, impact driver, circular saw, and LED work light. The all-in-one combo kit greatly streamlines the work of any contractor or electrician through a high-performance versatility. Its affordable price and multi-functional promise have made it a trending choice across Amazon users.
7. Drones:
Drones are increasingly used during construction projects as part of predictive maintenance technologies. Such aerial innovations ensure site safety for workers. Drones help with surveying the site in real-time analysis in order to track the work progress. Professionals can generate maps and 3D images through a bird's eye view of the entire project. 
8. Polisher:
The polishing machine adds a much-needed final touch to building floors. It grinds, polishes, and edges marble, granite or concrete surfaces to even them out for a pristine look.
9. Construction 3D printers:
These 3D printers are used to design building components, bridges, and several other structures on demand. Suitable blueprints and dimensions are entered into the machine, which then generates a 3D physical product. The cartridges are the actual powdered material that takes the form of the required structure.
These are some of the most important construction instruments used today. They have revolutionized the perception of this industry, which continues to grow even more with new technologies streaming in.